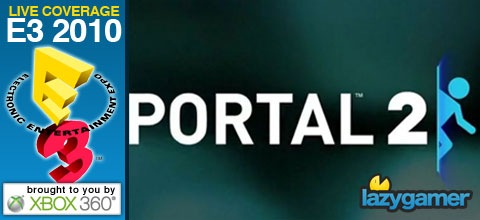 One of the bigger shocks from Sony's keynote was the appearance of a rather nervous, and still rotund Gabe Newell. Surprising not only because he famously rubbished the PS3, but because he proclaimed that Portal 2 on PS3 would be the best console version available. Why?
Steamworks. Steamworks will allow for Portal 2 auto-updates, downloadable content, and community support directly from Valve – something the 360 version will be missing unless Microsoft changes its policies. It may get even better for PS3 owners.
When questioned on the subject of cross-compatibility between Steamworks and Steam – more specifically playing co-op on a PC with a friend playing on a PS3, Valve's Eric Johnson said it was "something the team is gunning for."
Valve developer Mike Dunkle also confirmed this, saying:
"The plan is you will be able to play between console and PC"
Anyone who's played PC and Xbox 360 versions of Valve games would know how the 360 versions pale in comparison to their PC counterparts – primarily because of the frequent updates and user content that steam allows.
Source : The Kartel
Last Updated: June 18, 2010