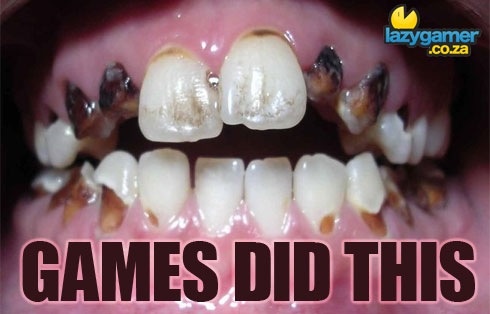 Video games have become a scapegoat for just about every social ill – Murder, obesity, rape, apathy, rage, and wanton egregious violence. There's a new one to add to the growing list now, and that's bad breath.
According to a new study by the University of Iowa, frequent video game playing leads to poor oral health.
The study – involving children aged between 12 and 16 -Â  found that frequent players of console and computer games were more likely to form dietary habits that were conducive to tooth decay. Essentially, the geniuses hard at work found that children who sat playing video games were likely to be found packing their pubescent pie-holes with processed, prepackaged pabulum.
The study fails to mention that children were just as likely to indulge in junk food and sugary treats when watching TV, reading, hanging out or just being bored. Probably because that stuff's damned delicious.
The point of the study, I suppose, is to emphasise that sugary treats rot your teeth, making regular brushing and flossing necessary. so pretty much like any other study regarding oral hygiene, then.
Source : GamerCrave
Last Updated: April 6, 2010