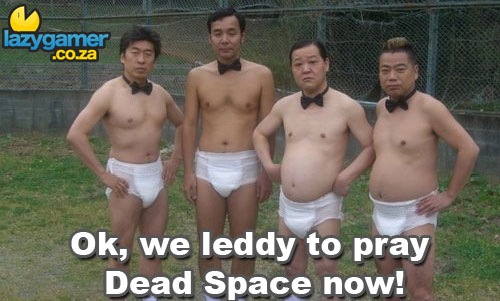 Dead Space, for those of you who've managed to play through it, was a fantastic game – filling in the void Resident Evil left when it changed focus to being a balls-out action game. Thankfully for fans, Visceral Games  are trying to ensure that fans of the original will be happy with the sequel.
Of course they have to say that though, as opposed to saying "Well we couldn't really give a toss about keeping people happy, we just want money. And champagne and caviar on our yachts in the Mediterranean"
Still, it does seem like they're earnestly trying to work on, and give fans what they'd expect from a sequel.
Speaking to VG247, Visceral's Steve Papoutsis explained their focus.

"One of the focuses of the development team is to listen to the various types of feedback."

"We do different sets of focus testing, we're always checking out our Facebook page to see what the community is saying, and we have to balance all that feedback, as you said, to make sure that the game comes out as the players want it."

"One of our goals with the game, is to make sure that when we release it, is making sure that it surpasses what we did with the previous game. That's important to us."

"Also, another thing that's important to us, is for the people that have supported us this long, that have been into the franchise, are happy with what we deliver."

"So, we're paying a lot of attention, we're going back and forth as far as a lot of different tweaks and things that we're going to do to the game to make sure it's a game that people want"
Visceral have said that Dead Space 2 will feature a little more action – but have been quick to assure fans that the game will not become a run and gun experience. For some people though, what they'd really have to do to enable them to play the game would be to bundle it with man nappies and anxiety pills.
Expect Dead Space 2 sometime near the beginning of next year. Hopefully all the pansies will have finished the first by then.
Source : VG247
Last Updated: May 14, 2010