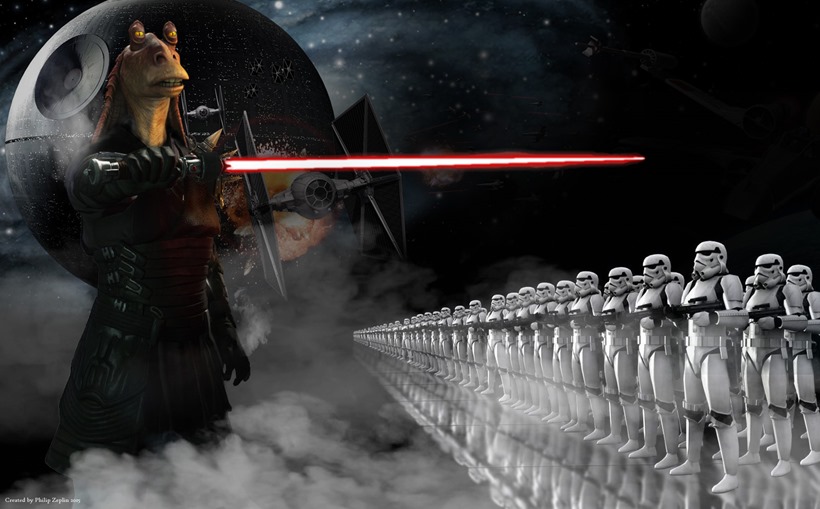 It's the week before E3 and everyone has that one game that they're dying to see more of. Petrolheads want more Gran Turismo and Forza Horizon 3 details. Nintendo fans want to see Link dress up in green once again and hit the Wii U for one last hurrah. But me? My tastes are far simpler: I just want to see what Visceral has been working on in the Star Wars universe.
I'm looking for that tight and solid Star Wars game, something massive and fun to replace my love for Star Wars: The Force Unleashed 1 and only 1 because there is no sequel and whatever evidence there is of it is merely an elaborate and expensive ruse of a terrible knock-off game. Ha, seriously, good joke LucasArts, you almost had me there back in 2010.
Right, so we've known that Visceral has been tasked with creating something big for EA and Star Wars for a while now. So what's the status of it then? "Let's get right to the point: we have awesome projects underway at both Motive and Visceral, and we are looking for some more amazing people to join our teams," Motive and Visceral general manager Jade Raymond wrote in a blog post.
According to Raymond, the Visceral developed Star Wars game is "forging ahead into an exciting phase of development," under the direction of Uncharted writer and director Amy Hennig. "She is a rare breed of storyteller, and she's collaborating with the creative leaders at Lucasfilm to tell a new, authentic Star Wars story," Raymond explained.
Backed by the talented Visceral team, Amy and studio GM Scott Probst are taking this project in groundbreaking directions. Of course, there's a lot more to the story with each of these projects in our EA Star Wars portfolio, and we'll be super excited to share more updates in the months ahead.
I'm probably not going to get that Star Wars Rebels game that I've been looking for unless I actually get up off my arse and do it myself in Disney Infinity, but I'm keen to see what EA, Raymond and Hennig have been up to with the license from the house of mouse. Anyone feel like "leaking" the teaser trailer before E3 kicks off? It worked just swell last year during the great leakening of 2015.
Last Updated: June 6, 2016