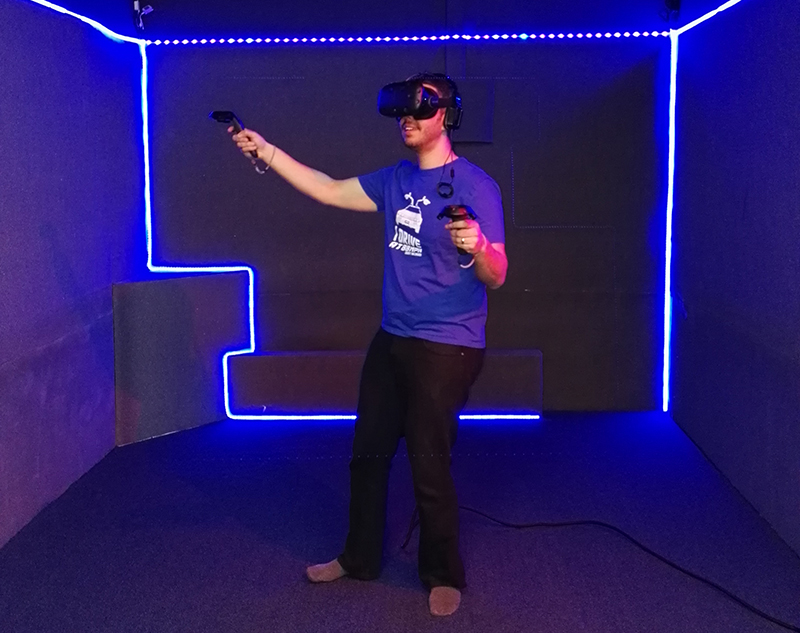 I've spent a huge portion of my life on exciting adventures in virtual worlds. All of them were just in my head though and several of them involved Jackie Chan (seriously). But my overactive imagination met its technological match this weekend past as I got to try out a full-room virtual reality experience at VirtualWorld, South Africa's first dedicated VR arcade.
Situated on the ground floor of Stadium On Main in Claremont, Cape Town, VirtualWorld is nestled in a rather nondescript shop, its glass windows looking into a spartan room. The most discernible features are the two desks occupied by friendly Poland-born owner Arek Komorowicz and his easy-going assistant Chester, the latter desk featuring a pair of PC towers and their respective screens. Behind them though is where the real magic happens. Well, once Arek and Chester had to navigate their way past a pesky, ill-timed Steam update that played havoc with their gear, that is.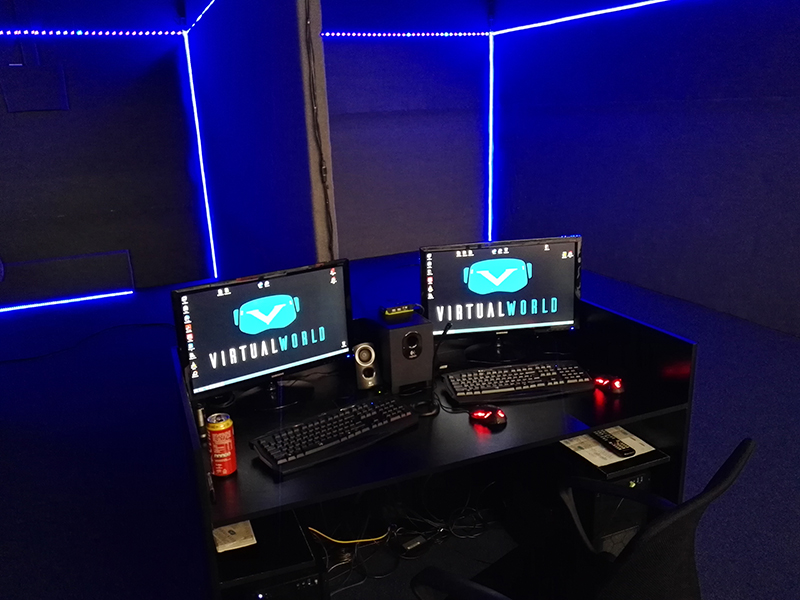 While they tinkered I checked out the play areas where I would soon be plunged into a series of virtual reality environments. Bifurcated by a wall into two 4mx3m areas, these darkened rooms – the "front" of each being open and facing the store windows – are softly padded on all surfaces and dotted with blue laser lights, like some kind of madman's nightclub.
It was in one of these where I found myself just a few minutes later – once all technical gremlins had been excised – being fitted with an HTC Vive headset, snugly enveloping my head along with a pair of high quality headphones. The headset offers a 110 degree field of view with 32 sensors for accurate motion tracking of your viewpoint, this is aided by two sensors located in the top corners of the rooms allowing for 360 degree motion tracking inside the play area.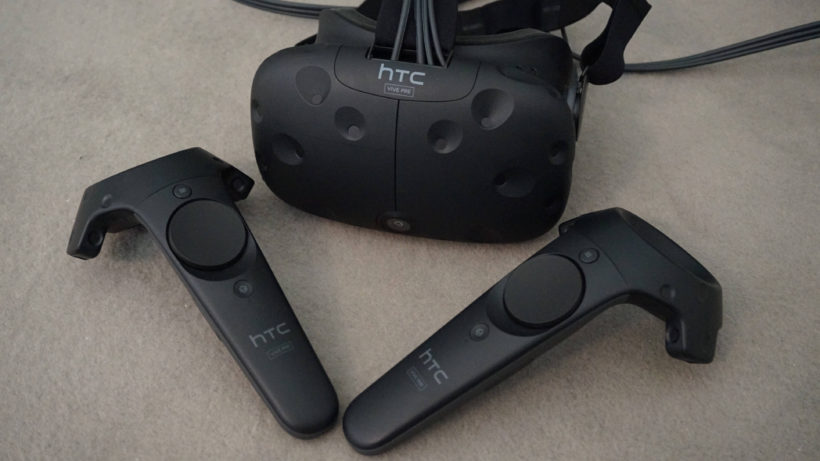 Into each of my grubby mitts was placed an HTC Vive controller, each of which sports 24 sensors of their own to also allow for pinpoint 360 degree motion tracking, along with a number of intuitive triggers and buttons. All the equipment had been imported from Poland by Arek and his son Konrad, with both being HTC and VR enthusiasts who saw an opportunity to bring this technology to the SA market.
The two PC's supplementing the HTC equipment were running Core i5 6500K processors, MSI Z170A motherboards, 16 GB DDR4 2400MHZ memory, Samsung 850Pro 256GB SSD and a 2TB Seagate secondary, the MSI GTX1080 Founders Edition graphics card, and 800W Corsair PSU's. Not exactly bleeding edge technology, but I certainly didn't notice any technical shortcomings in my experience.
With my headset comfortably adjusted and controllers in my hands, usage of all of HTC VR gear was explained to me in a humurous 8-minute long tutorial that felt like I had been dropped straight into a Portal game. I've used the HTC Vive before, but even if I hadn't the tutorial does a good job of explaining how everything works. This includes explaining how the system is configured to throw up a glowing blue grid in your vision the moment you walk close to a physical wall to stop yourself from bumping into things. Nifty.
And with all the setup and tutorials out of the way, Chester loaded up my first game: Space Pirate Trainer, a shooting game that found me standing on some space station landing platform, nebulae swirling overhead and spaceships parked behind me. Waves of robotic drones soon started attacking the station, forcing me to defend them with the pair of cool-looking sci-fi blasters which I was duel wielding. After a couple of quick deaths as I got to grips with things, I was a bobbing, weaving, laser-spewing, dual-wielding death machine like something out of a John Woo sci-fi bullet ballet.
My wife had accompanied me to VirtualWorld, and she insisted that I try zombie survival game HordeZ next so that she could revel in me getting spooked. "Me? Get spooked? Never!", I declared. I got spooked. Several times. Standing in a dark forest clearing, tiny torch in my left hand, 9mm pistol in my right, a zombie suddenly appeared behind me, causing me to whip around and flail my limbs in shock before composing myself and divorcing it from a large portion of its skull thanks to a well placed headshot, expertly taken as I lined up the gun's sights.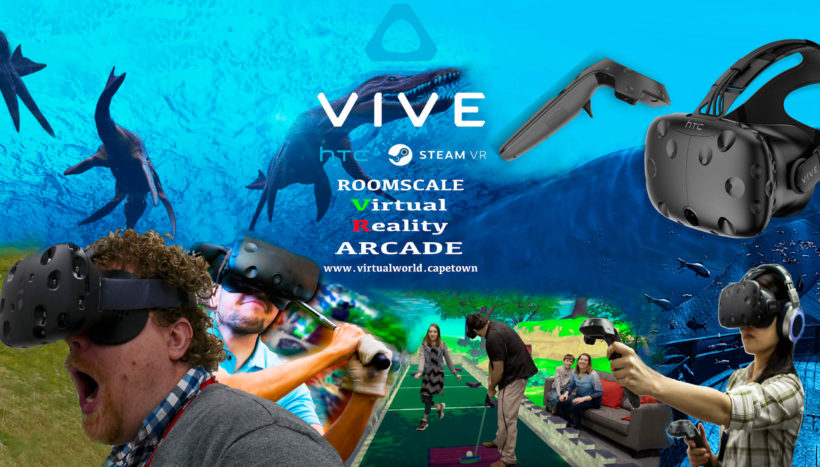 That accuracy of movement was never more apparent though as I next took on Quivr, an online multiplayer archery game that saw me defending a Helm's Deep type fortress from waves of incoming ghouls, goblins and other nasties. With my foreign teammates muttering away in my ear in their native languages, my virtual gloved hands – actually the controllers being tracked – notched arrow to bow and let fly… hitting a whole lot of nothing. This was going to take some skill as surprisingly good physics dictated my arrow's flight. A couple of waves – and a whole lot of arrows – later though, and I was turning lumbering trolls into giant porcupine cosplayers, while around me other players with upgraded skill trees were raining down fiery, explosive death from their battlements.
And then one of them virtually masturbated at me. It was… unexpected. But I guess its good to know that whether you're in an online forum or a medieval castle, folks on the internet will always be the same.
A few more tech demos plunged me into the depths of the ocean as I came face to face with giants of the deep, as well as sending me zipping and flying through a future cityscape. At one point I was even flying above Gotham City. All of these and more were just a small sampling of the over 30 titles Virtualworld have on hand, including dropping you into a Star Wars lightsaber adventure on Tattooine, flying through various Disney movies, exploring haunted mansions or trekking through dungeons in an RPG.
You can explore all of this for in sessions of either 30 minutes for R200, or 60 minutes for R400 (These sessions can be shared by two people). You can slash 35% off those prices though thanks to the current Monday – Wednesday Winter special they're running, as well as a students special.
They are open for individual and group bookings and accept players of all ages, with the only restrictions being that you need to be at least 1.2m tall to allow for proper tracking (Darryn, if you grow out your hair a bit, you might just make it). The headset even accommodates players wearing glasses. LCD screens dotted around the venue show other attendees what the players see, so even those not actively engaged can get in on the fun.
I had a blast at VirtualWorld. Other than the shop itself lacking some easily discernible advertising, what Arek and co have put together here is really cool. With the cost and logistics of a personal full room VR experience being out of reach for many gamers, an arcade like this is definitely the next best thing. And I highly recommend folks go check it out to see what all the VR fuss is about. Just try to keep your virtual hands away from your virtual private parts.
Last Updated: September 6, 2016