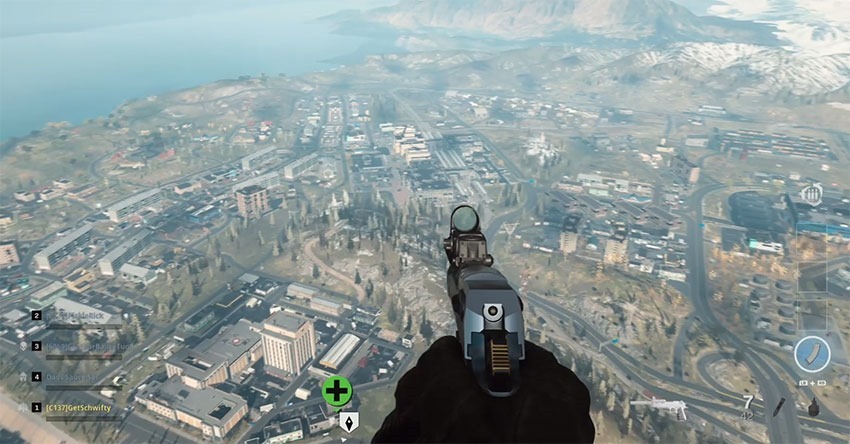 Modern Warfare has had a rumoured – but not confirmed – Battle Royale mode since before the game was even released. Thanks to the relative success of Blackout, the Battle Royale mode nestled within Black Ops 4, it was almost a certainty that the new Call of Duty would have a similar offering. That hasn't really happened, with the closest approximation available right now being Ground War, which is more like Battlefield lite.
Still, rumours have persisted that Modern Warfare will soon see its own Battle Royale. Data miners have already found evidence that, at the very least, the bones of a Battle Royale exist within Modern Warfare. Those rumours have now been given a shot of credibility thanks to an apparent, but unconfirmed in-game glitch. Reddit user Nateberg3 says they were loading a Spec Ops stage and instead of the expected outcome, found themselves hovering above a rather large map. What gives it a bit of credence is that this map doesn't exist with the game as it stands, so it's likely for Battle Royale.
Current rumours suggests that Raven software is busy on Modern Warfare's Battle Royale, leaving Infinity Ward to toil on the regular multiplayer aspects. There are also suggestions that it'll take the Fortnite route, and be a free-to-play game supported by Battle Passes and Microtransactions. While I'm personally over the Battle Royale genre as a whole, I must admit that Blackout was fun, and I'd give this a go for a few rounds. With Modern Warfare's cross-platform play and hybrid local servers, we might actually be able to get a few local lobbies going, which would be nice.
I'd expect Activision to announce this very late into the year (like at the Game Awards?) or early next year.
Last Updated: December 10, 2019