Let me preface this article by saying the ESEA opening shop in South Africa is perhaps one of the most promising developments in the history of competitive South African Counter-Strike. It opens up an array of new opportunities for the competitive teams in South Africa and gives them the chance to openly compete and expand internationally. The servers are fantastic, seriously, who's hosting these things? And the system has a fantastic stat tracking and anti-cheat in place.
I should also state that I have not subscribed to premium yet, simply because I don't have a screen for my laptop and quite frankly do not have the skills to warrant an invite into the upper levels of South African CS:GO, because let's face it, at the moment only South Africa's top players and teams have subscribed. This is one of the problems I will discuss today.
First Response
The system has been up for a weekend, and this is by no measure sufficient time to draw a proper conclusion based on the current response from the community. But, naturally, some individuals have expressed their opinions and most of these opinions are regarding the subscription fee. To play premium and have access to the pickup system and stat tracking scrims you need to pay a monthly fee of $7  (R109.40). This is a small price to pay considering the service you are getting, but the fact is, and this became clear after a number of polls went up, many South Africans either can't afford it or do not have online banking or a credit card to pay for the transaction. ESEA does offer a referral system which refunds players who refer their friends, but whether those people are willing to help out their fellow community members is another question.

This was the first poll to go up on Friday, showing the amount of players who had signed up.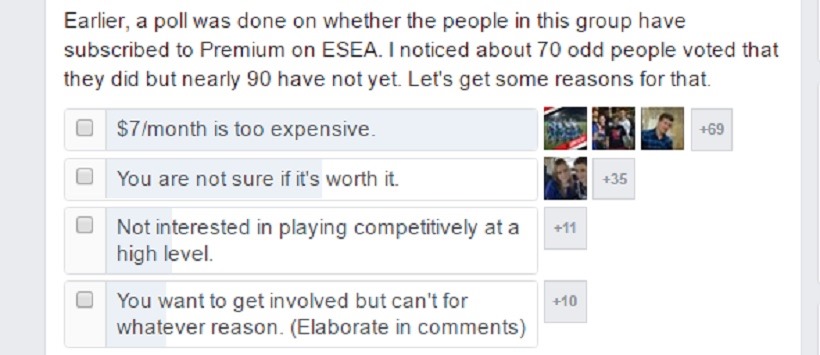 As I mentioned above ESEA is currently being used by our top teams who already took part in a little mix tournament yesterday on the ESEA servers. There currently aren't enough players in circulation to comfortably search for a pug, but then again it has only been out for three days. Don't get me wrong, I'm by no means saying that this is going to fail in any way, instead, I'm hoping the South African community does not become deterred by the first responses from their fellow players. Yes, many can't afford the R109 per month fee, and let's face it, with the Rand weakening that price is more than likely going to go up, but let's take a closer a look at what exactly you're paying for.
ESEA League Season 22
Not only do we get access to this pickup system, we also get placed into a League where one of our top teams will get a spot at the ESEA League Season 22 to compete against teams from North America, Brazil, Australia, and Asia. Here the qualifying team will compete for $50,000 and the prize distribution ensures the team who goes across comes home with at least $3,000 (R46 932), which at the moment is a bit more than most prize pool payouts for a local tournament with the added benefit of going overseas.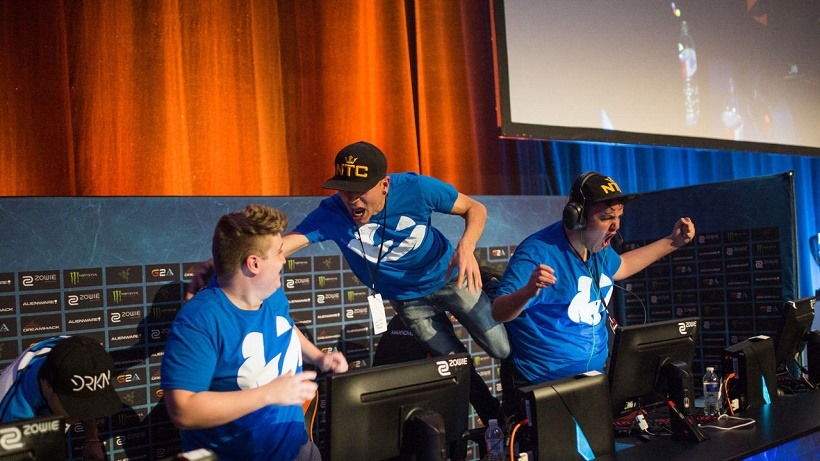 Tempo Storm, winners of ESEA League Season 21
Again this caters for the more professional teams in South Africa as it comes with a $50 signup fee or $10 per player over and above the monthly subscription fee. Off the top of my head, and please note this is a gross generalization, I'd estimate that perhaps 10 teams in South Africa can afford this (R780) straight up, which isn't a bad thing. However, if we consider the number of teams who sign up in the other regions, we still have a long way to go.
What is the level of development here?
Let's take a second to understand what degree of development we are looking at here. Now, again, this is based on the first response seen over the past weekend, so please reserve your final judgment for when we revisit this in a few months time. Looking at the players who have shown interest and are currently subscribed, you'll notice that it is the more professional players in the country and those who have a spare buck to spend per month on ESEA.
One of the main pushes, when the community began lobbying for ESEA, was that it would boost the level of play in South Africa. This is 100% correct, but at the moment, it is development at the highest level of CS:GO in South Africa. This would be the best scenario if we had already taken care of the grassroots development, but I fear we have not. What we need is to take the thousands of players frequenting casual servers and place them into a more professional scenario, which is the sole premise of a pickup system. It puts you on the best servers, playing with and against better players. The issue is that a large majority of the South African player base either don't know about ESEA, or any pug system, or they can't afford it. Creating awareness is easy, but we might hit a brick wall when people hear they need to pay $7 per month. The free pickup systems which currently exist in South Africa have done a great job of creating a more competitive scenario, but I maintain the belief that ESEA is 100% worth every cent IF we can increase the user base in South Africa.
There is a level of inadvertent development here as well. Having the ESEA here in South Africa will more than likely put pressure on local tournament hosts to up the ante in South Africa before they start losing teams to international tournaments. If you ask any professional player in South Africa about their dreams and aspirations, they will tell you it is to compete abroad, but in order to win abroad, we need a sustainable environment back home in order to bolster talent and competition. This is an odd way of looking at it, but it is a reality since I can already see clashes arising in the future with local tournaments and international travel. The flipside to this is ESEA creating local tournaments, with no entrance fee, with prize pools creating incentive for players to sign up.
When more players start signing up for ESEA premium and start frequenting the pickup system, the degree of development will shift from the more professional teams to the grass roots development we need in South Africa. However, competitive development is still fantastic, and this will do absolutely no harm to our community, but I do fear that the investment by ESEA will fall short if the majority of South African players do not eventually start making use of their system. Perhaps I'm reading too much into this, but these are rational assumptions when looking at the big picture.
Many players lobbied for ESEA to come to South Africa, and Robby "blackpoisonN" Da Loca made it possible with his contacts he made in Sweden and the hard work he put in behind the scenes. Now that we have it, will we support it? My honest opinion? Support the hell out of it. If you want to grow as a player and/or as a team, this is the best possible way. We still have plenty of local tournaments, but the point I made above will speak volumes in the upcoming months as players begin putting time into ESEA, allowing smaller teams to compete locally and rise through the ranks.
Like esports?
Check out esports central
Last Updated: May 23, 2016