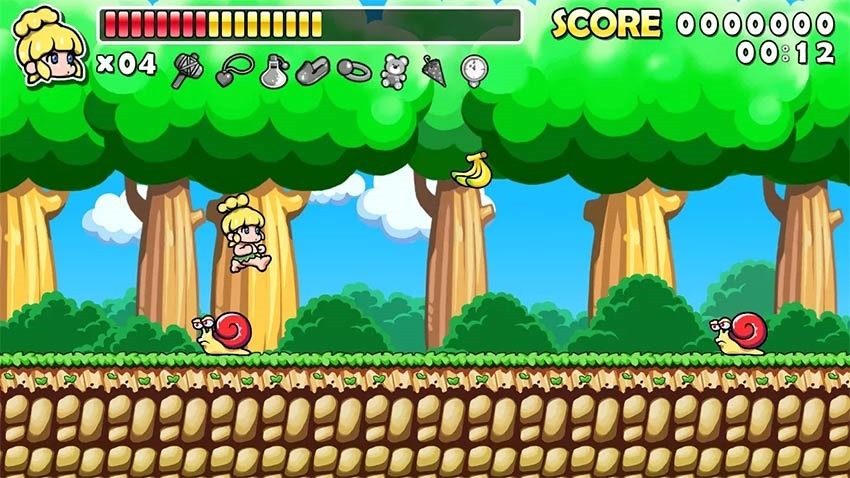 Wonder Boy's one of those games I grew up playing in arcades because I had 20c pieces that needed a new home. That original game was adapted to home systems as Adventure Island, while the Wonder Boy series split off into more action-RPG fare, but I still adore the original game, which featured an island kid, sometimes on a skateboard, collecting apples and throwing his stone hatchet at wayward and untoward snails.
It's been remade and remixed by original creator Ryuichi Nishizawa as the Wonder Boy Returns Remix!, and is available on the Nintendo Switch. Says the press release.
"Wonder Boy" is a side-scrolling platformer originally developed by Escape (now known as Westone Bit Entertainment) in 1986. Players took on the role of a young boy who's trying to save his kidnapped girlfriend, Tina. The game featured intuitive controls and highly polished game balance. It was ported to a variety of consoles and quickly became adored by fans as a true gaming masterpiece."
This new version features a more modern charged shot, along with difficulty modes to make it feel more at home in 2019. I should be excited by this, but man, I'm really not. What in the hell have they done with Wonder Boy, which now has a very anime-inspired aesthetic? Take a look:
Obviously this is very subjective, but man I do not like the look of that. The line work is too clean, the characters are a little too cutesy and the whole thing looks like it belongs on a mobile phone.
It's scheduled for release on 23 May, but those in Japan, North America and Europe can just download it from the eShoppe right now. Yuck though.
Last Updated: May 6, 2019