Nintendo have made a name for themselves in this generation by releasing bizarre controllers and peripherals that have then gone on to storm the market. The Wiimote was laughed at the first time we saw it and Wii Fit was ridiculed near and far.
Both have gone on to destroy the market and no one's laughing anymore.
Now it appears that Nintendo are stepping it up a notch by releasing the Pedal Controller which will allow you to accurately simulate riding a bicycle in the comfort of your own home.

all you do is slip your feet into the pedals of the Pedal Controller and grab onto the Wiimote as a handle bar, then you will be able to participate in over 60 exciting game modes such as Road Races, Downhill, Walk your Dog (not exciting) or BBQ…

According to the leaked pamphlet, pedalling can be done sitting down and it won't tire you out which makes me instantly think it doesn't work but that never stopped the Wii Fit from selling like hot cakes.
However there is one part that really does interest me, cycling is really good for your knees if you have ever had any sporting injuries to the inner workings of your knee. I myself cannot cycle for too long on the road as the uneven surface (and cheap bike) causes discomfort on the knees. My physio has always recommended cycling on flat surfaces to help strengthen my knees after the surgery so this may in fact be medically helpful.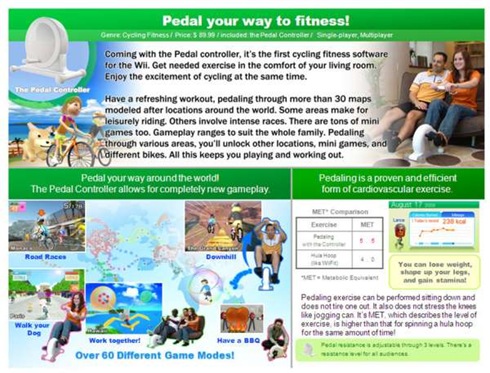 The Pedal Accessory is going to be sold for $89 (US) and obviously since this hasn't been officially announced yet we have no knowledge of release dates or local availability.
Source: GoNintendo
Last Updated: August 14, 2009