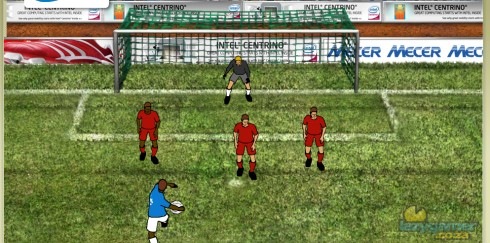 Is your gaming PC starting to show it's age or possibly even is currently non existent?
Well then this is for you, Intel and Mecer have joined up to give away a top of the range Mecer Graphite Cosmos gaming PC to the person who manages to top the leaderboard for the Intel Soccer Challenge mini game.
I have been playing it for hours and hours already and am no where near the top 10 so it does present quite a challenge.
I have however learnt a few tricks that you will need to know if you have any chance of winning.
The basic idea behind the game is that you get 10 passes into the box and you need to convert these to be goals with one swift kick or header.
Normal kicks give you 300 points, headers 800 and bicycle kicks 1500… that's the secret, you want bicycle kicks.
To force your guy to to do an overhead kick hold S and hit space, A+Space is a side kick and to head down you need to remember V+Space.
It's all in the help options on the site but when was the last time you RTFM?
So that's it… trust me it's harder than it sounds. Head on over to www.intelsoccerchallenge.co.za and give it a go… Feel free to rub it in my face that you easily outclassed my 2600 score.
And watch out for falling satellites, rotten tomatoes and banana's…
Last Updated: February 24, 2009