If it wasn't for the brave men and women in the Allied Forces that fought back against Hitler's Axis war machine, there's a very high chance that we'd all be speaking German. Imagine a world where the Nazis won and much like a paraphrased song by the band Free, everything was Alt Right Now. Horrifying stuff, especially in light of the right-wing mania that has swept the US and Europe lately.
That's the nightmare scenario present in Wolfenstein II: The New Colossus as Germany didn't just win the war to end all wars…they dominated it. With entire armies of uber-soldates and gigantic cybernetic attack dogs at their disposal, the world was no match for a superpowered arms race that only Germany had the keys to.
America conquered and its icons remodelled into German propaganda, things are not looking good for the return of BJ Blazkowicz as he returns to his homeland to continue the fight once again. "We knew early on when we were making The New Order that we wanted to make a trilogy, so we had our sort of grand scheme of things of how events would progress in a sequel," creative director Jens Matthies said to GameInformer.
We always thought for a sequel that it would be amazing to go to the U.S. not just because it's a cool setting but also because it's BJ's homeland. So there's this experience of him going to a place where he grew up and just see it taken over by his mortal enemies, that's a powerful thing conceptually.

We knew where we were going and then we just solicited ideas from the team. Everyone on the team just pitched on what would be the coolest places to turn into levels, knowing we're doing a sort of U.S.-centric geography. And we had tons of really cool ideas. So on one hand you want to do stuff that isn't over-exploited but on the other, you want some really nice U.S. icons to see how do those turn out under the Nazi oppression.

So I think it's a healthy mix of those.
What made Wolfenstein: The New Order such a marvellous game when it was first released, was that despite it having a massive narrative scope for battlefields and warfare, it also managed to be surprisingly subdued at times with an introspective tone that Blazkowicz conveyed to players. With a sequel going for bigger and broader setpieces, there's always a risk that the subtlety of the first game could be lost in all the noise. Something that Machine Games really wanted to avoid.
"Anytime you go to big, you run a tremendous risk of over-scoping it, and you only have so much time and money to make the game," Matthies explained.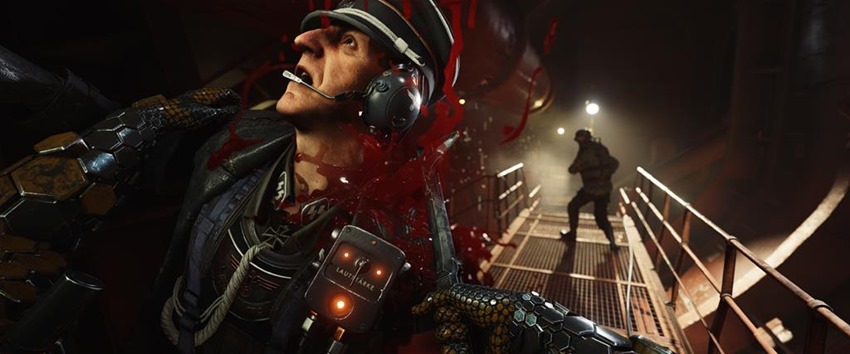 So early on, you have to really try to have good metrics of what you want to do and how to stretch that game to that point and not beyond it, and that's a really science in and of itself. I think we're getting better at it over the years but yeah, it's still incredibly challenging and one of the hardest obstacles when designing a game. But I feel good about where we're heading, so I think we're in a good place.
October is a mad month for gaming, but honestly? It's a new Wolfenstein game that I'm most excited for, especially in light of its deliciously subversive marketing campaign so far that is selling me on the idea of Nazi America. And strawberry milkshakes.
Last Updated: July 28, 2017