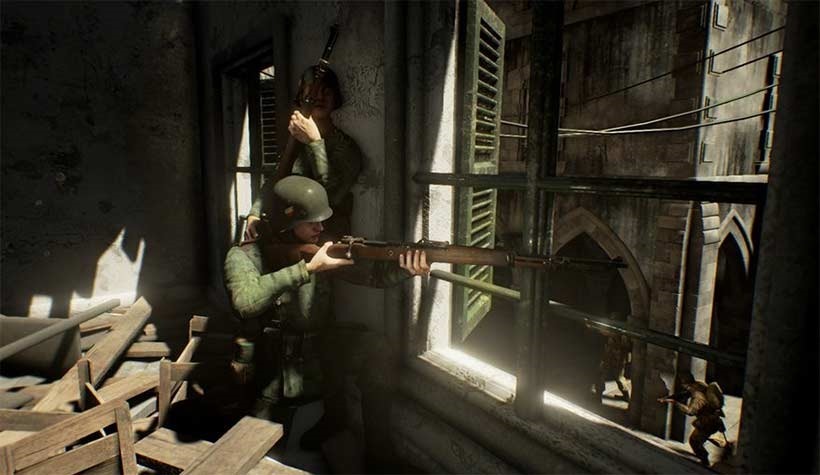 Early last year, rumours suggested that Call of Duty might return to its roots – by revisiting World War 2. Once upon a time, just about every single first person shooter was set in that greatest of wars, and it became rather tiresome.
Of course, we now know those rumours were untrue, because we ended up with a decidedly more futuristic Call of Duty: Black Ops III instead. Here's the thing; I've championed a return to real wars in the series, and I'll continue to do so. There are still so many real stories to be explored, and I can't say I'm enthused about Call of Duty's slow evolution in to becoming Halo.
While my own interests lie in single player campaigns, there are those who'd love for the multiplayer to return back to the supreme conflict that shook the world. Apparently, more than you'd imagine.
Battalion 1944 is a new, terribly ambitious multiplayer game focused on the conflicts from World War 2, and it hit Kickstarter last week.
Says the Kickstarter, which takes a jab at the direction Call of Duty's taken:
"Battalion 1944 recaptures the core of classic multiplayer shooters and propels WW2 into the next generation. Battalion 1944 utilizes the most advanced industry technology to create a visceral and heart-thumping multiplayer experience that has been crafted by the designers who have grown up playing Medal of Honor and Call of Duty 2.

Fight in real world locations such as the streets of Carentan, the forests of Bastogne and many more in our spiritual successor to the great multiplayer shooters of the past. Precise aim with your Kar98, covering fire with your M1 Garand and quick thinking with your Thompson are key to your success, all packaged into a competitive multiplayer environment. In short, Battalion 1944 is an infantry based first person shooter with an emphasis on raw skill. No grinding, no 'exosuits', just you and your skill as a player."
And it's already hit its target. With 24 days to go, it's received pledges of £172,699, far away from its £100,000 goal.
"Thank you for backing Battalion 1944," said Bulkhead Interactive producer Joe Brammer in a statement. "The team you're investing in are ready to build the next big first person shooter. We couldn't have done it without you, the community."
Last Updated: February 8, 2016