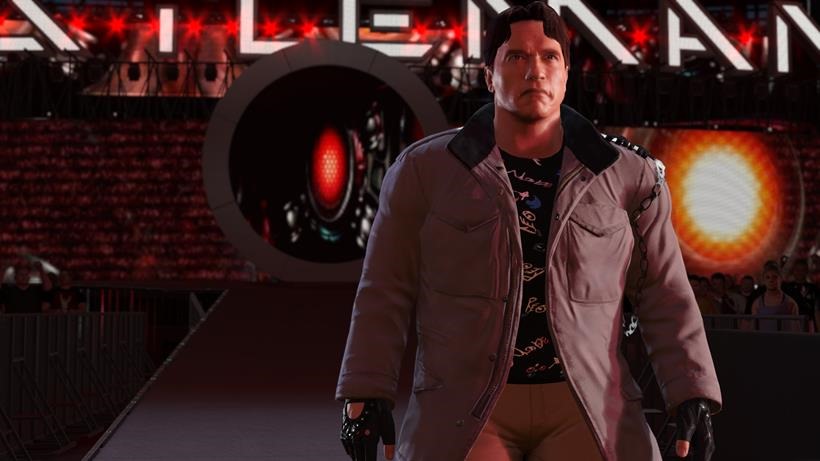 I'm not ashamed to admit my fondness for sports entertainment, and the WWE in particular. It's on several times a week, it's good vs evil and that Xavier Woods fellow plays a pretty mean trombone solo when he's in the ring lately. It is in effect a soapie for men, and a damn good piece of theater at that. Last year's latest WWE game was a marked improvement on the product, a prettier-looking brawler with massively improved ring technique.
It was only out on PlayStation 4 and Xbox One however. Good news For PC fans wanting to lace up their boots and don a colourful pair of trunks then, as WWE 2K16 will be hitting that chosen platform on March 11. And it gets even better! 2K Sports says that all previously released DLC will be included in the PC release, for free. That includes: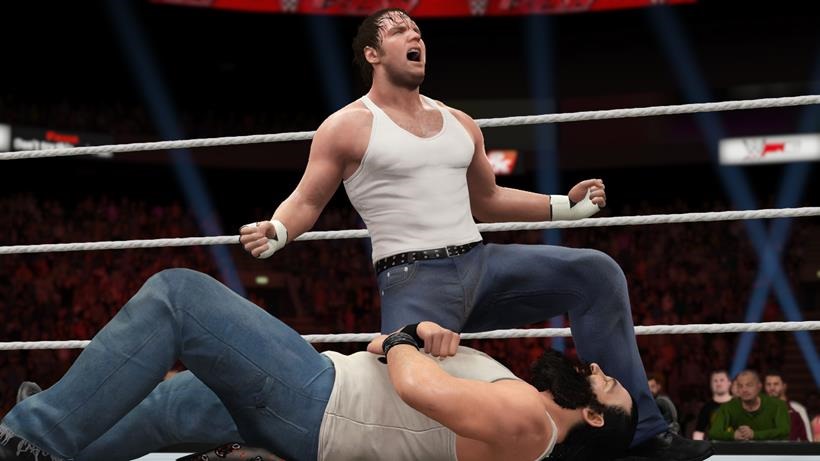 Access to two playable versions of Arnold Schwarzenegger as T-800 from The Terminator and T-800 from Terminator 2: Judgment Day
MyPlayer Kickstart
Players will gain instant access to boost created Superstar ratings and attributes in the game's MyCareer mode
Accelerator
Players will gain instant access to all unlockable content available in the game
New Moves Pack
More than 30 new moves, including the Corner Enzuigiri (made popular by WWE Diva Nikki Bella), Avalanche Ram (made popular by WWE Diva Paige), Sidewinder Suplex (made popular by WWE and NXT Superstar Kevin Owens), Standing Crossface Chickenwing (made popular by WWE Superstar Stardust) and Dragon Sleeper (made popular by NXT Superstar Finn Bálor)
Legends Pack
Playable WWE Legends: Big Boss Man, Dusty Rhodes, Lita, Mr. Perfect, "Rowdy" Roddy Piper and Trish Stratus
Future Stars Pack
Playable NXT Superstars: Samoa Joe, Diego, Fernando, Blake and Murphy
2015 Hall of Fame Showcase
Playable matches include:
"Macho Man" Randy Savage vs. Jake "the Snake" Roberts
Rikishi vs. The Rock
Alundra Blayze vs. Paige
Larry Zbyszko and Arn Anderson vs. Ricky "The Dragon" Steamboat and Dustin Rhodes
Tatsumi Fujinami vs. Ric Flair
The Bushwhackers (Butch Miller and Luke  Williams) vs. The Natural Disasters (Typhoon and Earthquake)
The Outsiders (Kevin Nash and Scott Hall) vs. Harlem Heat (Booker T and Stevie Ray)
Lucky buggers. Console players are most likely shaking their fists with maximum anger towards you right now. Other than that, it's the same game that console owners experienced. According to one devilishly handsome and completely out of touch with reality reviewer, WWE 2K16 is on the right track so far:
A bigger roster, more finely-tuned gameplay mechanics and a more versatile creation system help make WWE 2K16 the current-gen superstar that it wants to be, even if some inconsistent ideas and bugs do hold it back from time to time. And that's the bottom line, because Stone Cold said so.
And it's also the only way that you'll get to see Daniel Bryan compete in a WWE ring.
Last Updated: February 18, 2016