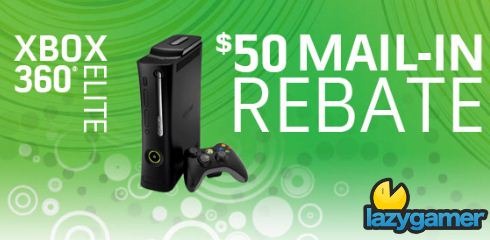 Yes it's true, the Xbox 360 Elite has received yet another price drop of $50 but there is a catch… or two.
First up you have to live in America which pretty much excludes my entire target market and secondly it's a time limited mail in rebate.
Basically if you are currently in America and need a new Xbox 360 Elite you can head on over to any store and pick one up for $299. Then you need to fill in this online form with this password (49710555) and the the rest of the boring information.
Print it off, send in your receipt and wait patiently for your $50 check to arrive back in the mail.
So all in all it's not much of a special for us poor sods but it will help Microsoft counteract the $299 PS3 Slims high sales in it's own backyard and can only be good for consumers.
But if you have a rich uncle in America and don't mind having to import every game you ever want to play then this may appeal to you… else just go back to being jealous that the rich Americans only have to pay half the price for their entertainment.
Last Updated: September 23, 2009