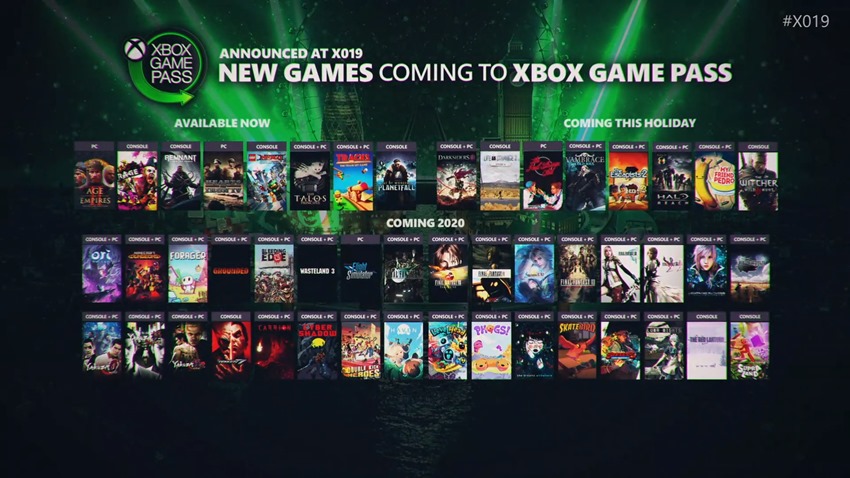 Xbox's Game Pass service has been nothing short of disruptive to the gaming industry so far. It's not just that it provides an all you can game buffet to subscribers, but the fact that its existence gives many a game a second chance. The types of games that publishers ordinarily don't want to make these days, instead favouring an endless cash cow cycle of live service titles designed to hook players into a grinding loop for all eternity.
Last night's massive advert for the service, X019, had plenty of new reveals for which games will soon be made available on Game Pass in the months to come. Those announcements had a distinctive single-player taste, favouring genres and sequels that ranged from classic remasters to more contemporary slices of RPG nostalgia. Something which Xboss Phil Spencer reckons, is helping publishers to realise that they don't need to chase the live service dragon.
"We see Game Pass as a really critical way to bring new games to new players, with a business model that just has more approachability for many players," Spencer said to GamesRadar.
We see players willing to take risks on new games and new genres, because when you're already in the subscription it's as easy as clicking on something, downloading the game, and starting to play. The diversity of content in Game Pass, the genres in Game Pass, the things that people play… I think it's a really healthy part of our industry.
The nice thing about Game Pass is that it actually wraps the game inside of a service itself. So a game can just be a game. And it's nice to be playing games that have a beginning, a middle, and an end. And that, as a subscription, we completely support those types of games. And in fact, a lot of the new games that a lot of the first-party [studios] are working on, and the third-party [studios] are working on, take advantage of the fact that they don't have to carry the service themselves.

They can actually just live inside of the service and be exactly what they are.
Game Pass may have been a big gamble for Microsoft, but it paid off handsomely now that many a studio and publisher are flocking to their evergreen pastures. There's a lot of variety on the way, in the form of the Yakuza series, Final Fantasy games and even more recent action fare such as RAGE 2. Which so far, is just noice.
Last Updated: November 15, 2019