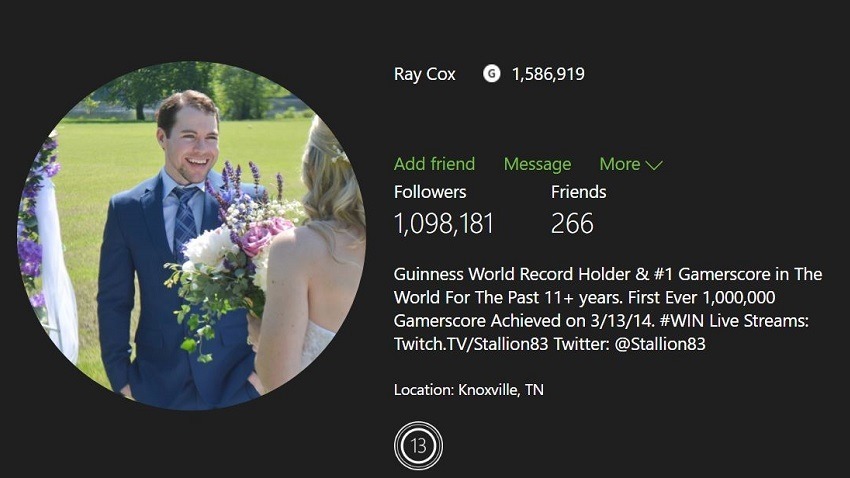 Achievement (or Trophy) hunting is its own special kind of addictive sport, and there are pockets of players out there who take it to an obsessive level. It's fascinating in its own respect, especially when you start looking at the upper echelons of players on both consoles. For a long time Ray "Stallion83" Cox has been synonymous with Achievement hunting on Xbox. He was the first to break the 1 million barrier a few years ago, and has held the top spot for nearly 11 years. But with such competition, it only took a minor slip up to lose that.
Over the weekend Cox lost the throne, with Stephen "smernov" Rowe eventually passing his bitter rival after over a decade of chasing him. The reason though? Cox recently got hitched, and has been away from his console thanks to being on his honeymoon. That's a pretty logical reason to give up on achievement hunting for a few weeks, as Cox himself so eloquently reminded everyone when the news of his title break reached Twitter.
I've been too busy having all the sex. pic.twitter.com/aFNpwuaDY1

— Ray Cox IV (@Stallion83) 4 July 2017
Cox and Rowe are both back at it though, but these aren't the sorts of races that quickly change hands. Achievements dole out small amounts of Gamerscore at a time, so it'll take a similar lapse in dedication for Cox to eventually pass Rowe again. But for someone who was at the top of the game for 11 years, maybe having a new leader isn't such a bad thing.
Cox's Gamerscore currently sits around 1,585,854, while Rowe is just at the 1,591,490 mark. I've been playing for over a decade and don't even think I've breached the 100,000 mark, so all the power to these incredibly dedicated fans.
Last Updated: July 5, 2017