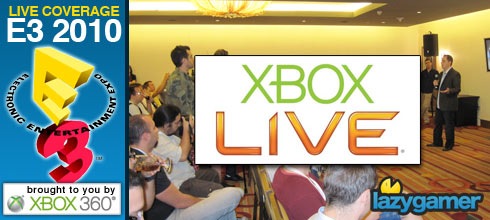 So folks, you are all very aware that Microsoft has just rolled out Xbox Live to a whole bunch of countries, including ours.
While we all have a rough idea of what that means, we were invited to a presentation for emerging markets with Microsoft's Mark Whitten today, and soon after managed to corner Microsoft to get all of the answers that you all want to know.
Hit the jump for everything you need to know about the Xbox Live service, account migration and more.
Here's what we managed to squeeze out of them:
Q: Will there be account migration available to everyone using accounts from other region?
A: Yes, they have also made it clear that it is very important to them for the gamer to be able to keep their gamertag, gamerscore as well as all purchases made on their current account.
Q: Will all regions have localised pricing?
A: Yes, all regions will be able to purchase subscriptions and points using using their local currency. Local currency and exchange rates will also be taken into account when decisions are made for pricing.
Q: When will Xbox Live roll out in these new regions?
A: Xbox Live is scheduled to release at the end of 2010 (holidays). No specific date has been decided, but it has been made clear that the service will roll out before the release of the Kinect (Project Natal) units.
Q: Will Microsoft look at getting in new partners in each region to offer services such as local television channels?
A: Yes, Microsoft will be looking at bringing services to the new regions (such as the UK having SKY and the USA having ESPN). Nothing is solid yet, but we will have official announcements as soon as Microsoft have something to tell us in the future.
Q: Will our regions have all of the same content that is already available to the current supported regions?
A: Yes, with the exception of any titles that are specifically licensed to only one region, but we can expect to have almost all titles available to us at launch.
Q: Will we have access to Last.FM when the service launches?
A: We will get access to Last.FM, however it will not be available at launch.
Q: Are we going to get the South African football kit added to the Avatar marketplace?
A: Yes we are, it is currently the number one most requested item. (we have also talked them into thinking about adding a vuvuzela as an avatar accessory).
Q: In the past, we received some titles such as Gears of War 2, Forza 3 and Alan Wake in South Africa that shipped without the free downloadable content that was made available in supported regions, will we be getting all of that content from now on?
A: Definitely. All content will be completely consistent across the board.
Q: Xbox 360's are not sold in countries like Namibia and Zimbabwe, and the gamers get their goods from South Africa. Will their regions also be supported?
A: Unfortunately not, the new Xbox Live service will only be available in all countries where the Xbox 360 is sold.
_______
Ok folks, that's all the information that we have for you. If you have any more questions, please post them below in the comments and we will do all that we can to track Microsoft down and get them answered but hurry, as time is running out.
Last Updated: June 16, 2010