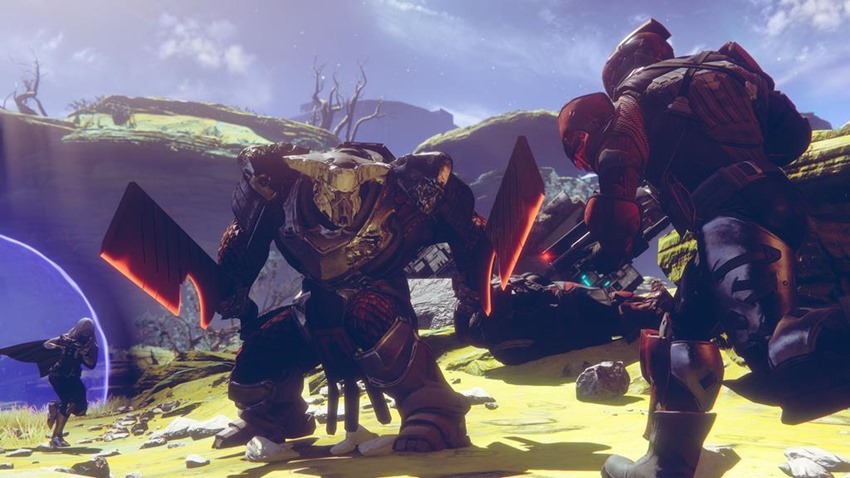 It has been a swell launch week for Destiny 2 so far. Barring a hiccup on the PlayStation Network yesterday, Bungie's sequel of swords 'n science has been off to a rocking start as the servers became populated and many a Guardian began the march to achieving the most maximum of light levels. Also guns. Lots of guns, so many guns that you can see a strange protrusion from Charlton Heston's grave that somehow managed to pierce through six feet of dirt and grass.
Once you've reclaimed your light, slaughtered an entire army of Red Legion troops and shown Dominus Ghaul what for old chap, what's there left to do? Plenty! Destiny 2's campaign is merely the beginning, as Bungie has a plan to keep the content-train rolling on. And this time, they're actually sharing those plans.
One of the biggest regular features will of course be the return of arms-dealer extraordinaire Xur, who'll be wandering around one of the warzones next week Friday. You can also expect weekly resets every Tuesday, Nightfall strikes and the beginning of Flashpoint events. Here's the full schedule for what you can expect this month in Destiny 2: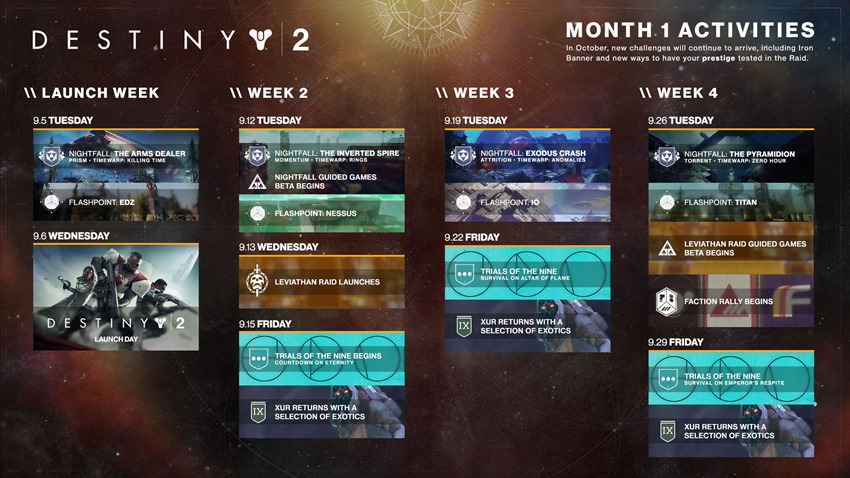 Launch week
Nightfall: The Arms Dealer with Prism and Timewarp: Killing Time
Flashpoint: European Dead Zone
Week 2
Nightfall: The Inverted Spire with Momentum and Timewarp: Rings
Flashpoint: Nessus
Trials of the Nine: Countdown on Eternity
Leviathan Raid launches September 13
Nightfall Guided Games beta available September 12
Xur's first visit September 15
Week 3
Nightfall: Exodus Crash with Attrition and Timewarp: Anomalies
Flashpoint: Io
Trials of the Nine: Survival on Altar of Flame
Week 4
Nightfall: The Pyramidion with Torrent and Timewarp: Zero Hour
Flashpoint: Titan
Trials of the Nine: Survival on Emperor's Respite
Leviathan Raid Guided Games beta available September 26
Faction Rally begins September 26
It looks like Bungie has taken a page out of Hitman's book, as IO Interactive's stealthy sandbox had plenty of content revealed weeks in advance to make good on its episodic nature. And honestly, that's the right kind of influence to imitate. As for October, while not too much has been revealed about the month of ol' Hallows Eve, you can at least expect the Iron Banner to return and put your shiny new guns to the ultimate 4v4 test.
Last Updated: September 8, 2017