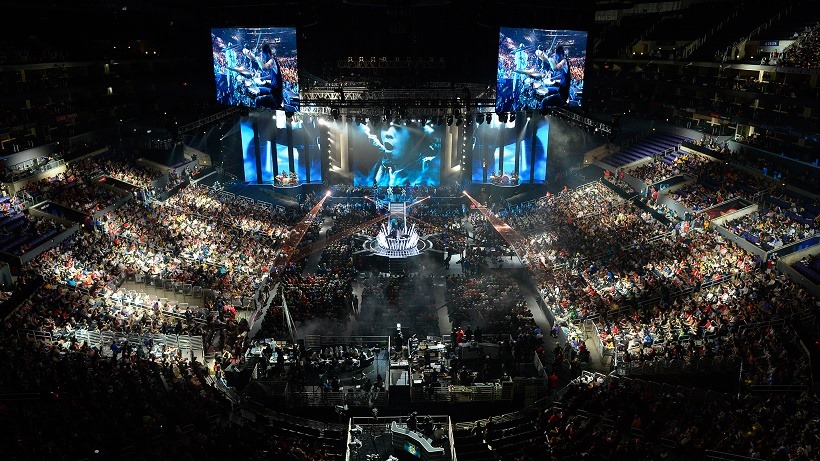 League of Legends Season 3 live from the Staples Center, Los Angeles.
The League of Legends World Championships, better known as Worlds, has been an eSports spectacle since its inception in 2011. The championship not only showcases the best League of Legends teams and players in the world, but also gives gamers a chance to travel, in a one of a kind tournament tailored to perfection.
Initially the World Championships traveled to different locations throughout the world holding an important leg in each. In 2015 League of Legends traveled to Paris (groups), London (semifinals) and finally culminating in Brussels (finals) in a World Championship of the truest nature. This, as mentioned above, was a spectacle as each part of the globe offered something fresh for the World Championship. The Grand Final in Brussels brought a total of 36 million viewers, with a concurrent viewership of 14 million, rivaling most conventional sporting tournaments. In 2016 the championship schedule is changing slightly, offering an American Road Trip for all involved.
Worlds heads to North America
This year Riot has reported that teams will travel from coast to coast facing off in one of the most anticipated eSports events of the year. The Summoner's Cup, or 2016 World Championship, will head to San Francisco for the group stages, followed by the quarterfinals in Chicago, and then moving on to Madison Square Gardens in New York City for the semifinals, eventually returning to the Staples Center in Los Angeles for the grand final.
These iconic locations have played host to a number of major eSports events making them the perfect location for the League of Legends World Championships. The dates for the tournament are as follows:
Group Stage: September 29th to October 2nd and October 6th to 9th.
Quarterfinals: October 13th to 16th
Semifinals: October 21st to 22nd
Finals: October 29th
The best teams from North America, Europe, and Asia will compete for the glory of the Summoner's Cup promising an exciting event for League of Legends and eSports fans alike.
Last Updated: February 18, 2016