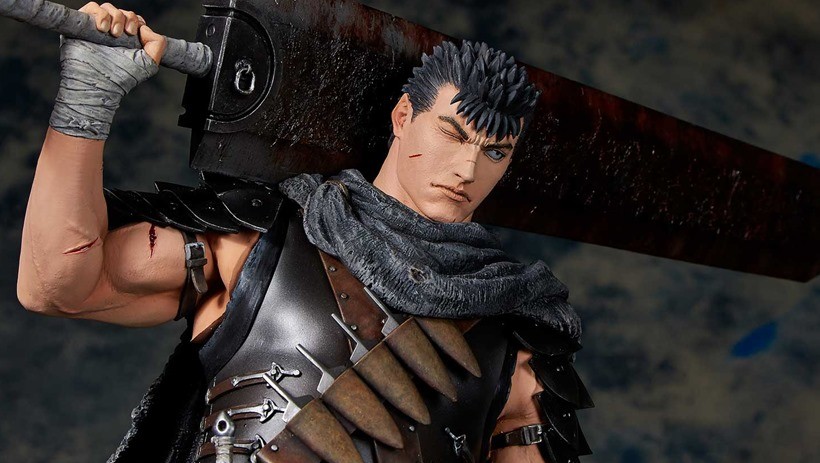 Most anime heroes come from a factory of similar ideas. Your usual protagonist is a mentally retarded glutton who wields a frightening amount of power and ability as the series progresses. And that's fine! They're great heroes for young kids. But as you get older, you start to see the shades of grey in the world around you.
Or maybe you're like me, and you prefer a lead character who knows what his life-mission is, and intends to accomplish it with a swing of a half-ton of iron that can go through monsters like a hot knife through butter. I am of course, talking about Guts. Or Gutsu, I think. Anime dubs are weird.
The Black Swordsman "Guts" is recreated as a huge 1/6 scale figure. The powerful stance captures the attitude of the character, his giant sword "Dragonslayer" resting on his shoulder.

His freshly used sword, along with the slain bodies on the base below, create a tense atmosphere. There are 2 heads included, capturing both "glaring" and "sneering" portraits. "The Brand of Sacrifice" is carved into the back of his neck.

All the textures of the gadgets are sculpted in exacting detail. Details as subtle as the hidden crossbow in the mantle were sculpted with the greatest of care, making no compromises. The "Apostle Spawn" cruelly slain, litter the base, a far contrast to the adorable "Puck" and "Behelit" hiding inside the swordsman's pouch helps express the world of Berserk.
Specifications:
Size1/6 scale (38cm high)
Pre-painted statue
Material: ABS/PVC/Polyurethane
Sculpt: Shinya Akao (HEADLONG)
Digital Sculpt: Masaki Akao
Paint: Norifumi Dohi (Furanken)
Cripes that's massive. According to GeccoDirect, Guts will set you back $339.
If you've never watched Berserk, then you're in luck. The Kentaro Miura manga was adapted into a violent series back in 1997, and has also received a reboot of sorts in the form of new original video animations. It's a brutal, nihilistic series set in a world filled with monsters. But as usual, nothing is more dangerous than human ambition.
Last Updated: November 11, 2015