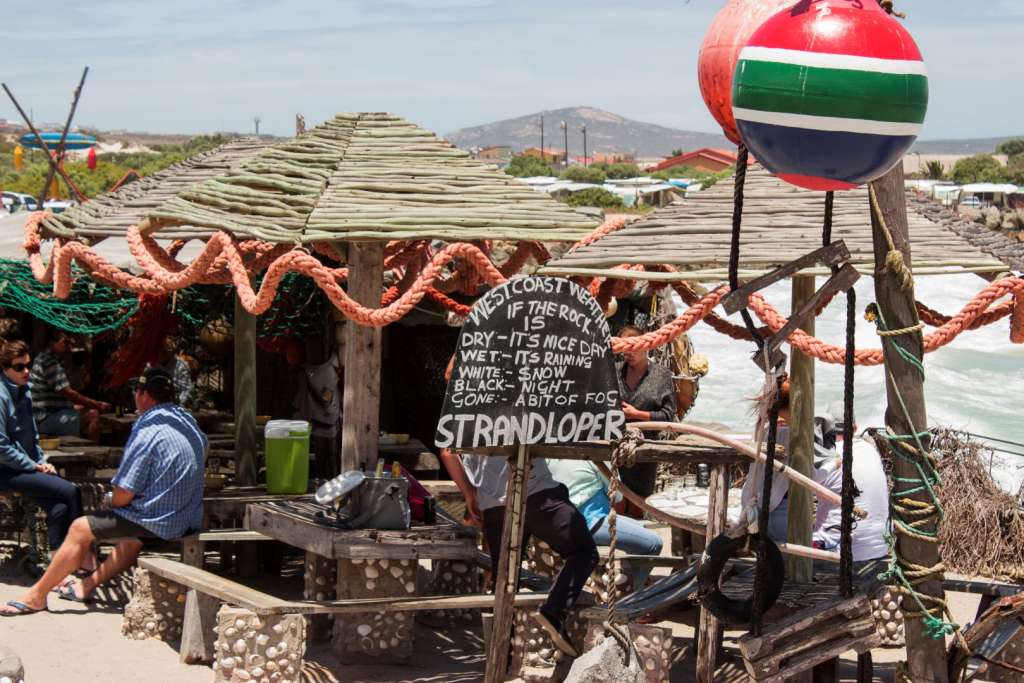 I very rarely choose to eat fish at restaurants, opting instead for a steak or some form of land-roaming animal. I think that is because I have this notion that most fish is frozen and then thawed before serving on a particular day, and I am sure I am correct about this a lot of the time. There are exceptions, though, and Die Strandloper is my favourite.
Located some 140kms outside of Cape Town it isn't a casual 'pop in for a quick bite' kind of place for most and really requires a full day. Indeed it is not a typical place in many regards and that's what makes it so damn brilliant. Die Strandloper is located on the beach, about 20 meters from the freezing, Atlantic Ocean, in a setting that looks very much like a fishing village. Instead of the plastic crap you would find in some recreation at a theme park, this is legit, down to the sand in your food if the wind is playing nasty (which isn't too often, thankfully).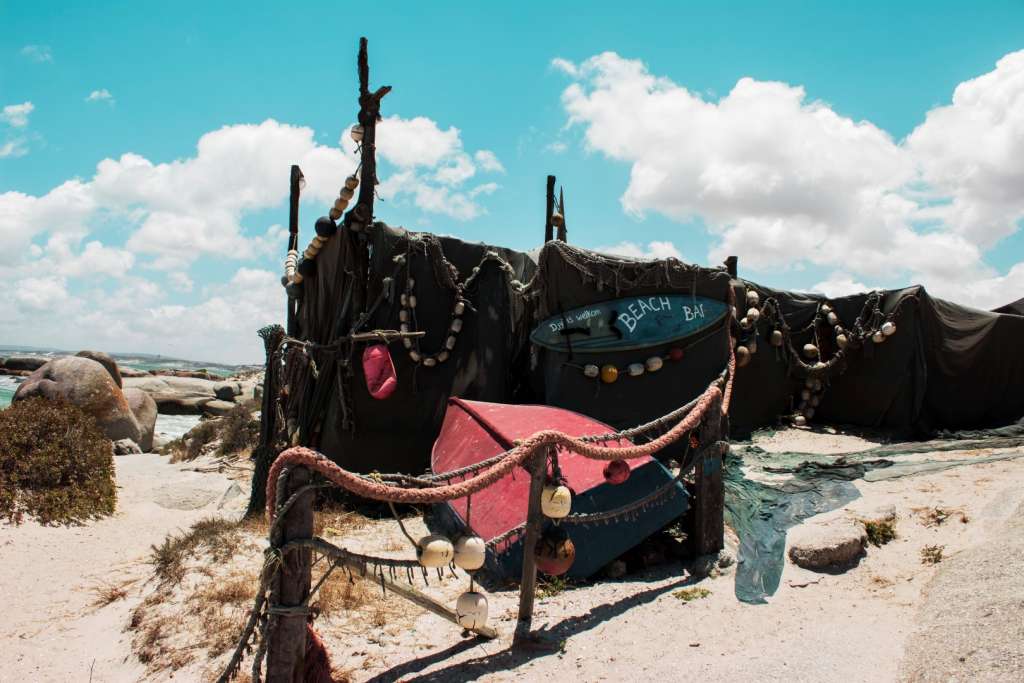 Opening at midday and closing at 6pm you have plenty of time to not only enjoy the very well prepared food but also relax (many sleep for a bit), enjoy the onsite guitarist (takes requests), brave a dip (you mad bro?) or you can walk with the family along the pristine beach.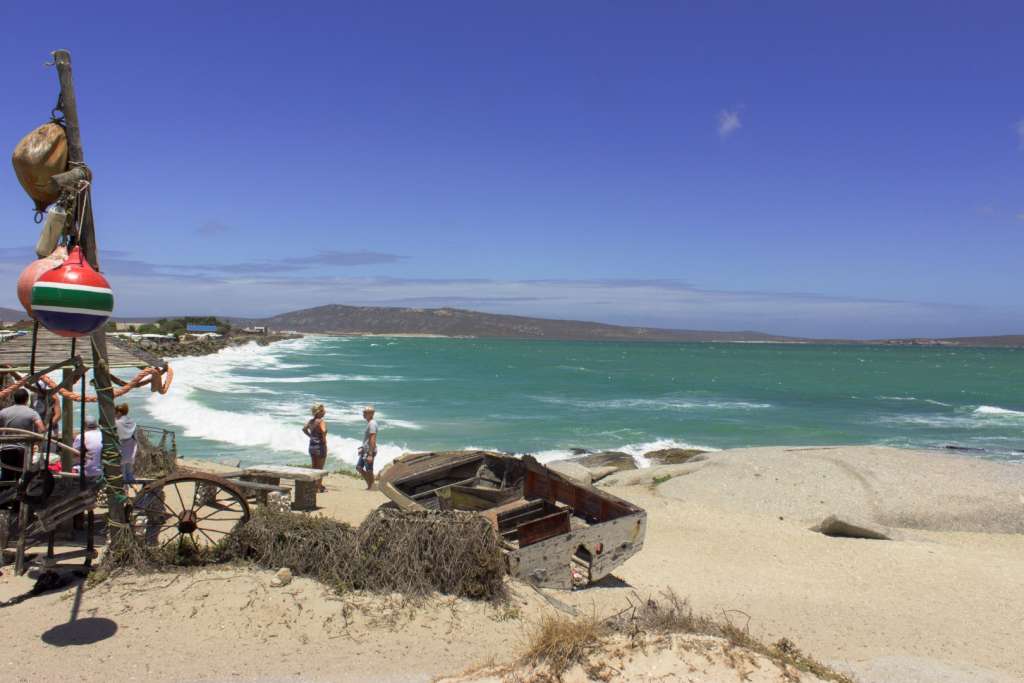 I think the best way to describe this place is to breakdown what I did there recently – on the 24th of December, 2016 to be precise. First things first, BOOK BOOK BOOK. No jokes, this place is usually fully booked at least a week ahead. If you want to risk it, though, call them before and they may have good news for you (there were four tables empty when I was there, peak season). Die Strandloper has its own bar, but, and here is the kicker, you can bring your own booze, FOR FREE. No corkage, nada. Which is why we arrived with a cooler full of champagne (you can buy from their beach bar if you do not bring). When you arrive, they lead you to your table, which is cast concrete, and planks serve as benches.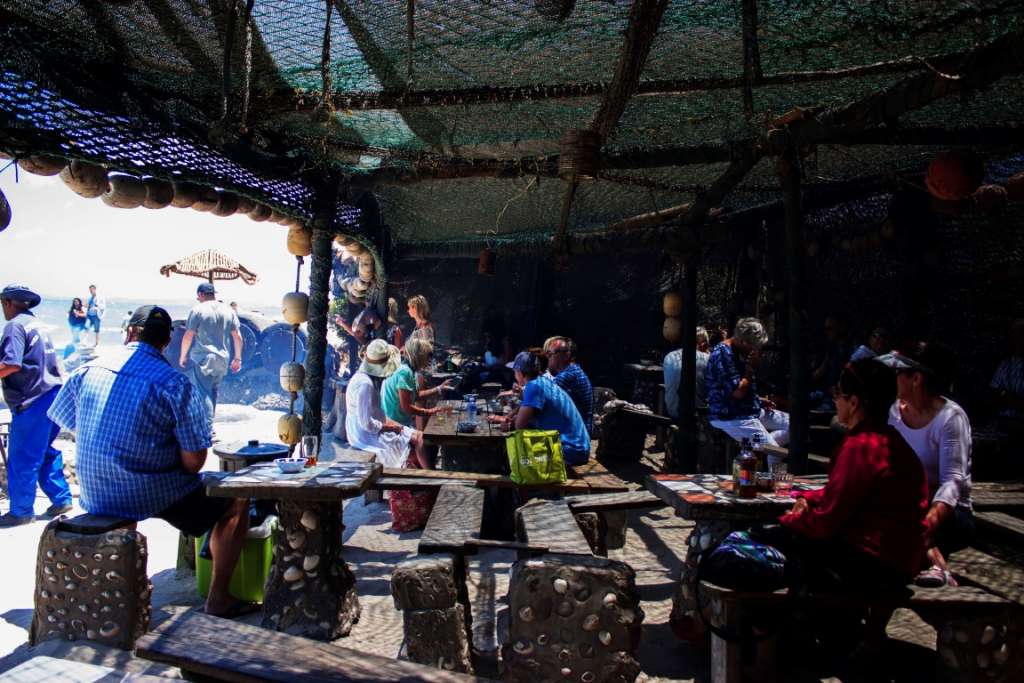 It is a rather relaxed and beautiful setting, and you get to sip on whatever you have brought for about an hour before it's food time. Here you need to actually work a plan. There are around 10 courses. I am sure that many of you are throwing your fists to the sky decrying 'I can do that with ease!' No, you really cannot. Unless you nibble on each course, of… course? So, what is on the menu? Offering this list really does little to convey the actual quality and quantity of food, but I'll offer it just so you get an idea:
Bokkoms
Mussels in wine and onions
Mussels with garlic butter
Weskus Haarders
Fish Curry
Braaied Snoek with potatoes and patats
Lamb Bredie
Smoked Angelfish
Linefish
Half Kreef (West Coast Lobster, this may come off soon due to natural supplies)
Moerkoffie & Rooibos Tea
Koeksisters
Roosterkoek, fresh bread, farm butter and home made jams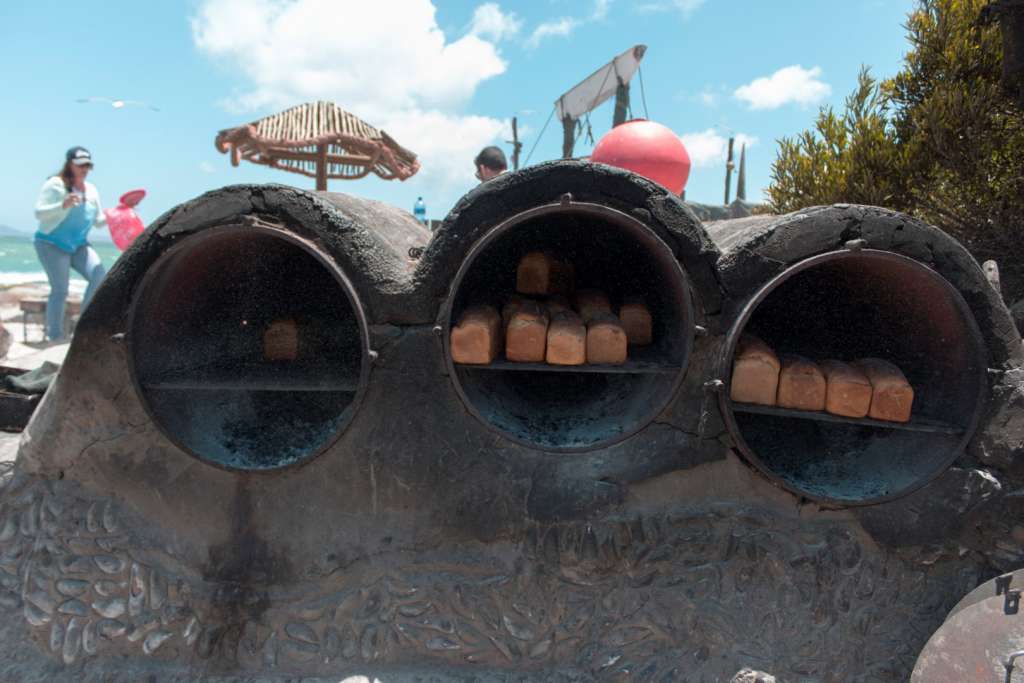 WARNING. The bread is a TRAP. It tastes like it was made in whatever version of heaven you believe. It is hot, dense, and will fill you up like a fat kid in a cement that-tastes-like-candy warehouse. I suggest just one slice, and then the next, and possibly that last one you know will only be the last, because self-control… It's so good!
With the bread comes the mussels. There are two options, wine, or garlic (or be like me, and mix both). At this point if you are able to rub two IQ points together in your head without assistance you will realize you will not make it to the fifth course, let alone the tenth unless you pace yourself. So pace yourself soldiers!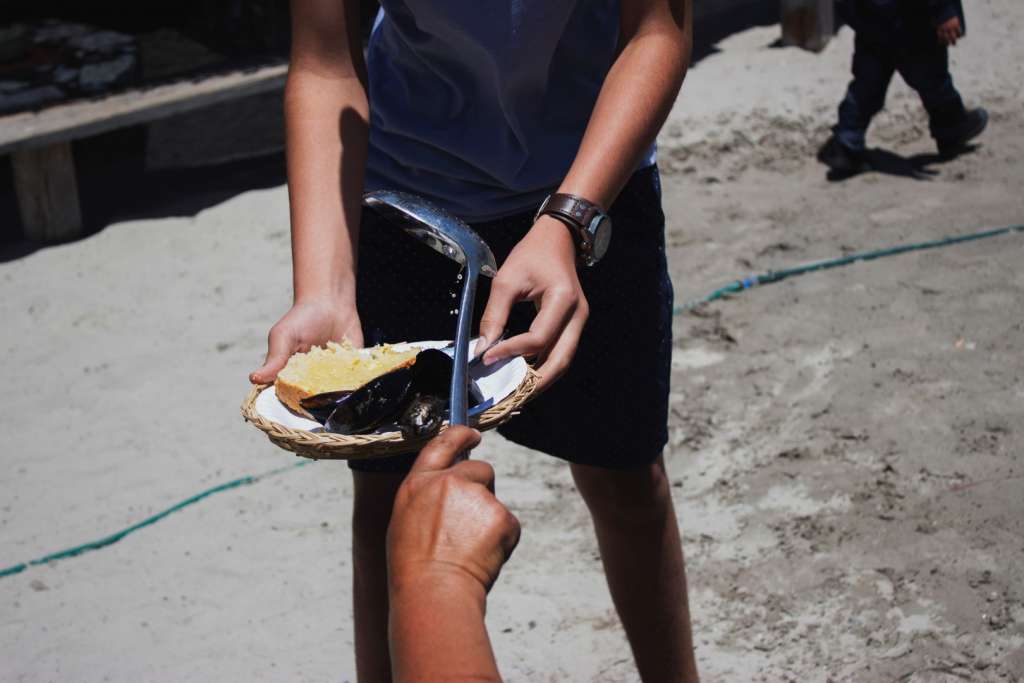 The fish is excellent. There are quite a few courses of them so if you are not a HUGE fish person rather wait for the curry that comes later. Also, bones. If you are used to eating frozen fish fingers or cakes at home, you might not be familiar with just how many bones fish can have. While every attempt is made to remove all the offending hazards, some can still slip through and you'll need to be aware while eating. Also another thing to note is that there are no sauces that you might expect, like tomato, mayonnaise, or tartar. But then again I didn't ask.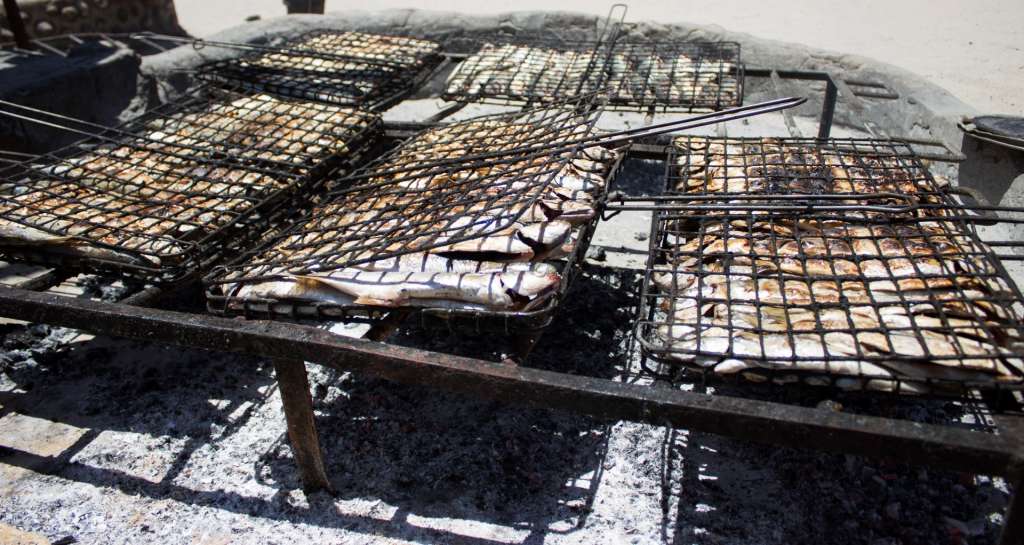 After you have worked out a clever plan to taste everything and not rupture from the main meals the 'desserts' arrive. In the form of Moerkoffie (damn, so good) Rooibos Tea and Koeksisters. By the way, the coffee, I mean Moerkoffie, is stirred with a burning log. Like it should be.
By the end of the day, most people are unable to move, and many actually take a little nap before they head home. I can't blame them. You can bring your own booze and have about 5kgs of food to plow through. What more could you ask for? Oh, yes, the view. Don't forget that.
Die Strandloper is really a unique eating experience that is best shared with friends because it truly is a social place. They also offer a venue for weddings, which is actually really popular, what with the sunset that is spectacular and the openness.
I'll be there again soon, this time not as designated driver.
Atmosphere: Rustic. Don't go expecting silverware and chandeliers. If you are not an outdoors kind of person you should probably head to the Wimpy, and you can bring back some sauce.
Service: Other than having the lobster served (to stop people from stealing too man, you know who you are) it's buffet style. So if you complain you can literally get in the sea.
Food: Excellent.
Notes: The experience costs R 295.00 p/p NO CREDIT CARD FACILITIES – CASH ONLY. Kids 12 years and over are full price, under 5 are free.
Operating Hours: Mon – Thurs: 12:00-15:00 Fri-Sat: 18:30-21:30
Contact details:
083 22 77 195 or
+27 (0)22 77 22 490
Last Updated: February 1, 2017