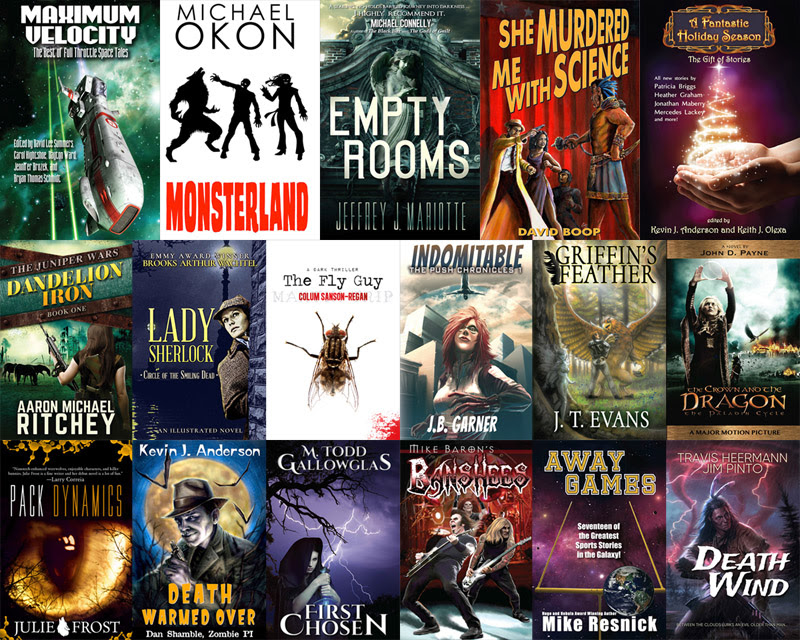 Christmas is coming, and if you're stuck for gift ideas how about the gift of reading? Or you can just buy this for yourself like it's a regular old day.
WordFire Press is a small online publisher run by the ever-prolific Kevin J. Anderson (Saga of the Seven Suns, and tonnes more) and Rebecca Moesta (Star Wars EU). They've pulled together a decent-sized collection of works from authors that publish under their banner to bring you the WordFire Press Super Showcase Bundle.
This selection of novels and short story collections covers the gamut of genre reading, including science fiction, fantasy, urban fantasy, supernatural, post-apocalyptic, superheroes, and horror. There's even a short story collection with tales all set during the holiday season – double the horror!
As per usual all the titles are available DRM-free in .epub and .mobi formats for your reading device of choice, and the bundle consists of two tiers. For a $5 minimum you'll receive the following five titles:
Monsterland – Michael Okon
A Fantastic Holiday Season – edited by Kevin J. Anderson and Keith J. Olexa
Empty Rooms – Jeffrey J. Mariotte
Maximum Velocity: The Best of Full-Throttle Space Tales – edited by David Lee Summers
She Murdered Me with Science – David Boop
Pony up another $10 however, and you'll receive the following twelve titles in addition to those above:
Death Wind – Travis Heerman and Jim Pinto
Away Games – Mike Resnick
Banshees – Mike Baron
First Chosen – M. Todd Gallowglas
Death Warmed Over – Kevin J. Anderson
Pack Dynamics – Julie Frost
The Crown and the Dragon – John D. Payne
Griffin's Feather – J.T. Evans
Indomitable – J.B. Garner
The Fly Guy – Colum Sanson-Regan
Lady Sherlock – Brooks Arthur Wachtel
Dandelion Iron: The Juniper Wars Book 1 – Aaron Michael Ritchie
That's a very… eccentric… collection of tales. I'm curious about some of these just because of how way out they sound, and quite different from my regular fare. What do you think?
Last Updated: December 13, 2017