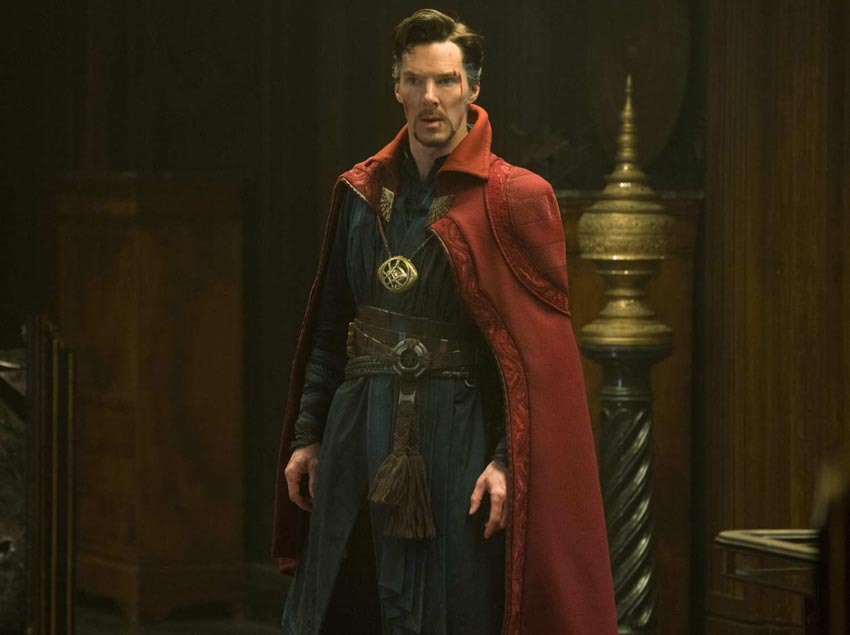 You look at most superhero costumes, and they're not that easy to replicate in case you're thinking of cosplaying as them. Want to dress up as Iron Man? You're going to need a mountain of EVA foam and patience to pull that armour off. Want to be the Hulk? Green body-dye is cheap, but a yearlong membership at the gym and learning the whey of the dragon certainly isn't.
And then you've got Doctor Strange. His outfit certainly looks easy enough. After all, it's just numerous layers with a few mystic doodads thrown on top and finished off with a snazzy cape, right? Not exactly. There's an insane amount of work that went into the cape alone, as Doctor Strange's costume designer Alexandra Byrne explained to The LA Times that there was a "graveyard" of fabric used in creating the iconic cloak of levitation:
What I'd learned from doing the red cloak in "Thor" is that no matter how much you draw it, a cloak, a cape or anything like it is, in the end, the reality of the draping. So it was very much about making prototypes in the workroom, shapes, and how they would hang. We had a small graveyard of red fabric, because you don't know really how it's going to behave until you've got it a long way down the road.
And here's where things get tricky on the replica front. The cloak itself isn't made from a single piece of red fabric, but rather many multiple layers and weaves that Beezlebub Curdlesnoot Baseballbat Candycrush Budapest Cuckatoo Benedict Cumberbatch wore on the big screen:
The cloak itself is a hundred shades of red, there are so many textures and fabrics and shades of material. The original material is a double weave of wool I found at a show in Paris made in Japan, and even the material's weave has three shades of red in it. The cloak has so many processes. Some of it is frocked with velvet. It's embroidered. It has various piles in it.

Even after it's all finished, then it goes to my textile department where it's aged and degraded so it doesn't look like a new piece of costume plopped on someone; it has a lot more shadow and character in it. And, yes, Benedict did have a good time wearing it.
Could you pull off the same effect with some clever positioning and a standard piece of red velvet? Yes, yes you could. But then you don't know what cosplayers are like. Knowing that your own replica isn't as accurate as what was seen on the big screen, eats away at you, bit by bit. But just knowing that this amount of effort went into a prop that few people actually paid attention to, is amazing stuff.
Talk about setting a high bar for the fans. Might be time to strike a bargain with Dormammu then.
Last Updated: January 11, 2017