Water levels in video games are almost universally hated. The controls are almost always floaty and imprecise, leading to unnecessary frustration. Making an entire game based on being underwater seems like lunacy.
Yet, there's something about Giant Squid Studios' ABZU that works. Originally released on PC and consoles in 2016, ABZU is an adventure game in the loosest sense of the word. Rightly drawing comparisons to games like Journey and Flower, ABZU isn't especially engaging mechanically. Like those games, it's an abstract, wordless story – one that's not explicitly communicated – that eschews many of the things we accept as the tenets of what video games are. There's no combat, no way to lose and there's no character progression. There are, I suppose, puzzles but only in the broadest sense. Really there are just a few switches that need flipping. There's no real, definitive goal.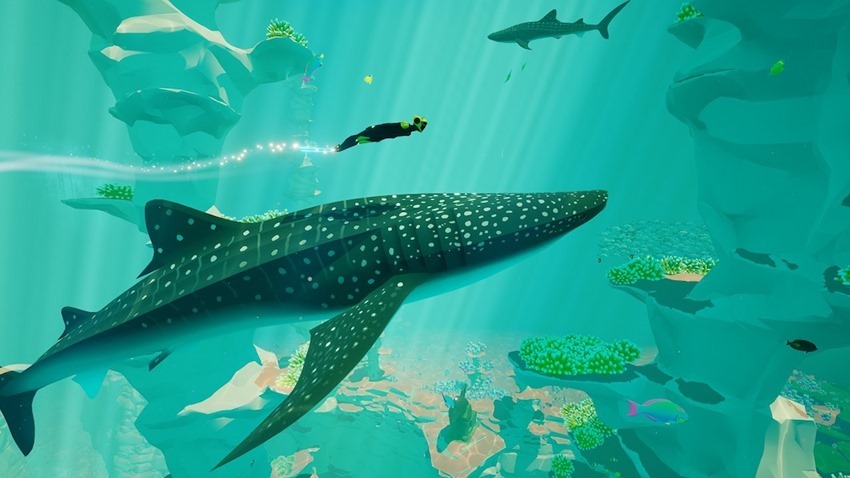 In it, you play as an unnamed diver who only communicates with the subaquatic world with sonic pings. You'll swim throughout almost the entire gaming, stepping on land for only brief periods. As you make your way from level to level, you'll encounter giant schools of fish, whales, dolphins, coral
The comparisons to emotionally affective adventure games like Journey is buoyed by its pedigree. Journey's art director Matta Nava takes the creative director role, while composer Austin Wintory did the musical arrangement for both games. It's his soundtrack, dynamically and evocatively stitched together to create the games meditative mood that elevates ABZU beyond just being a game about doing close to nothing while swimming.
As with Journey, it's a game about quiet contemplation. There are even moments where you sit atop a structure and meditate. It doesn't really earn you anything in-game. Instead, you just get to see underwater ecosystems play out, switching perspective between different fish, whales and manta rays, occasionally eating one another. It's deeply relaxing but doesn't really serve any purpose.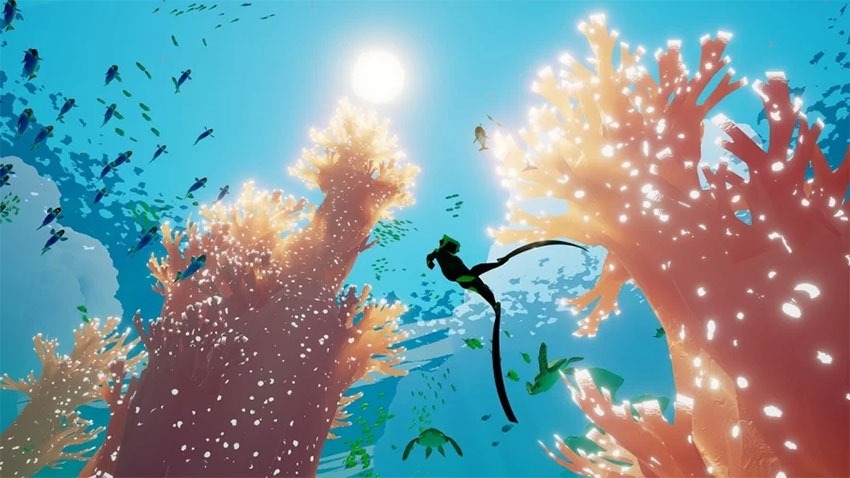 I suppose that could be said of the game itself. It's mostly linear, though it does let you explore each of the game's underwater biomes at your own pace. It asks very little of its players, wanting them to just enjoy exploration.
I don't think it does enough. While it's a perpetual delight to swim with a vortex of fish and latch onto dolphins, it's mechanically uninteresting. That doesn't mean it's a bad experience, though, and it's one that's at home on Nintendo's Switch. The simplistic, but vibrant visuals shine on the Switch's screen, and the system doesn't falter in its presentation or performance. There's perhaps a little more aliasing than you'd find on its bigger console and computer counterparts, but the three-hour long adventure has been faithfully ported.
Below is our original review of the console version.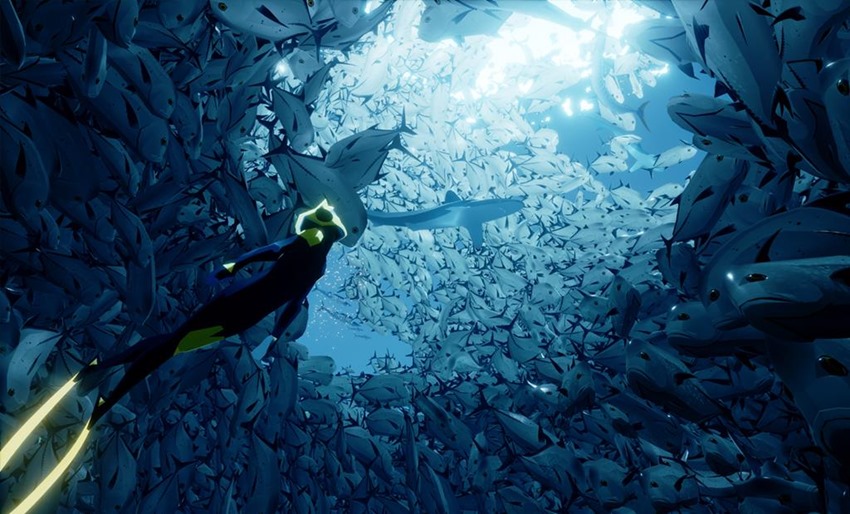 Meditate-rean
Oceans are…weird. Or the oceans that most people are used to, December jaunts to beaches that resemble a collection of bobble-heads dipping with the ebb and flow of the tides. But to really appreciate the beauty of the seas, you've got to take a page out of the Disney animation book and go under the sea. Because down where it's wetter, it truly is better.
Strapping a tank of compressed oxygen onto your back and falling into a blue abyss might not be everybody's idea of a good time, but it's something that I'd highly recommend you do at least once in your life. There's a certain serenity when you find yourself sinking to the bottom of an ocean, a tranquil calm that settles over you as you find yourself exploring the life aquatic.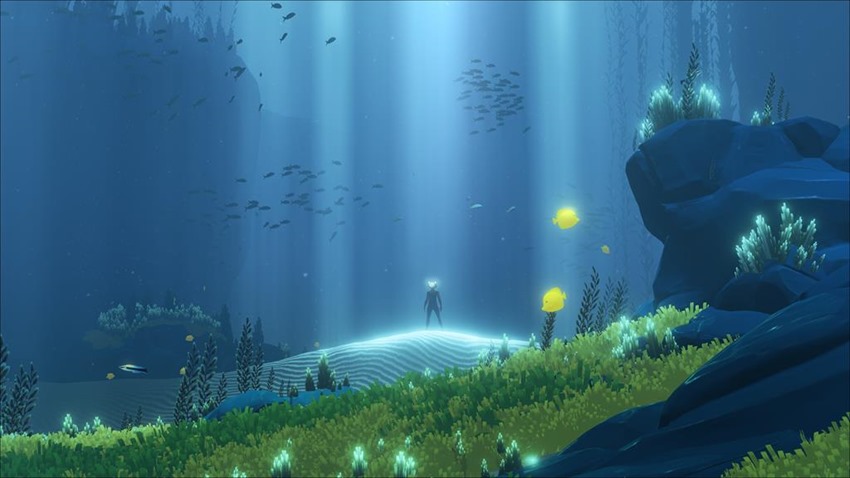 Let's cuttle
That's the kind of game that Abzu is. A soothing swim through digital waters that feels utterly cathartic. With a pedigree of developers that stretches back to the team behind Journey, there's certainly some shared DNA swimming around here. But where Abzu differs, is in its relaxed approach. There's a path to take here, but it's connected by vast arenas of underwater beauty that captures the sheer majesty of an empty ocean or the abundance of life present in more crowded forests of seaweed and coral.
Abzu takes it a step further, even offering a meditation mode to drown out any distractions present. And while there are some puzzles present alongside more scripted moments, Abzu largely leaves you to your own devices instead of pressuring you to solve a mystery that connects the game to its multiple facets.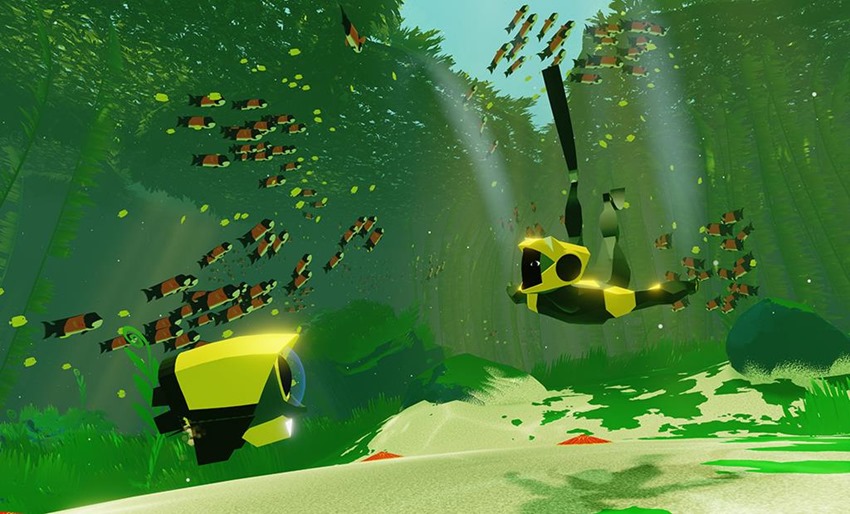 Maybe that's the key takeaway here, the beauty of mystery. Of not knowing what comes next and swimming headfirst into the unknown. Abzu's swimming controls are tight and reliable, but it's only real fault lies in the fact that your actions never truly feel consequential in a meaningful way. There's an end point you'll find yourself floating towards eventually, but Abzu is definitely a case of the journey being more rewarding than the final destination.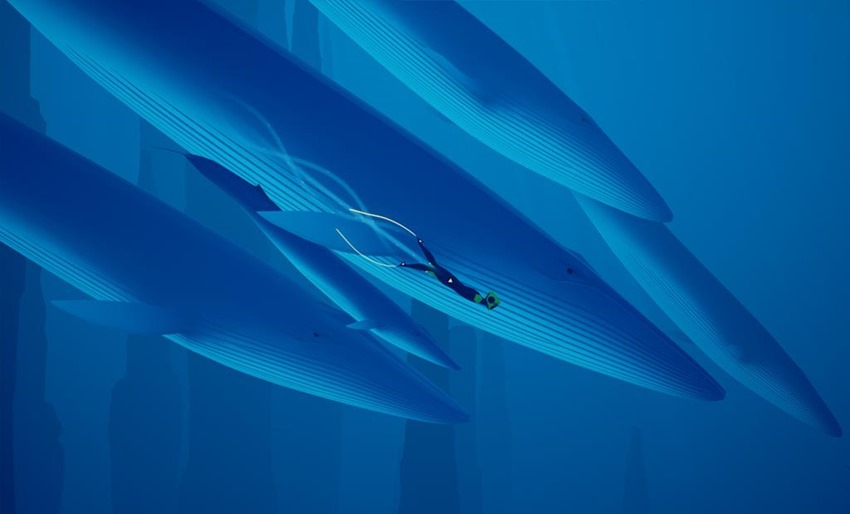 Whale hello there
A journey worth undertaking however, as Abzu oozes beauty with its minimalism and a soundtrack that knows exactly when to shift between being dynamic and calming. There's a scale to the ocean that can only truly be appreciated when you're deep inside of it, but Abzu still manages to communicate ideas that are normally exclusive to scuba divers with some clever camera angles that truly makes you appreciate your environment.
Last Updated: November 30, 2018
ABZU

ABZU is at home on Nintendo's Switch. The simplistic, but vibrant visuals shine on the Switch's screen, and the system doesn't falter in its presentation or performance. There's perhaps a little more aliasing than you'd find on its bigger console and computer counterparts, but the three-hour long adventure has been faithfully ported.

ABZU was reviewed on Nintendo Switch