I don't know about you, but I feel like the arcade racing scene has been too quiet for some time now. The explosion of open-world gameplay has dramatically shifted the way in which we get to experience driving on our rigs, especially when it comes to the more casual racing circles. The simulators are doing fine, with the likes of Forza Horizon 4 and Gran Turismo Sport continuing to deliver the realist formula that the fans enjoy. But triple-A mammoths such as The Crew 2 and Need for Speed: Payback have been met with mixed reviews and mixed responses to their overall gameplay.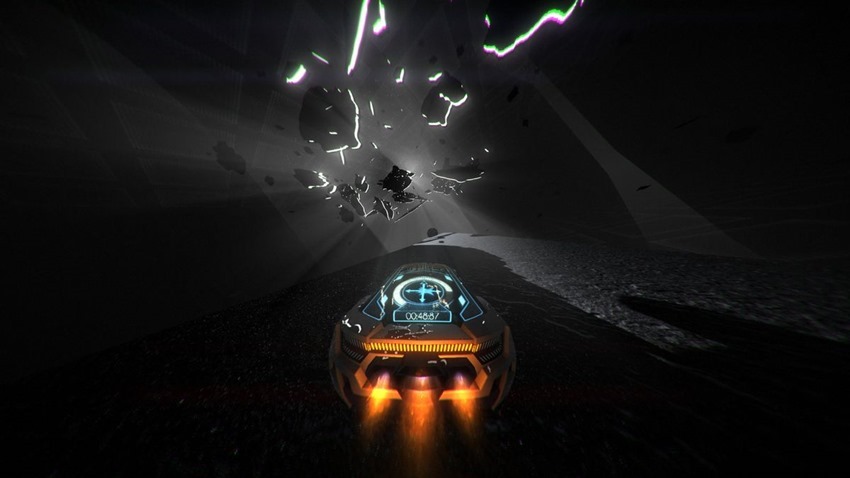 How one yearns for the days of genre speeding. A time when games like Split Second and Blur added flairs of colour to the highway. Luckily, something in the Steam catalogue caught my eye.
Distance has been around for longer than one might assume. Back in 2011, DigiPen graduates Kyle Holdwick, Jordan Hemenway and Jason Nollan, enjoyed critical success with their final-year project arcade racer, Nitronic Rush. Launching a Kickstarter campaign and setting up shop as Refract Studios, the three set about creating the spiritual successor to their first title. Distance arrived in Early Access on Steam in 2012 and stayed there for nearly six years. While initial reviews to the gameplay and its aesthetic were mostly positive, content development has been slow, and that initial hype has long since dissipated. Then finally, on 18 September 2018, Distance Version 1.0 was made available on Steam, with the PS4 derivative to reportedly soon follow.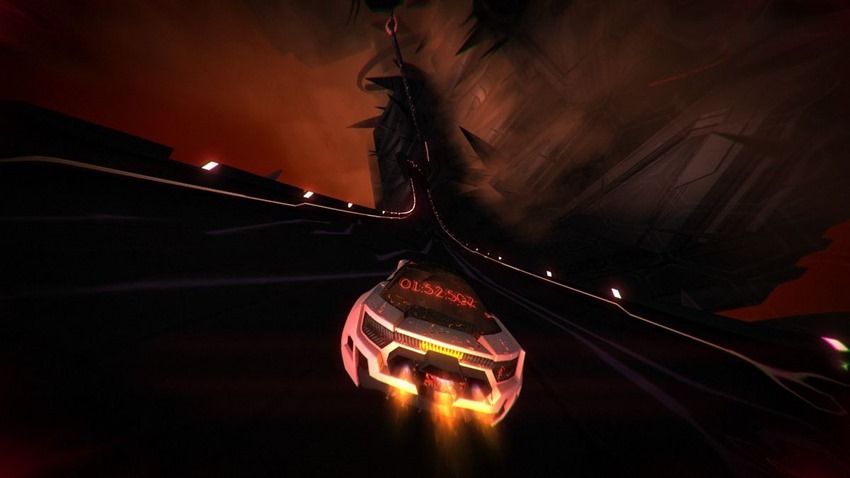 Think Rocket League meets Hot Wheels and Tron. The overall aesthetic of this racer is a current one-of-a-kind to this genre, with a refined use of light and dark to establish one of the game's primary qualities: atmosphere. This is a good-looking game. The binary visual nature of the colours means that there is little blending when on screen, which is of import when you are moving at high speeds. The atmosphere also benefits from Jordan Hemenway's musical score, which is positively euphoric and which builds on itself to grow penultimate feelings of dread and emptiness.
Narrative wise, Distance is not a long nor deep story to traverse. Set in the distant future, an unseen player pilots a vehicle of high speed, velocity and movement. It bids to stop a mutating virus which is slowly spreading across all the dimensional sectors of an orbiting city. The campaign mode is not that long, with the difficulty of the levels seeming to serve more like a tutorial to the other modes that can be played. Give yourself an afternoon, and if your reflexes are on point that day, you can finish it in two to three hours. There is the inclusion of additional campaigns, which in turn lead to a small selection of unlockable content (cars, shaders, etc.). This is an aspect upon which that I hope Refract will expand. The story is over quickly, making way for other modes such as reverse tag and sprints, but it is still very eye-catching and eerie.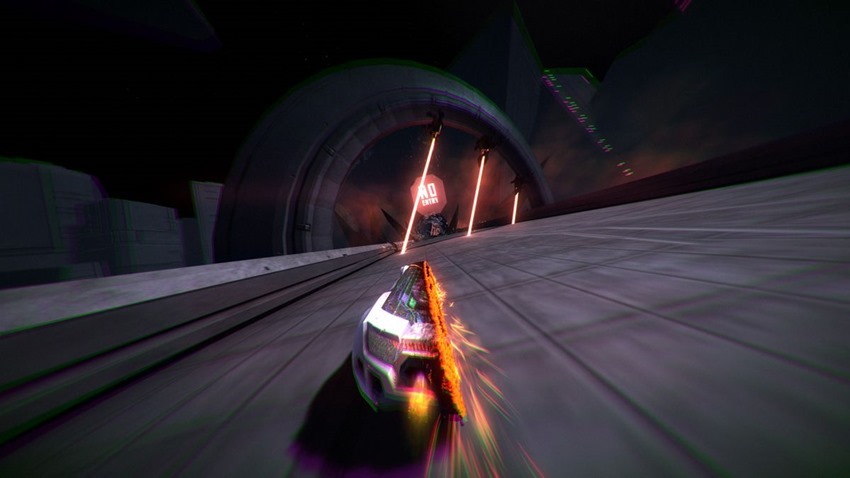 Gameplay wise, Distance can at times feel like Thumper. While the mechanics are very much centred on vehicular racing, the way in which you make jumps, twists, and dodge barriers and lasers become almost instinctual. Said mechanics are straightforward. Forward, backward, left and right, speed boost, jump pad and thrusters. Oh, and you can also fly (the car doors are literally the wings). Once having grown accustomed, the levels can be completed quickly and efficiently. Your hands build a rhythm on the controller and in the case of multiplayer, your goal is to complete a perfect run, and not necessarily beat your opponent.
We now get into the two most important characteristics of this game. With the single-player components being so limited in scope, Distance can get boring very quickly. There are only so many pre-built maps in the game's corner. Luckily, having been around for six years, the workshop is chocked full of player-designed levels. You and a bunch of friends could log onto the workshop server and enjoy a random line-up of some truly impressive roads. The nature of its online multiplayer also means that South Africans need not be concerned with network speeds. You're all travelling at one speed; the winner is quickest to overcome the obstacles. But going back, that workshop is this game's biggest drawcard. And how you experience the multiplayer is also dependent on how many friends you can bring the party.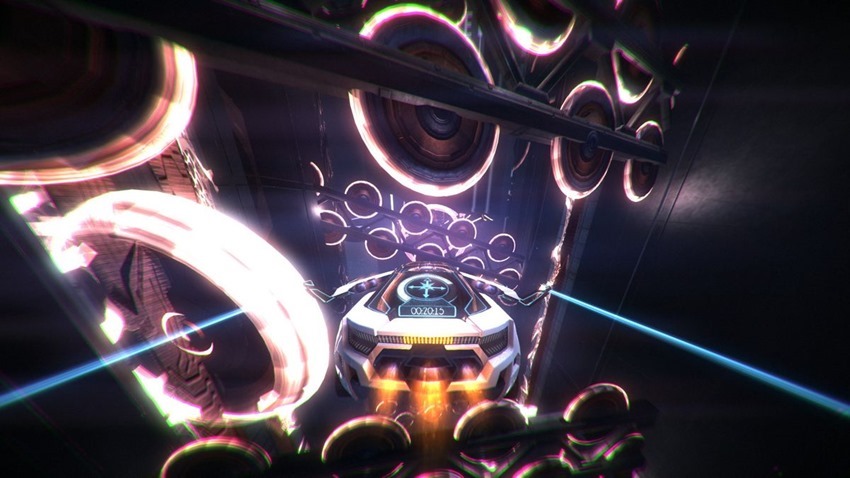 The general interface of Distance is easy to access and navigate. Old-school gamers will enjoy the traditional split-screen option that can be found in the multiplayer. The game does have a few niggles. For one, I am disappointed to see that Refract did away with the ability to insert your preferred music into the game, thus allowing for diverse moods of gameplay. Also, guys, spreading giant pumpkins across every track does not count as a Halloween event. They are frustrating to drive through, and they don't add anything aesthetically. Also, be wary of the fact that it still Version 1.0, for I did notice a few bugs which still have to be exterminated.
But, for a game which you can pick up for a decent price of R150 on Steam, you would struggle to find a game like Distance that looks this good and treats you to a moment of pure speed and eclectic velocity.
Last Updated: November 2, 2018
Distance

Distance is a racing game which benefits from conventional arcade mechanics, mixed with a beautiful visual style, ambient yet archaic music, and a vast collection of user-generated content. Where it starts to choke is its repeat play value, and a multiplayer that is only as good as the number of players and maps you have.

Distance was reviewed on PC