It goes without saying that playing DOOM on the Nintendo Switch brings about a mixture of feelings. It's certainly the least preferred method I'd ever choose to play id Software's incredible shooter, but also the only one I can take with me beyond my TV. It's incredibly compromised visually, but presents the full game without any content compromises for me to enjoy on the go. DOOM on Nintendo Switch is a marvel in optimisation, but it takes a lot of compromise to get to the end product.
Let's not beat around the bush: DOOM on Nintendo Switch is no looker when it's hooked up to a TV. Having the game run in docked mode on a screen that isn't a native 720p quickly reveals the many drawbacks the game features to actually function. Resolution is the biggest knock here. It's low; lower than anything you've probably seen this generation. It makes the game look incredibly soft all the time, sapping the overall image of pristine details and sharp presentation.
(Disclaimer: Not all screenshots in this review are representative of the visual quality of DOOM on the Switch.)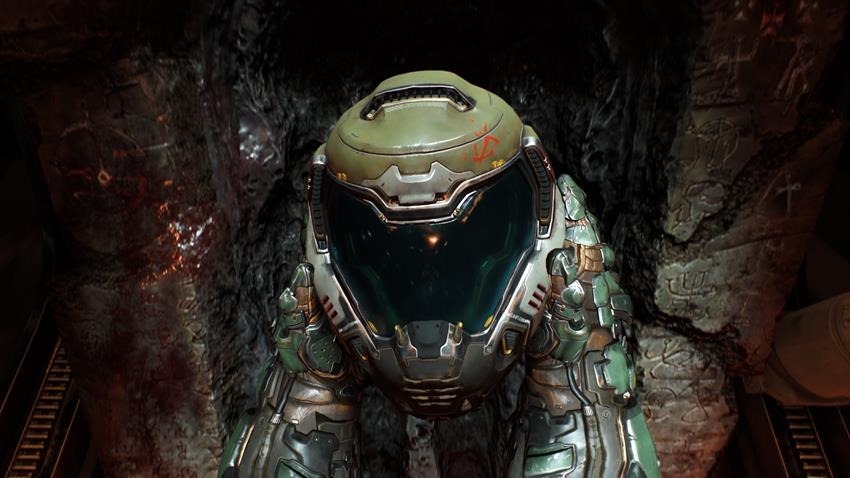 What is intact is the many bells and whistles that make DOOM pop outside of resolution alone. Particle effects, some strong motion blur and even the stunning depth of field effect used in up close gory kills is intact, keeping the overall feel of the snappy shooter feeling just as you might remember it. It's wrapped in a framerate that runs at 30FPS most of the time too. It's not the 60FPS on other consoles (it was never going to reach that), but even then the game struggles in some intense situations to keep things running entirely smoothly.
But those moments are thankfully pretty rare. For the most part, the 30FPS cap is locked, making the biggest difference on this version of the demon-slaying shooter feel almost inconsequential. Consistent, well-timed frames always make inputs feel responsive, so actually playing DOOM on the Switch's Joy-Con feels as natural as it does on a DualShock 4. And that experience only gets better when you undock the console. The part where id's true magic shines brightest.
It's something indescribable almost. Being able to lift the Switch off its dock and see the game effortlessly switch from the middling TV representation to a much slicker portable one seems like magic every single time. Running on battery, the game still struggles to achieve a level of clarity that other smaller, less graphically intensive games do, but it certainly looks a lot better on the Switch's native 720p display. Portable play is certainly the strength of DOOM here, and honestly the only reason you should even be considering this port at all (unless you don't have the means to play it anywhere else).
Playing DOOM on the go is a novel experience, and certainly not something you need should you have already blasted through its lengthy campaign. But it presents some compelling use cases that no other platform can satiate in a reasonable manner. The idea of playing DOOM on a long haul flight, an extended road trip or just in-between waiting periods in the doctor's room (something I often let my Switch tag along for) is a real treat. There's a massive library of games that the Switch does this with, but DOOM is the first that makes it feel like you have a capable PS4 or Xbox One in your pocket.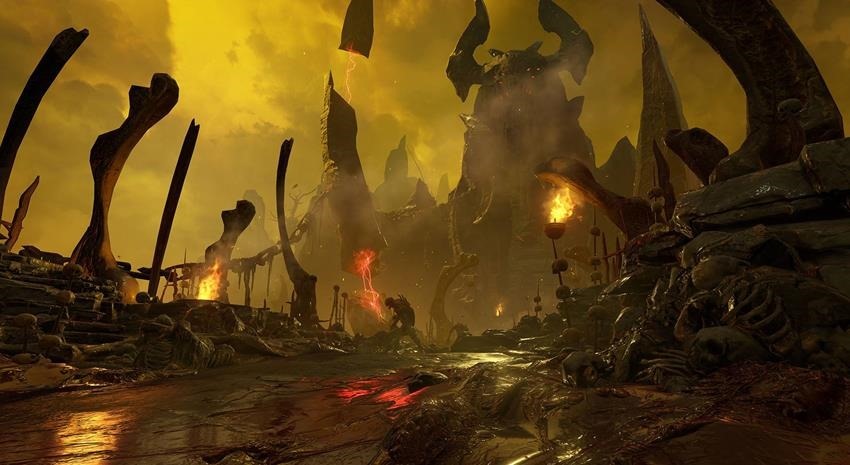 This type of use case allows the game's technical issues to dissolve into the background, but they don't eradicate them entirely. DOOM on Switch is a compromise no matter how you cut it, but it's admirable that Bethesda has committed to at least delivering a full content experience at all. It stares in the face other efforts from larger publishers to bring their franchises over to the handheld, with FIFA 18 just being the most recent example of how lacklustre an attempt at a port can be.
But it's the smaller issues that really can't be shaken for the long time you're expected to stick with DOOM for its duration. The text of the UI is irritatingly small in handheld mode, the occasional slowdown can take you entirely out of the demon-slaying swing, and some odd audio issues drain the life out of the otherwise exceptional soundtrack (I'm hoping it's a bug, because it's an incredibly annoying one). There's no question that you could get this experience in a much more gorgeous skin if you have the means, but there's no way you can throw those into a backpack and keep Mars on the go with you.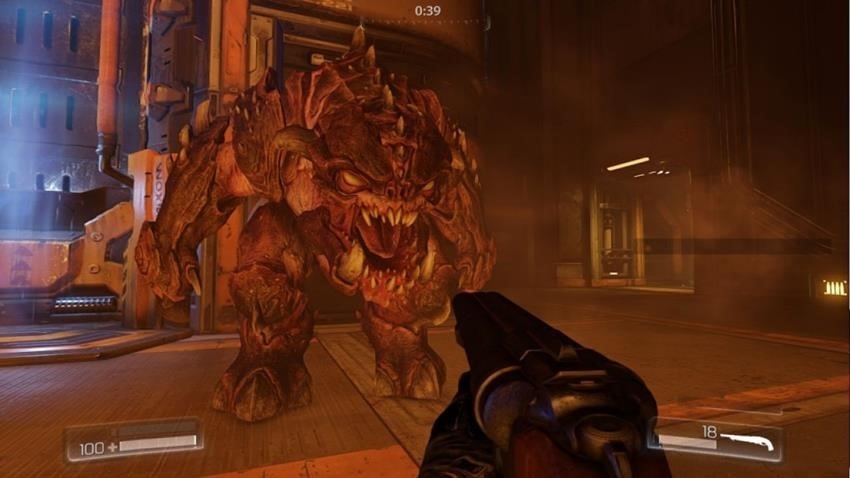 It's the decision you need to make when looking at a full price purchase for a more than year old game too. But if you haven't yet played DOOM, have invested deeply into the Switch ecosystem and foresee yourself need the game outside of your living room, id Software and Bethesda have given this the best go you could possibly hope for. But if you're trudging through the hell spawn on Mars before or are looking for another way to play this exceptional shooter, it might not deliver the experience you are looking for.
Last Updated: November 9, 2017
DOOM

DOOM is a technological marvel to behold on the Switch, and the fact that id Software got it working at all seems like a miracle. But the magic comes with some heavy concessions, making DOOM on Nintendo's handheld a more difficult recommendation for Switch players than any other platform.

DOOM was reviewed on Nintendo Switch