The high-octane racing and incredibly technical terminologies of Formula 1 make it a difficult sport to break into. It's more about just turning corners for two-hour races every two weekends. For most of its fans, Formula 1 embodies the pursuit of perfection. There are thousands of little pieces that have to link into place every single race weekend, with the failure of just one resulting in split-second time differences that separate the top of the crop. It's a gruelling, exciting sport that probably couldn't have asked for a better video game adaptation last year. But with F1 2018, it somehow got that wish anyway. It's not radical changes that make this year's iteration a pole sitter, but rather smart, small improvements that just solidify it as one of the best racing games you can buy right now.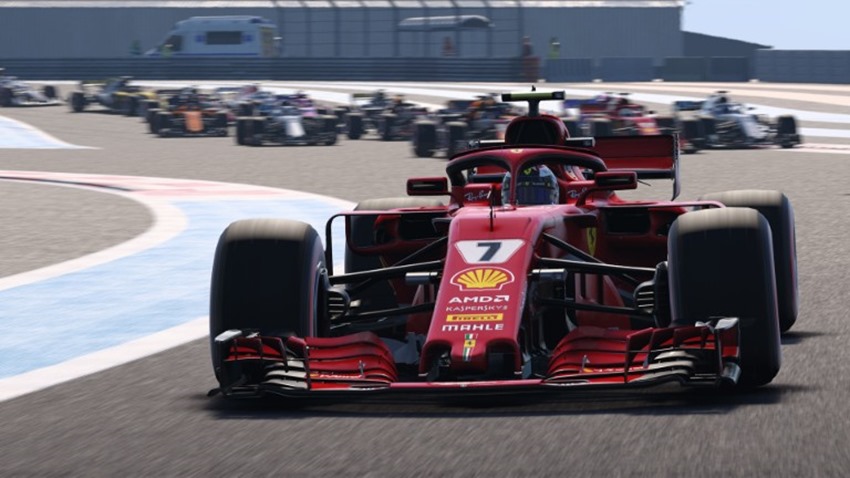 F1 2017 made sweeping changes to its Championship mode – a career path letting you create your own top-notch racing talent and plug him (or her, mind you) into a team of your choice – but 2018 refines it in intelligent ways. As any F1 fan will remark, the sport is every bit about what happens off the track as what happens on it. Small public facing events like driver interviews play crucial roles in team morale and the future of a driver in the sport, which F1 2018 captures quite nicely. A timer is added to post-event interviews that make you feel pressured to give the right answer after a bad session, which has a direct impact on both your team's perception of you and their ability to deliver the upgrades you need to improve.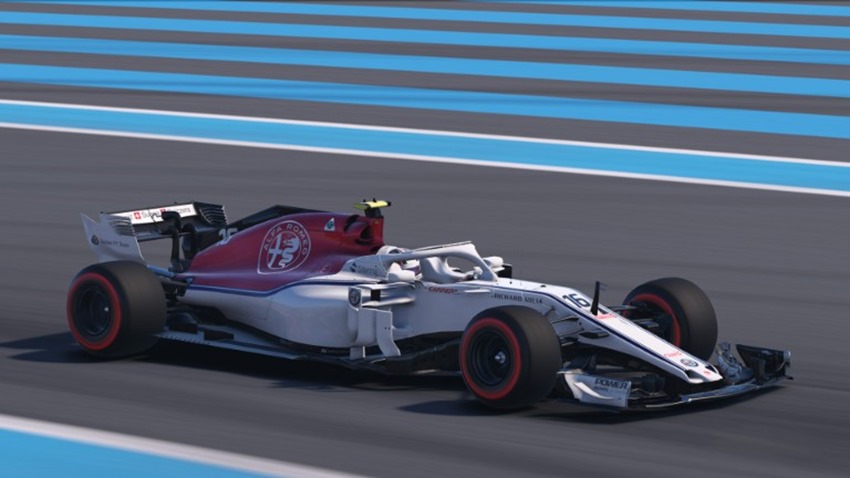 Your expectations are judged by the team you pick, as do your options when it comes to vehicle improvements. A team like Ferrari or Mercedes will want you to be placing on podiums week in and week out, but also give you access to the most technically proficient cars in the field. By competing in Practice session challenges, ranking highly in Qualifying sessions and winning races, you'll accrue Research Points that you can pour into R&D trees for numerous upgrades. These investments take time, and have the chances of failing or being delayed, all of which depend on what types of risk mitigation strategies you employed. But choosing the right upgrades at the right time of a season is crucial. Having the ability to deploy a power unit for one race longer or have an engine fail fewer times saves you from later season grid penalties and unforeseen racing problems, each of which amplifies your chance to create a name for yourself amongst greats like Sebastien Vettel and Lewis Hamilton.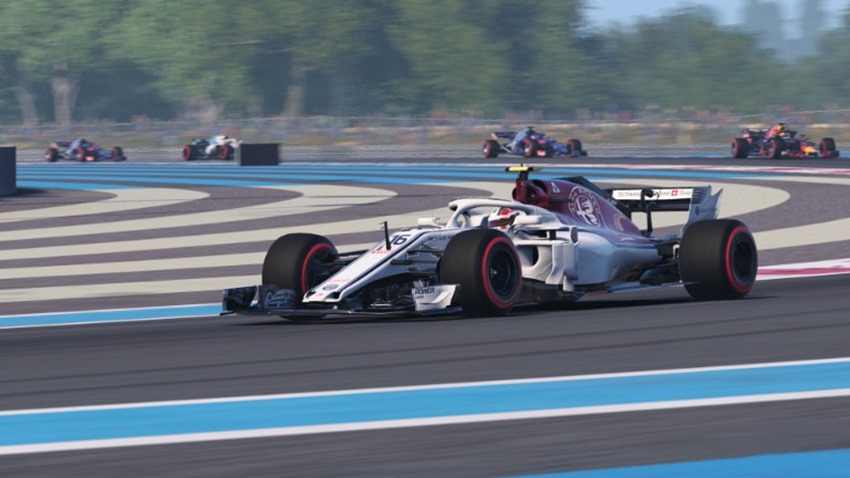 These Practice Session challenges are probably the most effective means to acquire points quickly, but they're also intelligently designed to help you get to grips with each new track's many challenges. Track Acclimatization, for example, places gates that you're required to drive through while keeping a good pace, which helps you hit each chicane perfectly and nail exactly when to deploy DRS. Not sure what the Drag Reduction System is? No problem either, as your crew fills you in on the intricacies that exist within the new Turbo-Hybrid era of F1 racing. There's no stone unturned, which is useful irrespective of your knowledge of the underlying sport. Even if you aren't watching F1 every weekend, F1 2018 makes sure you understand the ins and outs of your car well before you're forced to put it on the line during a race. And the fact that it integrates its teaching in smart driving challenges that further reward you with progression is incredibly clever.
This makes F1 2018 accessible in a way that'll probably surprise you. At its core F1 2018 is a simulation racer, giving you all manners of sliders and options to fine tune both your racing rules (from dynamic driving lines, AI difficulty and ABS support) to the small components of your car (downforce, braking force, energy distribution and more). There're more than enough options to truly get your hands dirty with all the problems a real F1 driver has in the car. You can manually change energy injection into your engine while racing, or also mix different levels of fuel if you're gunning for an overtake. All of these factors into complex racing strategies that have you balancing your fuel load, brake pressure and tire wear. The sorts of conundrums that F1 teams must consider when measuring every lap of every race.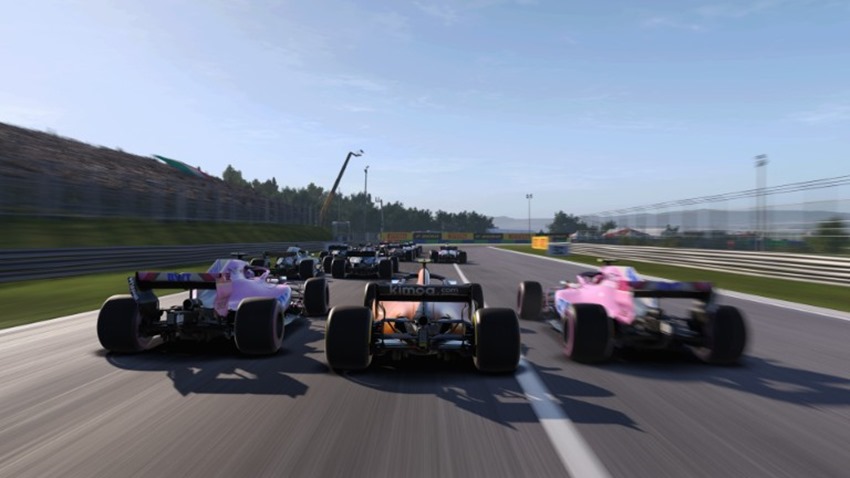 But if you're just looking for the easiest way to slip into F1 racing without all the technical baggage, F1 2018 offers that too. It's not enough to fully justify calling it arcade racing by any stretch, but there are enough options for you to just must worry about where the throttle and brakes are and little beyond that. Better still is how F1 2018 adapts its gameplay around that to still make you feel like small decisions have a big impact on your results. You can spend little time fine-tuning settings to ensure that your big pole position qualifying times measure within the tenths of seconds of your closest rivals, and not break the illusion of the sport with wildly ridiculous performances. There's a lot of thought that has gone into making sure that anyone who wants to replicate the feeling of adrenaline-fueled success can do it, without making you worry about your racing aptitude getting in the way.
Of course, the real challenges found in F1 2018 aren't really in the game's expansive Championship campaign or exhibition racers, but instead pitting your skills against other humans online. In the past, Codemasters has struggled to find as delicate a balance here as they have in their offline modes, partly because players hardly respect the rules as well as an AI can. Collisions can absolutely ruin a race in F1, and so having ten players dive into the first corner of a race without any regard for the rest of it can quickly ruin a good online fight. Codemasters combats this with a pseudo driving license of sorts (which itself has some bearing to the sport as well). Poor drivers will have strikes marked against their license for collisions, bad sportsmanship and deliberately toxic behaviour. Those strikes impact your ability to race against good players online, instead relegating you to the same pool of reckless drivers or removing your ability to race at all. It's a strict but fair way to try to regulate online play so that the allure of precision driving isn't lost, even if it might not work as intended every single time. A race can still be destroyed by a seemingly unnecessary risk, but even real drivers must deal with the likes of that on the track too.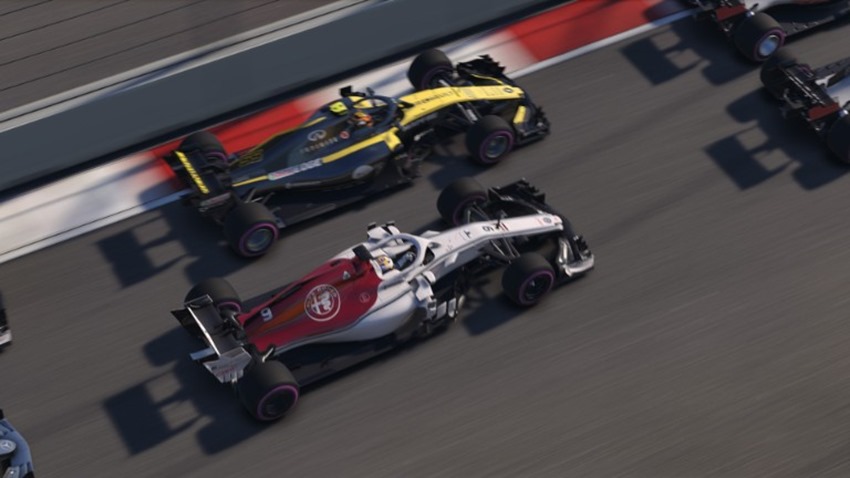 Nothing is spared too in the visual and sound departments, with the high-pitched roars of an F1 engine vibrating your eardrums while its delicately detailed model's sooth the eyes. Tracks are meticulously replicated and serve almost as interactive virtual tours in some cases, bringing you closer to the hot tarmac than any TV broadcast can. Facial animations and driver replications are fine, but certainly not up to a level that you'd still expect from the rest of the presentation. Likewise, vehicle physics is still somewhat hit or miss. While you'll feel the crunch of a late brake that sends you onto the gravel and into a wall, slight shunts with other drivers feel miscalculated and unrealistic. It's a minor knock against what is otherwise another exemplary show of technical prowess.
But if there's something that F1 2018 really nails down, it's the racing. Better still, the balance it strikes with being a hardcore simulation and a fun toy for less experienced players to mess around with. That's a tough line to walk when you're trying to appease some of the most fanatical motor obsessed fans in the world, but F1 2018 doesn't jeopardize its racing with a dumbed down approach to all the rules and regulations the sport demands. Instead, it cleverly translates them into entertaining learning tools that can be adjusted to exactly the degree you want them too, further cementing this series as one of the finest racing titles you can hope to play right now.
Last Updated: September 7, 2018
F1 2018

F1 2018 doesn't skimp on technically deep and rigorous racing, but its approach to appease both hardcore F1 fans and curious racing fans alike make it a title that has a much broader appeal than just the sport itself. It's a gorgeous package with smartly designed content to keep you entertaining on and off the track, and just a darn fine racing experience around every corner.

F1 2018 was reviewed on PlayStation 4