Once upon a time, Giana sisters existed, seemingly, as a way to skirt around copyright laws. The 1987 platform game was an unabashed Super Mario Bros clone, bringing that sort of platforming to systems Nintendo didn't really want them on. It made a few changes to the formula, sure, and was fun to play in its own way, but that is borrowed its central premise can never really be questioned.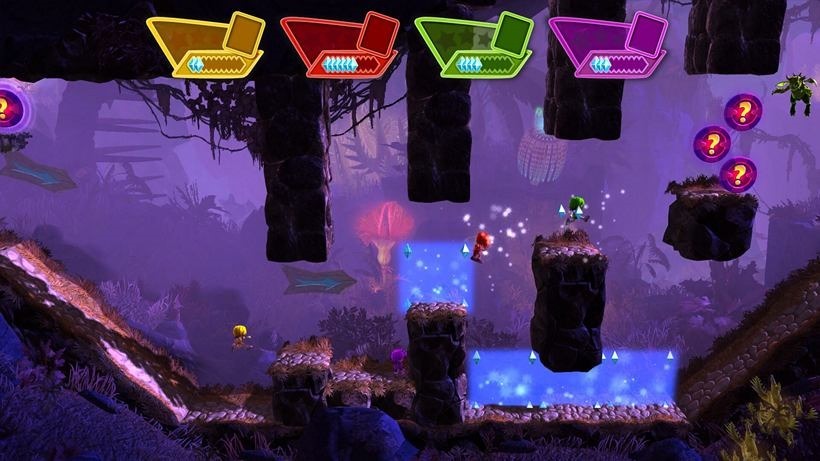 The series, or its namesake at least was given reprieve later in, with a game on the DS, and later, thanks to Kickstarter, a wider reboot by way of Giana Sisters: Twisted Dreams. That game was a puzzle platformer that carved its own identity, and was charming to boot; probably one of the least expected, and most successful comebacks in all of videogames.
The newest release bearing its name harkens back to a more sinister time, I suppose – because it's a shameful clone of the infinitely more fun indie game Speedrunners. Like that game, it's an attempt to mash up the noble platformer with multiplayer racing games like Mario Kart. You and up to 3 competitors are set to run across a looping platform stage serving as your track.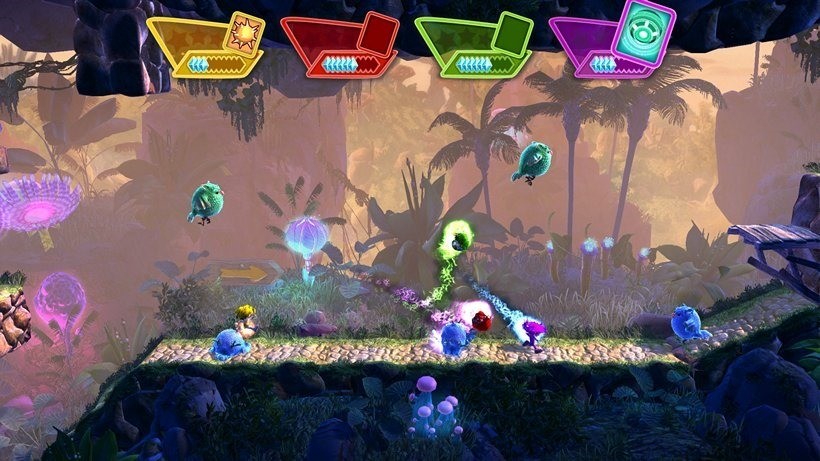 The goal is to keep running around the closed loop, run far enough ahead and opponents are pushed off-screen, a little like the micro-machines racers of old. Players are tasked with utilising an array of unimpressive power ups and abilities and not dying- by getting caught behind walls or other obstacles.
Those who do, or get left behind are excised from the run, leaving the last sister standing as the victrix. The power ups; things like temporary invincibility, teleportation, projectiles are exactly what you'd expect from this sort of thing, but none of them are particularly useful, as they have a negligible effect on your opponents. While mashing up platforming and racing is noble, the execution is anything but. That's largely thanks to what can only be called atrocious level design that never has any flow to it.
Because of the zoomed-out camera, the blistering pace of the game and the fact that each of the game's nine levels is so visually busy it becomes hard to see what's actually going on. Speed in a platformer is fine, provided that the controls match up to its pace, and that's not the case here; the sisters are far too slippery and loose to control – exactly what you don't want in a platformer like this. There's a charged dash move that makes control even more unreliable.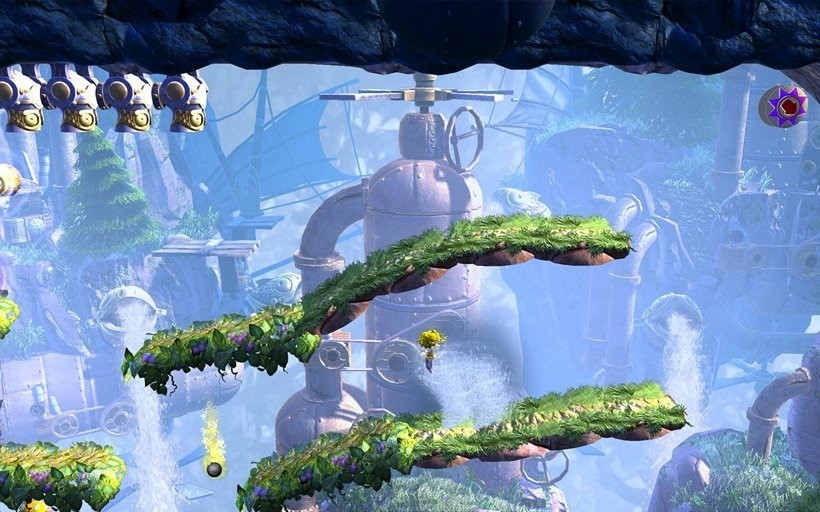 The game's made to be a multiplayer game, featuring no real single player element. On its front menu, you can jump in to a ranked or social multiplayer match – but in my experience playing, it's either completely broken, or nobody else is playing because I couldn't find a single game. Thankfully (or not), you can play against bots or play it as a local multiplayer game, where it's at least fun for five minutes.
Beyond that, it's just a bad game. The presentation is worse than the stuff you'd find in cheap and nasty mobile games, and the game itself just isn't fun to play. It's easily the worst game I've played all year, and I'd rather be repeatedly hit in the face with a wet fish than be made to play this again
Last Updated: September 3, 2015
Giana Sisters: Dream Runners

Mashing up platforming and racing is a great premise, even if it's a stolen one. It's a pity though, that sloppy execution makes Giana Sisters: Dream Runners one of this year's worst games.

Giana Sisters: Dream Runners was reviewed on Xbox One