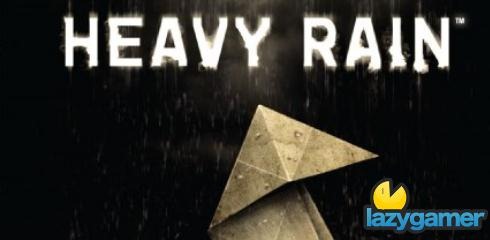 The first reviews for Heavy Rain are rolling in and so I decided to give them all a look to see how things are going.
A lot of the reviews are saying that Heavy Rain isn't really a game, but more of an interactive movie experience, and a lot are quick to point out that this isn't necessarily a bad thing. I must say that my excitement for Heavy Rain has been building up very steadily over the last couple of months and I can't wait to get my hands on the game.
Let's have a look at how it's doing.
The current Metacritic rating for Heavy Rain is sitting on 93/100 with its highest review score coming from the Official US Playstation Magazine with a sparkling 10/10.
The lowest score comes from PSM3 Magazine UK who have given it an 88/100 and say that "It's essentially a nine-hour film that you nudge along by following on-screen button prompts, although you feel more connected with the action than this might suggest."
Heavy Rain seems to be something new and different, which means that I am all for it. GamePro had the following to say about Heavy Rain, which I found quite interesting:
It's barely a game in the popular sense of the word, but Quantic Dream's masterpiece makes groundbreaking strides in storytelling and character development, demonstrating that interactive entertainment still has a deep well of untapped potential.
This game has really got me interested, even if people are saying that it's more of an interactive story than anything, I like where it's going.
What about you guys? Who's getting it on day one? Anyone not interested or having second thoughts?
Comment below.
Last Updated: February 10, 2010