When it comes to game modes, Madden 11 also doesn't leave you wanting. On top of the basic exhibition modes as well as challenges based on real NFL events and mini-games, you can play a full franchise mode which can span over 30 years with a team of your choice. You also have the NFL Superstar mode which allows you to play as one NFL star, and progress in your career from rookie to seasoned veteran. Controlling only one character has never been simpler, as the game allows you to skip to only the parts where your player is actually on the field. This mode is actually really great if you for instance, just like playing quarterback and want to play a quick game that only includes the part of the game that you like the most.
One of the biggest modes in the Madden franchise is its online modes. You can go head to head with other players online, and even compete in co-operative season play with online 3 vs 3 play. The craziest thing about the 3 player online play, is that each player can have a squad assigned to them, which they make decisions for. The quarterback for instance, will call the plays for the offense, while the other two will be calling the plays for their respective defensive squads for instance (each player also controls the players in their squad). It requires major team work, so playing in this mode without a mic would be gaming suicide.
The game really has a ton of stuff to do, without mentioning too much, you can also play a mode that works like fantasy football and allows you to also collect player cards and build your ultimate team. Also included with Madden 11, which has become a standard for the games of late, is access to NFL news including behind-the-scenes videos of team practises, injury reports and more.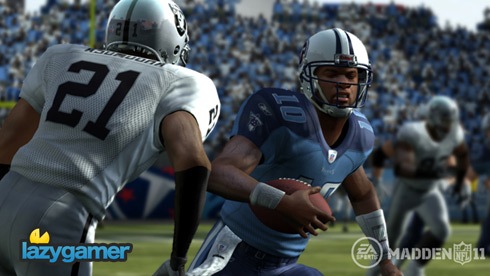 As far as presentation and visuals are concerned, Madden 11 is a fantastic looking game. Sure, it still doesn't come remotely close to the "target render" cinematics that were shown at the beginning of the HD console's lifespans, but textures are sharp, animations are smooth, weather effects look nice and to top it all off, the game runs incredibly smooth with nice quick frame rate.
There is however, one part of the presentation that I really don't like in Madden 11. We all know that in the world of US sports and television, advertising plays a big role and it becomes tricky when you need to decide if the inclusion of advertising in a game like Madden 11 increases its realism or feels like a plain rip.
The soundtrack is also a little strange, and while it's not so bad, it feels like it was stolen straight out of a Guitar Hero playlist, with the exception of a few songs here and there. The coach voiceovers are great for gameflow and the commentary is smooth but I did experience a few instances where the voice would cut out suddenly for no reason.
The problem here, is that this is a video game, that you have paid a good chunk of money for, not a free TV broadcast that requires your money to exist. At one point I wanted to let my gripes with the advertising slide, but then my mind was changed very quickly. After receiving a punt and running it all the way across the field for a touchdown, I unlocked a sponsored trophy. That's right, a trophy (or achievement on Xbox 360) that is actually sponsored by a company, and that made me realise that it was beyond the realms of advertising for realism's sake.
Conclusion:
I cannot fully express just how much Madden 08 had put me off of Madden games, I was honestly quite happy to never play one ever again. Madden 11 changed my mind, and fast. This is undoubtedly the best looking, smoothest playing Madden ever released and one that can be fully appreciated by veterans and newcomers alike.
For fans of: Madden, NCAA, Backbreaker, Sports games
---
Scoring (not an average)

Gameplay: 9.0
Responsive controls that feel natural and are fun to use
Presentation: 8.5
Really good looking, smooth running game. Advertised to death.
Sound: 7.5
Good commentary mixed with the usual bangs and crunches. Soundtrack is a touch odd.
Value: 9.5
When it comes to value, this is almost as good as it gets. There are tons of modes to keep you busy offline for a long time and the multiplayer modes only triple that longevity. If you are a big enough fan to already be planning your purchase of Madden 12, you have more than enough here to keep you busy for the entire year until the next game's release.

---
Overall: 9.0
It makes me want to play more and more, and that's what a sports game should do. The best NFL game that I have played to date.
[Reviewed on Playstation 3]
Last Updated: August 20, 2010