I don't care what the Kardashians have to say, because there definitely are far more famous duos in existence than just a pair of socialites who are famous for being famous. Think Stephen Fry and Hugh Laurie, Timon and Pumbaa or Cheese and Onion chips. You can add Fortnite: Battle Royale and Nerf to that list, because a combination of the most famous name in foam dart blasters and the biggest game on the planet is easily a match made in heaven.
Nerf's been on a tear lately, converting iconic video game weapons into real-world replicas that aim to hit the sweet spot between accuracy and fun. With Fortnite, they've clearly struck gold as they've begun releasing foam dart weapons and super soakers. Out of all them, the AR-L may just be the most coveted of the lot as it balances both authenticity with live-action role-playing functionality.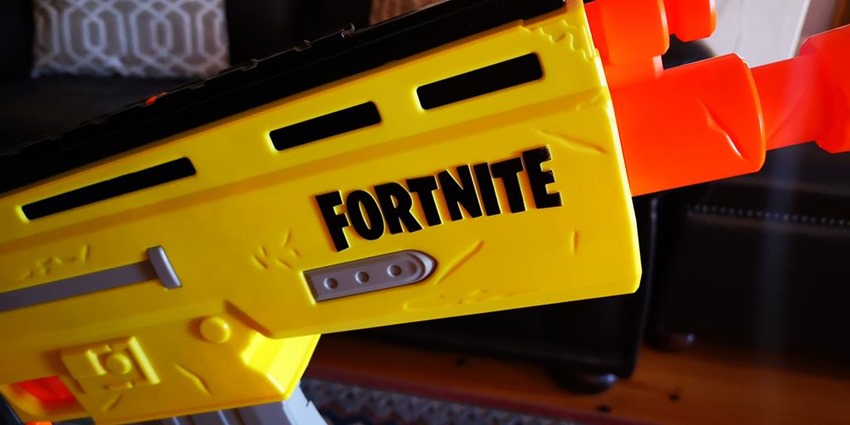 Straight out of the box, the Fortnire AR-L looks like a perfect 1:1 replica: It's got that banana gloss of paint to it, the odd angles that are present in the game design all coalesce to make it look like the kind of weapon that Elmer Fudd would use if Looney Tunes had an army special and it feels satisfyingly chunky to hold. I'm not a big guy and I definitely have my mother's hands, but I'm at least bigger than most children and even I felt like a video game character holding this massive piece of foam dart-blasting shaped plastic in my hands.
On that level, the AR-L does feel comfortable to hold. My tiny hands easily indexed on the handle, while the overall weight was hefty enough to feel solid, but not too heavy as to crush a noodle-armed child in the process. The rest of the gun bore plenty of Fortnite hallmarks as well: A pair of "iron" sights on each end of the gun, a slot where you can observe your chambered dart being loaded and a removable magazine that can fit up to ten rounds.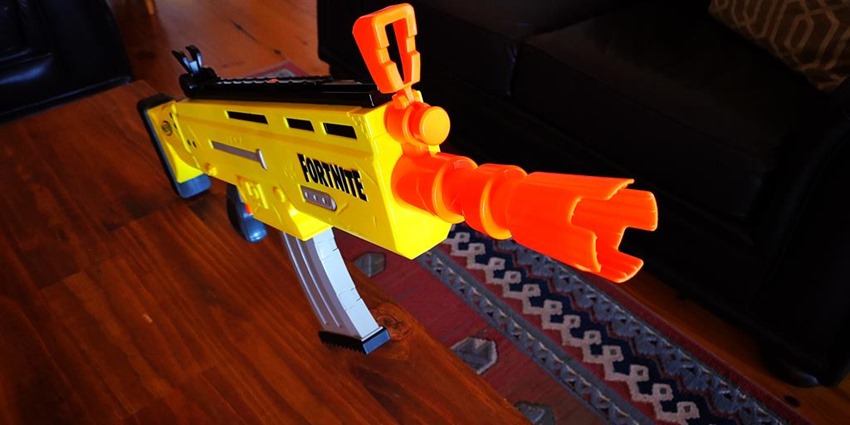 The AR-L even has some moulded dings and scrapes on its surface, a nice touch that hammers home the battle-worn aesthetics of Fortnite's weapons. As for the performance? This beast will chew through darts like a fat kid left unattended in a candy shop. Straight out of the box you'll receive a grand total of 20 foam darts, although it would have been rad if the magazine could have gobbled all of them up in one go instead of only taking ten at a time.
As a blaster that has rifle influences, the AR-L is a semi-automatic that fires off one dart per squeeze of the trigger, but that firing rate can work blisteringly quick depending on how fast you can squeeze the trigger. While the AR-L definitely has a solid rate of fire, its strengths lie in its accuracy and speed. If you make each shot count, you'll easily find the mark provided that you compensate for the rifle's site designs.
Seeing as how the main barrel tapers upwards, you've got to aim low if you want to hit high, but you'll most likely find yourself earning marksmanship points without the sights provided. As for speed, doing some quick maths I'd estimate that each dart can be ejected at around 60 frames per second according to my camera, which may be the dodgiest bit of arithmetic since Flat-Earthers attempted to prove their bonkers theory about the shape of the planet.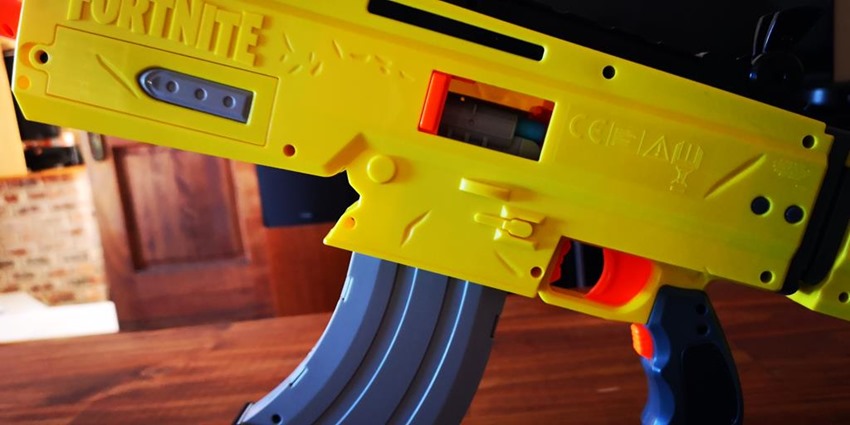 You'll also need a grand total of four AA batteries to power this behemoth, and while I've no accurate idea as to how long the power supply will last as the batteries power up the motor inside, I can say that I've fired off dozens of rounds and the rifle is still ready to rock and/or roll.
Long story short, it's still fast and thanks to the design of the darts, relatively safe. I've shot myself at point-blank range and barely winced, while I'm slowly closing in on Geoff and I'm ready to see how much damage the darts can do if they hit you in the eyes. He's close, I can smell his fear, desperation and his desire to send out a snarky tweet…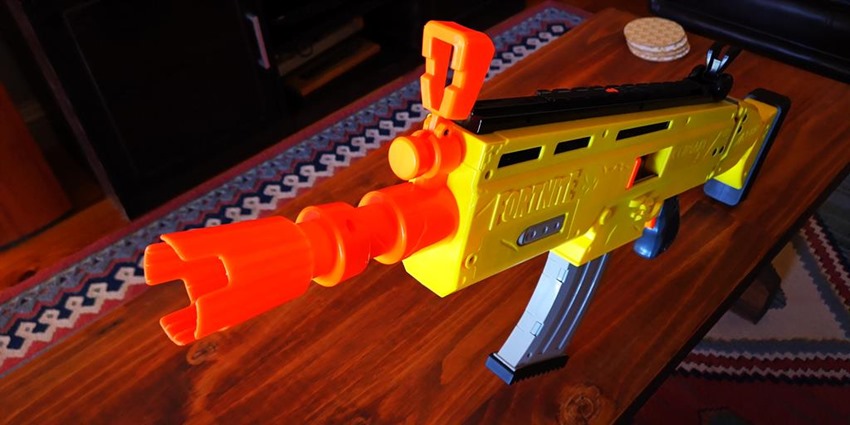 Overall, I love the Fortnite AR-L. Whether you're looking for something to complete your Fortnite cosplay or you want to take on friends with speed and accuracy over pay 'n spray weapons, this fun little slice of official Fortnite merchandise will easily hit the mark.
Last Updated: July 25, 2019