by Deon Steyn.
It's been about a year and a half since Rugby Challenge 3, so I was excited to hear that another game was about to grace us Rugby mad folk. I had hoped dearly that Eko Software and Bigben at least learned from HB Studios last attempt at a Rugby game, but this isn't the case.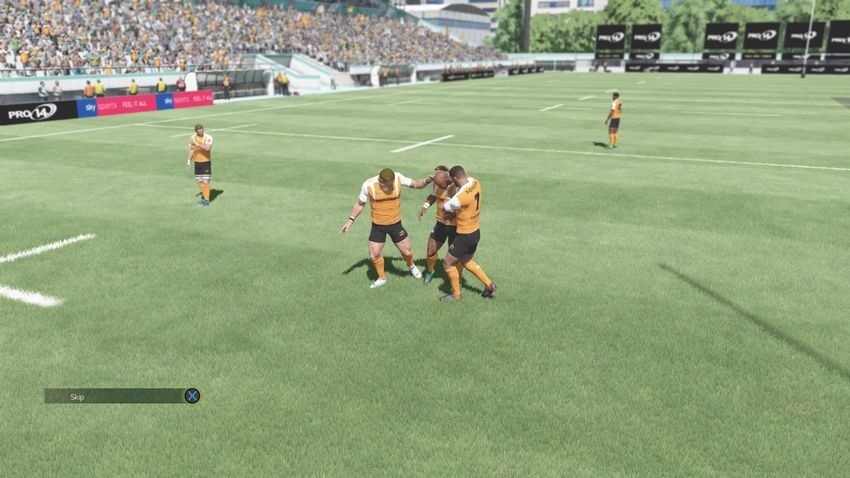 The game starts with a tutorial match with instructions popping up on how to play the game after you pick a favourite team. Curiously, I went through the international list and noticed that Ireland (ranked 4th in the world at time of writing) and Argentina did not make the cut for whatever reason. This means that there are no Six Nations or Rugby Championship competitions. The day one edition of the game includes the British and Irish Lions team, but with no tour mode included for them (an event that's only eclipsed by the World Cup) there's no real point for their inclusion other than a poor attempt to drum up preorders.
What the game does include is the Aviva Premiership, Top 14, Pro 14 and Pro D2 leagues. All of these are played in England or Europe. Unfortunately, that's it. No other competitions, no sevens Rugby and no international tournaments so that you can at least pretend that you're playing the World Cup.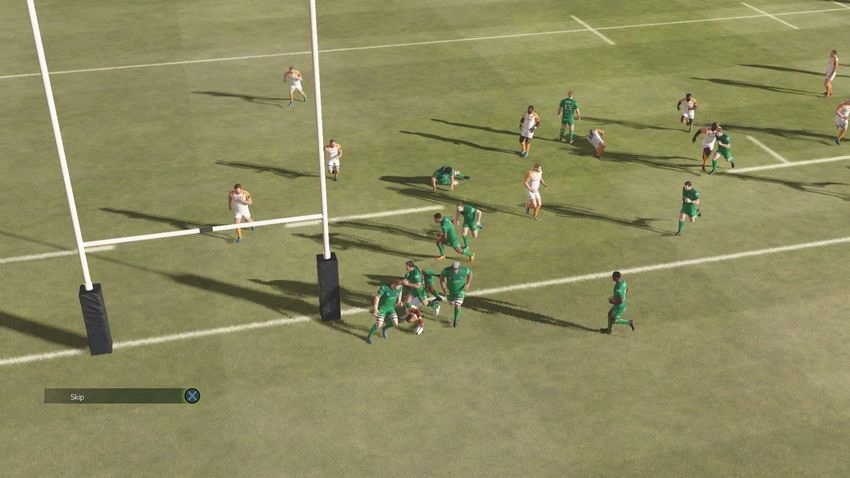 Visually the game looks decidedly middling. Some of the player models look decent while others look like they've copied their hairstyles from Def Leppard, with characters that look like they've been moulded from plastic. There're 8 stadiums in total named Stadium 1 through 8 which is bizarre; no Twickenham, Stade de France or Ellis Park in sight which is a massive shame. They didn't even bother to include a referee in the game. Even when players are sent off for dangerous play there's no one to hand out a card.
But all these problems pale in comparison when it comes to playing the game which is honestly the most important part of any sport game. People love watching fast-paced attractive Rugby. Nothing is better than slick ball skills, impossable offloads and explosive line breaks. Except in this game all you seem to do is ruck for the ball; a tug of war mini-game involving your forwards hitting the ruck one at a time until the ball is secured.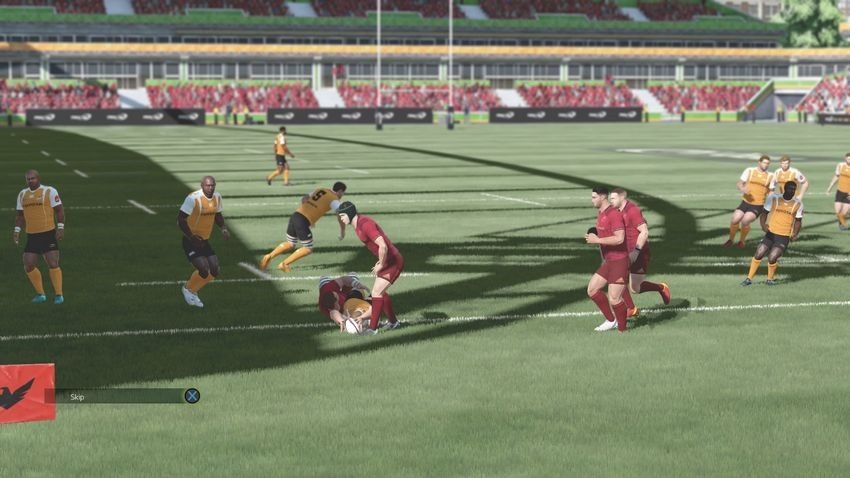 It seems like a good idea at the start but later on it gets tedious as it slows the game down to a crawl. It's something you'll spend an awful lot of time doing. Mauling the ball up the field with your forwards works a lot better and is an excellent strategy to use after winning a lineout, if you can win a lineout. I've worked my way through the tutorial a few times but still find it hard to win one on my own throw.
I found that box kicks worked the best as the two backlines are almost on top of each other most of the time. There's no way I've found to attack from depth and while line breaks are possible your player loses all momentum leaving him almost stationary for a defender to tackle, but if you manage to hit an open space your player is fatigued within seconds. Using box kicks puts the AI under pressure and is the fastest way of gaining territory. It's a form of a cheesing in the game because it's more than possible to win the ball back in a ruck.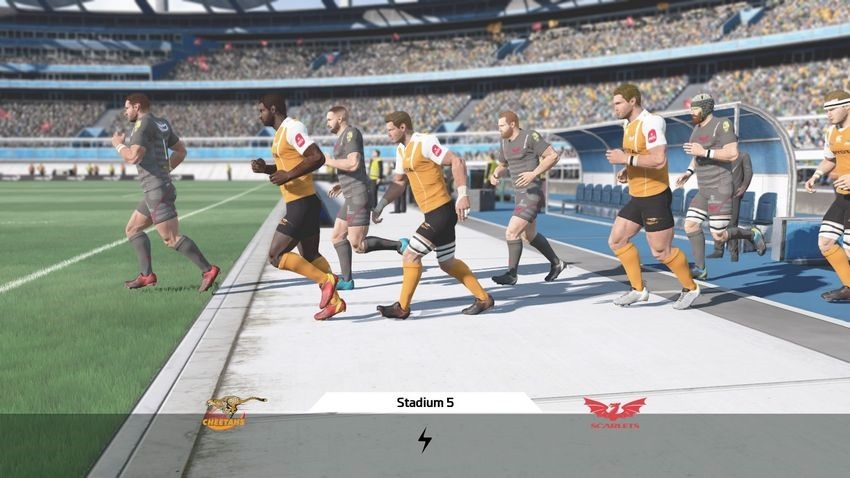 Plus, when the AI team catches or collects the ball in their goal area they'll almost never touch the ball down for 22 metre drop out. Instead they opt to run or kick it which would be madness in a real game. Either that or the developers watched 300 one to many times and adopted a no retreat, no surrender mentality.
The game needs to look at balancing issues as well. I've experienced countless times where a forward catches a wing that made a line break for the try line with a clean head start. Imagine Juian Savea being shadowed by Eben Etzebeth for thirty metres and then being devoured in a smothering tackle. That would never happen in real life but here it does, all because the player with the ball got tired.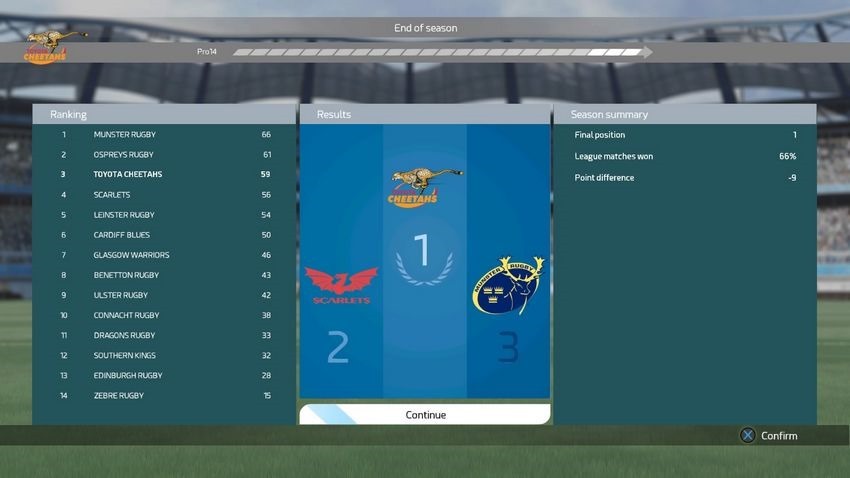 Glitches and bugs pop up way too often in a game as precise as Rugby. One game breaking glitch had one of the props not binding in a scrum. He merely stood there and I had to close and restart my current game. Referees (maybe they're invisible?) call for advantage after foul play has been committed and conveniently forget about it a few seconds later. Commentators will say the ball's been intercepted even though the ball was passed to another teammate. They'll also say a kick at goal came up short even if the ball bounces off the post.
AI controlled players will run the opposite direction of where the ball is on the ground, making controlling them like trying to control Trump with a Twitter account. They'll purposefully run offside when a penalty kick is being taken to catch the ball. This game could have used a lot more playtesting to bring all these issues to light because the only way I could win the Pro 14 league was to take an Aussie Rules approach of kicking and chasing the ball.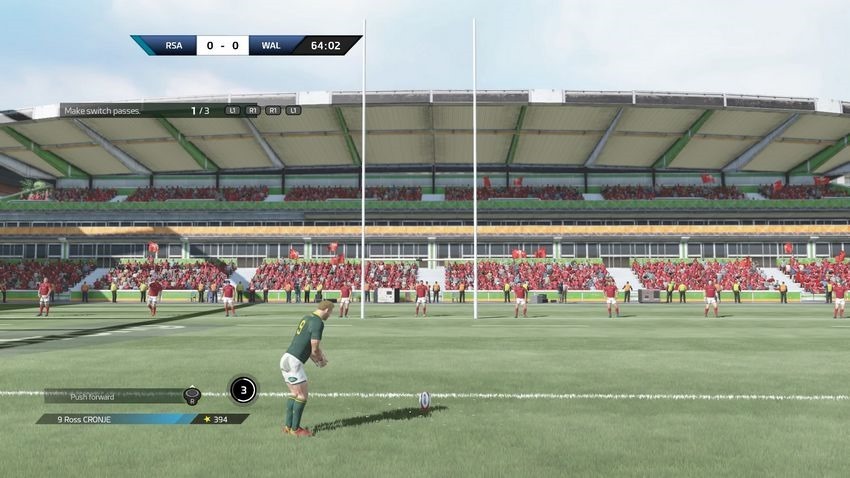 Speaking of the Pro 14 league, I picked the Cheetahs as patriotism trumped over logic and while I cheesed to the championship with my Aussie Rules tactics I was greeted with a congratulation screen at the end. Not even a trophy lifting ceremony. This is the first time I've encountered a sports game not even bothering with something as basic as this.
There's also a career mode. You start with an empty roster and a marketplace where you can buy players to build your very own squad. You can afford mostly average players at first so a time saving tip would be to use autofill instead. Just keep an eye on your budget. Going bankrupt means you have to start your entire career from the start which is very frustrating and mind-boggling. There's no manual save option and the game won't let you start the season you were in from the beginning.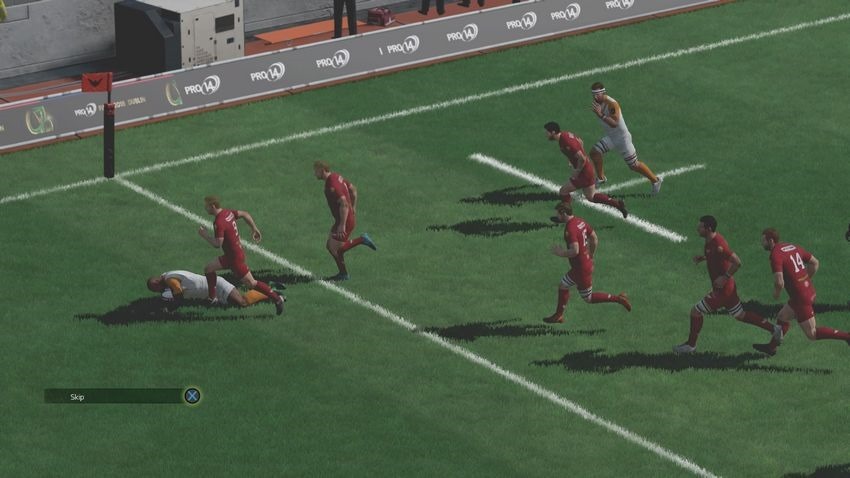 You can also play online against other players using current teams in the game or a squad you've built yourself using squad currency you've earned by winning leagues or answering trivia questions during loading screens. This is a neat idea because it gives you a chance to earn extra currency instead of twiddling your thumbs.
Finally, the game features a weekly challenge where you can earn currency for completing tasks. For instance, this week's challenge pitted France against Australia. You can pick either side, and winning the game nets you a 1000 squad currency for a victory. Then there's bonus currency for landing a drop goal or scoring two tries or more. This is a rather nice touch to keep players invested, though the game could do with a daily challenge for those that want daily reasons to log in.
Fortunately, Rugby continues to grow worldwide. The next World cup is in Japan for the first time ever, home of Sony and Nintendo. We can only hope for bigger publishers to take note and pray they eventually release the game we deserve.
Last Updated: October 30, 2017
Rugby 18

The game is severely hobbled with cripplingly poor gameplay and pervasive glitches. The exclusion of bigger competitions and some international teams leaves players with a wafer-thin, ultimately disappointing experience.

Rugby 18 was reviewed on PlayStation 4