How much of a clickety-clack do you want from your mechanical keyboard? What sort of key travel and actuation are you looking for? Will you be using the thing primarily for playing games, or do you plan to do daily tasks and typing? The choices available to consumers are becoming increasingly overwhelming, with the multitude of switches on mechanical keyboards matching the keyboards they're employed on.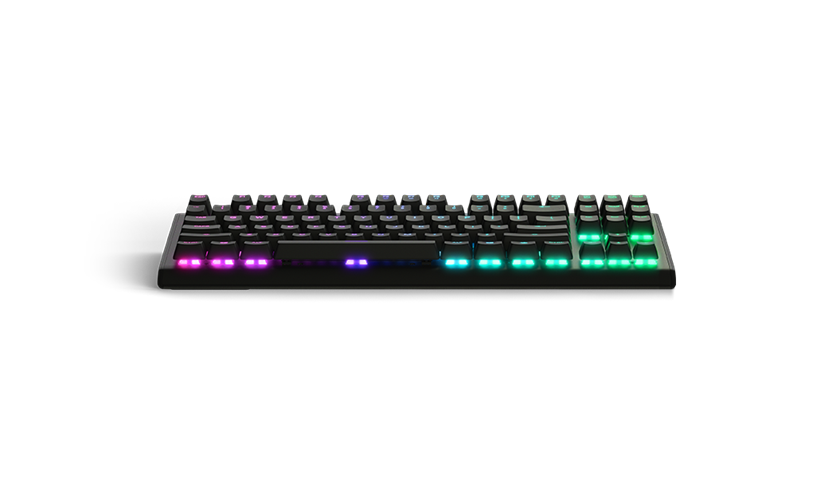 If you're looking for something to type on, you'll probably want a keyboard with Cherry MX Blues with the bumps for accuracy, or the MX Brown for their relative quiet. If you want to primarily play games, there are more tactile, clicky options in the MX Reds and their ilk. It's easy to forget that many manufacturers make their own switches, moving away from the tried and tested Cherry ones. Logitech has their capable and well-rounded Romer-G switches, of course – but Steelseries' own (Gatreon-sourced) QX switches are often overlooked.
Their new(ish) MX750 keyboard uses the second iteration of their linear switch, the QX2, which requires 45cN of force, making it a pretty light switch. With 2mm actuation and 4mm total travel, it's not dissimilar at all from Cherry's MX RGB. It's a damned good switch, and it makes for a great playing experience – but it does make a hell of a racket. I'm a loud (and terribly inaccurate) typist to begin with, but with this keyboard, the din I make is enough to drive my wife to drink. If you're looking to use this as a general or work keyboard, you should probably look elsewhere. That's not to say that it's a bad keyboard for typing. It provides a smooth, linear response with a nice and solid rebound on each key press. It just makes a bit too much noise.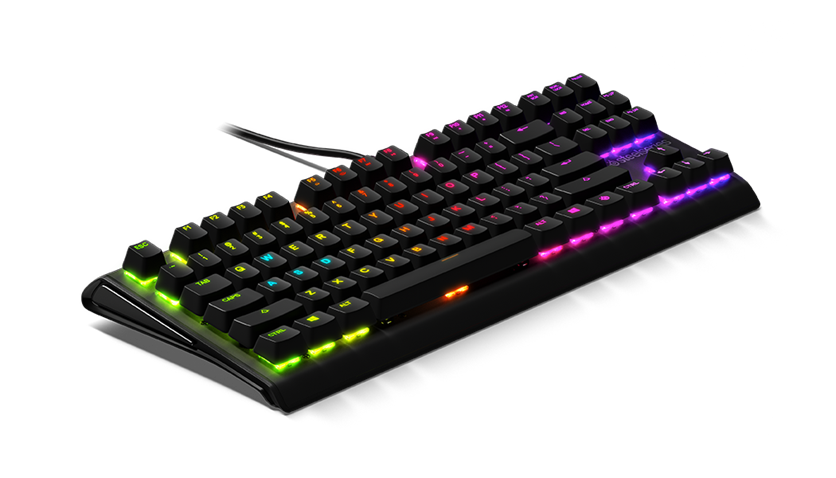 It's made for gaming, and in that area, it genuinely excels. I've been using the tenkeyless (TKL) version which ditches the numeric keypad. While it's made anything I do with numbers more cumbersome, the smaller footprint means that there's more space for a great big mousepad, and better space for a mouse to move. Many pro gamers tend to push their keyboards all the way to the left, and a TKL keyboard removes the need for that. It's precise, with great feedback – and if you play games you could do far worse than this.
The Steelseries M750 TKL is built to last. It has a solid aluminium top frame placed upon its plastic base, with very minimal bezel beyond the keys. It's incredibly solid, and the aluminium construction means that there's no frame flex – and you won't find that annoying "ping" you get from hitting the keys on something like the Logitech G-413. It's naturally sloped, and doesn't have (or really need) legs to raise it. Instead, there are just removable rubber feet that keep the keyboard locked in place, even if you're busy having a tantrum because you just barely missed out on a Chicken Dinner.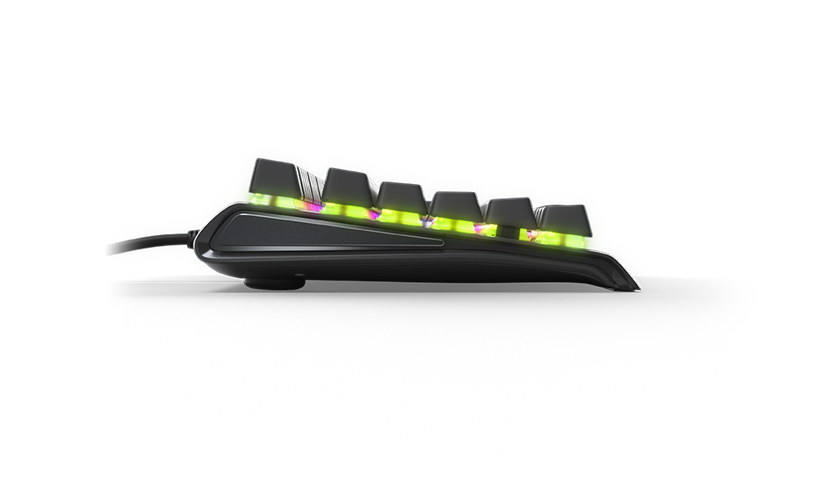 Because it's a keyboard that's trying its best to reduce its footprint, it means there are no dedicated macro or media keys. Of course, there's a function key emblazoned with a Steelseries logo that you can use in conjunction with the second quartets of F keys for that purpose. What's quite nice is that when you press said Fn key, all of the keys that you can use with it depressed light up in a lovely orange hue. This is a keyboard that's built around its lighting. Each switch has its own RGB Led capable of displaying any one of the 16.7 million distinguishable colours, and each key can be set independently. If you want a keyboard that looks like a unicorn vomited all over it, that's not only possible, but easy to do.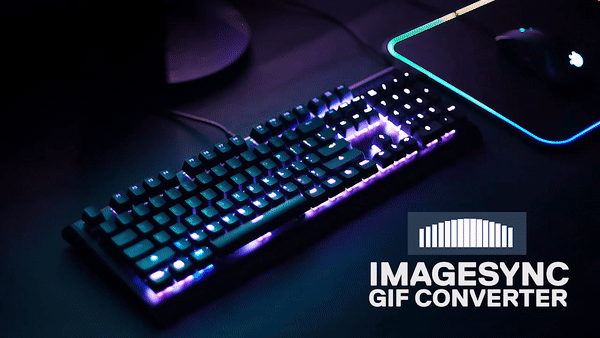 Paired with Steelseries Engine 3, you can set the thing up to do all sorts of neat active effects (Wave, Breathing, ColorShift, Rippling, Firework, etc.) and reactive effects (Fade, Hexagon, Ripple, Runout). Me? I currently have it set to all white keys that each glow an ominous red when they're pressed. There's also some fun synch software options that interface with external software. You can easily see Discord notification on the keyboard, or use the keys as a way to show your health in Counter-Strike. Of course you can use it as a music visualizer too.You can even use the keyboard to display simple animations by loading it with gifs. No, you can't really see the latest in dank memes on the keyboard, but you can display things like a fire effect, or the scrolling colours of the 'Murcan flag if that's your wont.  On top of that, it supports Prism synch, which means that if you have a bunch of Steelseries accessories and peripherals, you can synch the lighting up between them. I've never been especially keen on that new-fangled RGB lighting nonsense, but its implemented pretty well here.
There are a few issues of course. I'd have loved, given its price, for it to come with just a little more. It could do with a USB port or two, or perhaps a removable braided cable. Hell, it could come with a key removal tool or a palm rest. Instead, you get a box with little more than a keyboard and two rubber feet. Beyond that, it's an exceptional keyboard. It's taken me longer than I thought it would to get used to not having numeric keys, but for playing games, the trade-off is worth it. It comes in slightly cheaper than the full keyboard, at R2699. 
Design
Top Frame Material: 5000 Series Aluminum Alloy, Matte Black Finish
N-Key Roll Over: 104-Key (All) (Specs taken from Steelseries website, the M750 TKL has an 87 key TKL layout)
Anti-Ghosting: 100% (Full)
Illumination: Individually controllable per-key RGB, including whole-keyboard patterns and reactive typing effects
Fully Programmable with Key Rebinds, Key Press Macros, Text Based Macros, and More
Weight: 1.9 lbs
Height: 160 mm
Width: 370 mm
Depth: 35 mm
Cable Length: 2 m, 6.5 ft
Switch
Type & Name: SteelSeries QX2 Linear Mechanical RGB Switch
Actuation Point: 2 mm
Travel Distance: 4 mm
Actuation Force: 45cN
Lifetime: 50 Million Keypresses
Compatibility
OS: Windows and Mac OS X. USB port required
Software: SteelSeries Engine 3.11.6+, for Windows (7 or newer) and Mac OSX (10.9 or newer)
Last Updated: March 27, 2018
Steelseries Apex M750 TKL

The Steelseries M750 TKL is a superlative RGB keyboard for gaming, even if it is a little too loud for daily use. It feels great, looks better, and is built to last.