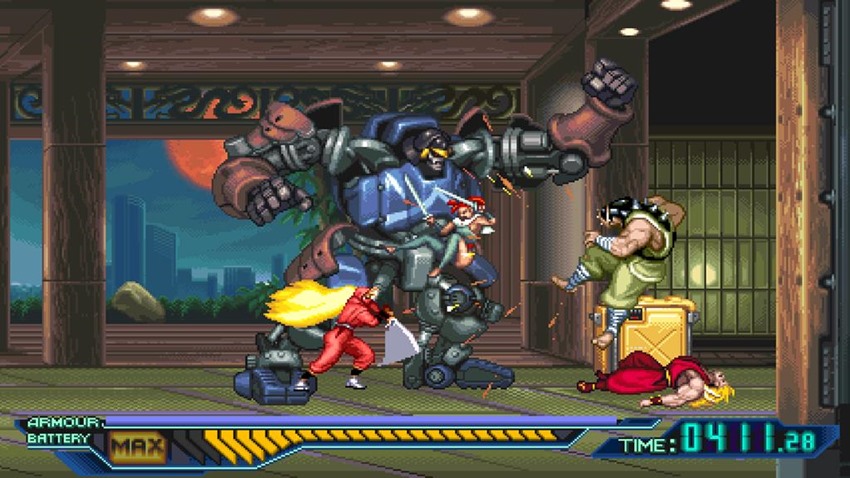 How do you improve on perfection? How do you take nature's greatest killing machine, the ninja, and make the apex of stealth better? One, if you think ninjas are the result of fiction and Michael Dudikoff movies then shut up because have you ever seen a ninja? Check and mate, heretic. Two, cybernetics of course. Duh, man do I have to do all the thinking around here?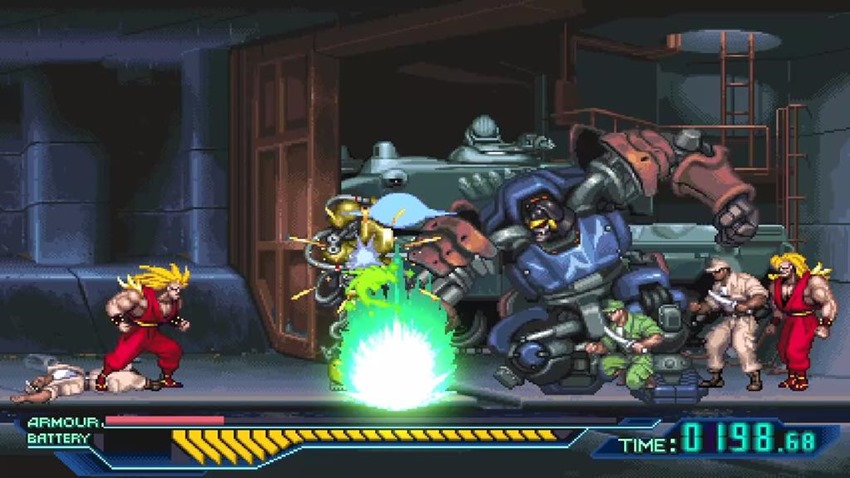 There's no shortage of video games out there that glorifies the shadowy art of assassination, what with Shinobi, Tenchu and Ninja Gaiden all working to preach the gospel. Back in 1994, Japanese company Natsume added to those conversion efforts with a sequel to the 1987 Taito arcade game, The Ninja Warriors. The premise was simple: A collection of stealthy warriors who had burst forth from the shadows, unleashing shuriken and ninchaku hell on anyone who dared stand in their way.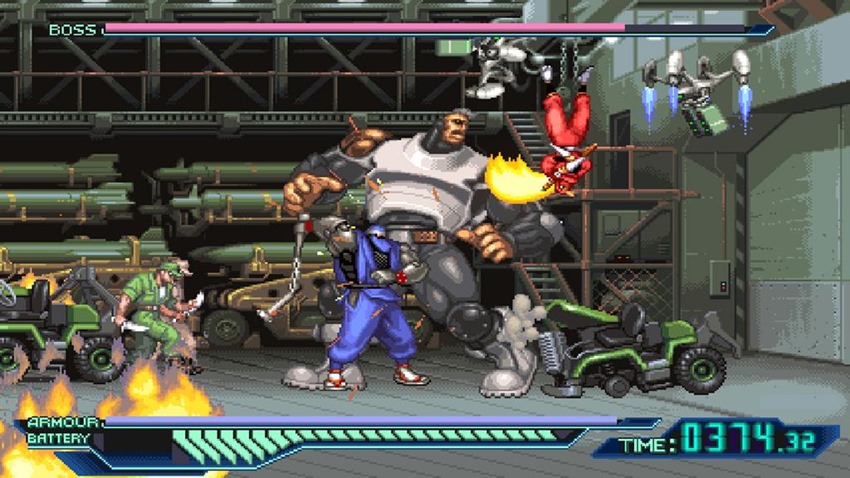 A simple formula of side-scrolling dancing through enemy corpses, highlighted by vibrant visuals and strong gameplay. It's now 2019, and those ninjas aren't just back for another round. This time, they've brought some new friends along for the ride. Life has gone to hell, a dictator with the tightest iron fist in the land is calling all the shots and the only way to fight back in a world that George Corman could film with a wad of leftover bubblegum and a dead dog, is to unleash the cybernetic ninjas on the candy asses of the oppressors.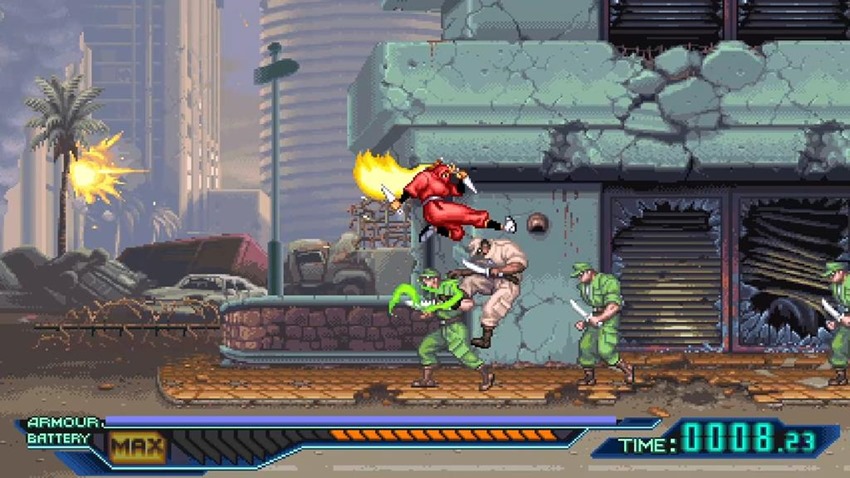 It's your choice of several ninjas (Agile, vertical-specialised and oh my sack is that an actual jaeger dressed in karate clothes as your initial roster selection), a level of cannon fodder enemies and several bosses to fight through. Clean, simple and classic action. Along the way you can swat through massive unrelenting waves of enemies with easy to chain attacks, build up your energy to unleash screen-clearing ultimate moves and even combo in some heavy blows to counter anyone who dares block your advance, utilising the unique gifts of your chosen warrior so that you can save the day.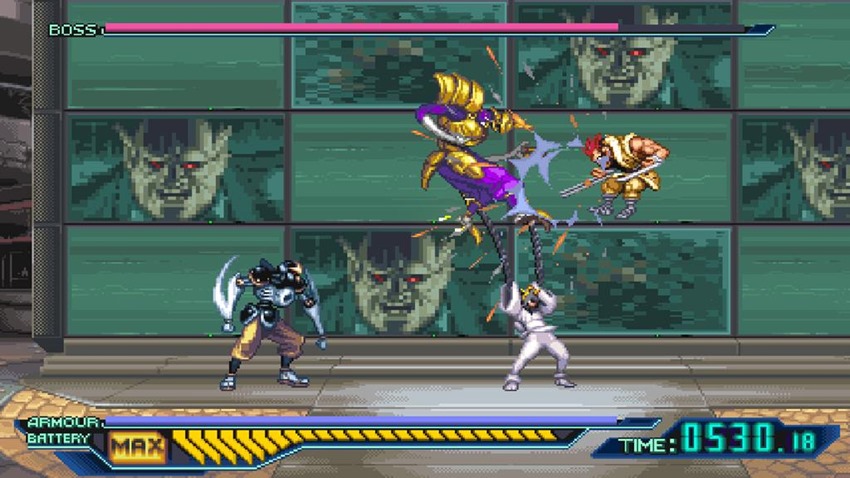 And really, that's all there is to it. The Ninja Saviors: Return of the Warriors is old school to the max. It's retro to a point where I'm not even questioning why my jacket spontaneously grew ridiculously massive shoulder pads or why I'm convinced that I'll be able to own a house one day. It's just good old fashioned beat 'em up action that plays out over a single pane, complete with visuals that feel right at home in the 16 bit glory days of gaming.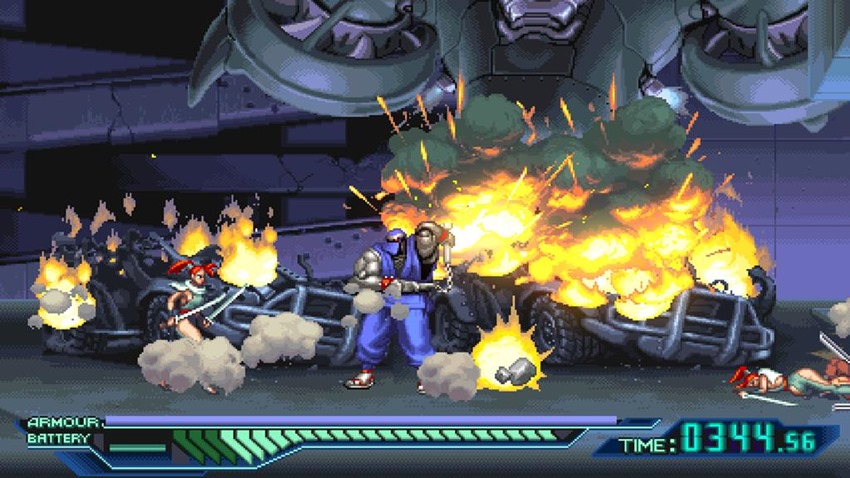 What does push the game above the likes of other classic brawlers that happen to have roads and anger management issues, is that The Ninja Saviors: Return of the Warriors has a combat system that would feel right at home in a fighting game arcade cabinet. There's a certain rhythm and flow to attacks, forcing you to get creative instead of relying on the same mash of the button as you toss motorcycles at soldiers, crack skulls with heavy attacks and make some room once you've saved up enough energy.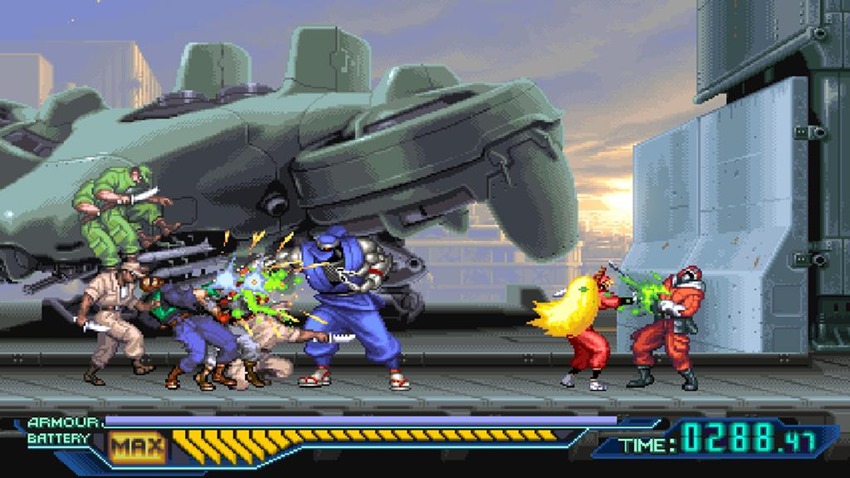 A two player co-op mode adds some spice to Return of the Warriors, while the short 'n sweet game will unlock two new characters for you to get your hands on once you've cleared the game on its normal and hard modes. That's really it, now that I think about it. Anyone who still has thumb blisters from a few tours of duty in the arcade will probably blast through this game in around two hours, with the eight stages on offer not offering that much replayability beyond the sampling of other characters.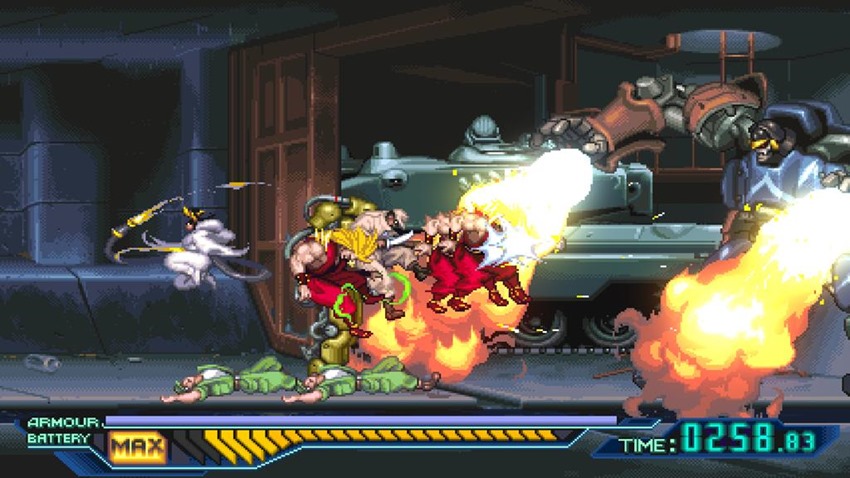 The Ninja Saviors: Return of the Warriors is that kind of slice of classic cake that brings with it the pros and cons of a bygone era, but at least it's the kind of game that makes you lust for the nostalgia-tinted days of funnelling coins into an arcade stand and engaging in some cathartic mayhem. Easy to pick up action, retrotastic visuals and a chance to feel like a hero with a power fantasy that works delightfully well on the Nintendo Switch.
Last Updated: August 26, 2019
The Ninja Saviors: Return of the Warriors

The Ninja Saviors: Return of the Warriors is that kind of slice of classic cake that brings with it the pros and cons of a bygone era, but at least it's the kind of game that makes you lust for the nostalgia-tinted days of funnelling coins into an arcade stand and engaging in some cathartic mayhem. Easy to pick up action, retrotastic visuals and a chance to feel like a hero with a power fantasy that works delightfully well on the Nintendo Switch.

The Ninja Saviors: Return of the Warriors was reviewed on Nintendo Switch