The ICON Comic and Games Convention has always been a big attraction on the South African convention calendar. As the longest running geek-centric event in the country, ICON is an industry mainstay, as well as a great excuse for people all around the country to gather and celebrate. This past weekend was ICON's 25th Anniversary, so the con was bigger than we've ever seen before.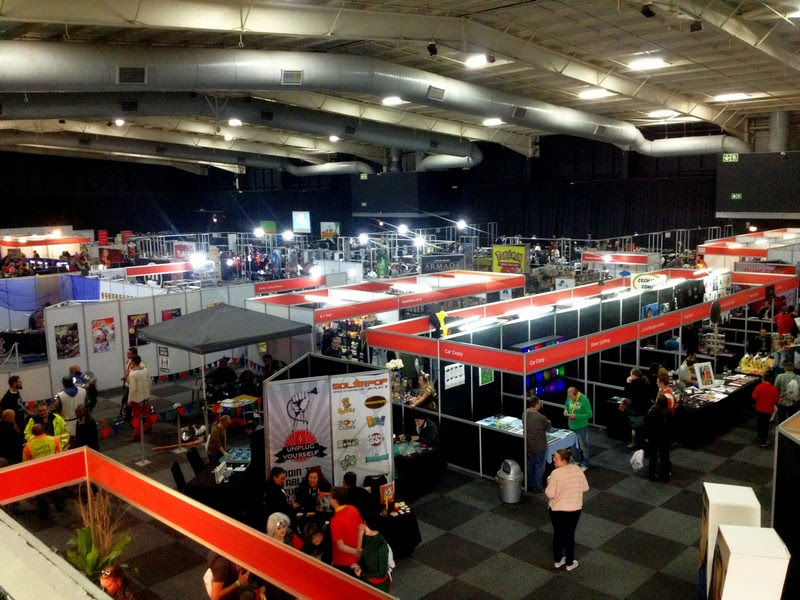 As a long-term ICON attendee, I missed ICON 2016 – the first year of the con at Gallagher Estate in Midrand, Johannesburg – having somehow gotten the flu before attending a convention. Accompanying me this year was our ICON by the Sea veteran and cosplayer extraordinaire Noelle. Here are our thoughts on ICON 2017.
Noelle
ICON 2017 was only my second ever ICON experience, after attending the "old school" version of the games and comic convention back in 2009. In those days, the event would spill out of the tiny Jabula Recreation Centre in Johannesburg's Sandringham suburb, with marquees set up on the grounds to squash in more tabletop gaming space.
Fast-forward a decade, and once sidelined Geek Culture is now Geek Chic. ICON has similarly evolved, moving to the much more upmarket Gallagher Estate. ICON 2017 was the second year at this sleek venue, taking advantage of the larger floor space and first-rate facilities.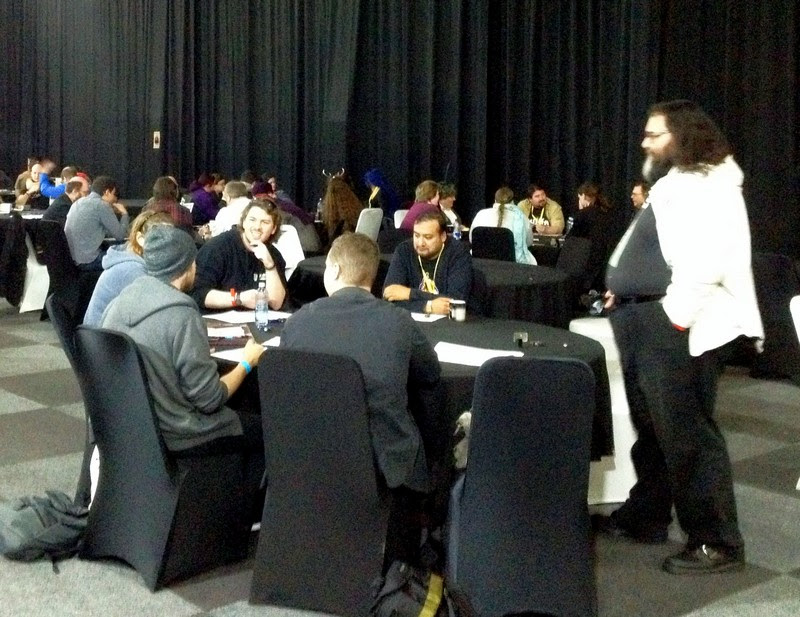 This isn't to say there weren't issues. The traditional ICON offer of "bottomless coffee with commemorative mug purchase" had to be adjusted after the weekend's entire stock of venue-provided coffee sachets was consumed on the first day. The con was also affected by the unexpected taxi blockades around Johannesburg on Thursday, which impeded set-up and last-minute preparations.
A casual con attendee probably wouldn't notice much of this, however. The 25th Anniversary ICON was comfortably spacious and easy to navigate – a huge plus for cosplayers. More importantly, the con covered the full spectrum of geek interests, mixing old ICON event staples, like role-playing and wargaming tournaments, with newer attractions like multiplayer video games and Nickelodeon cartoons. Then, of course, there was Sunday's cosplay competition – an annual highlight – where the nation's best displayed their newest projects. This year's international cosplay guest Linda "Vampy Bit Me" Le was also a huge score for the con, as she was down to earth, enthusiastic and lovely to engage with.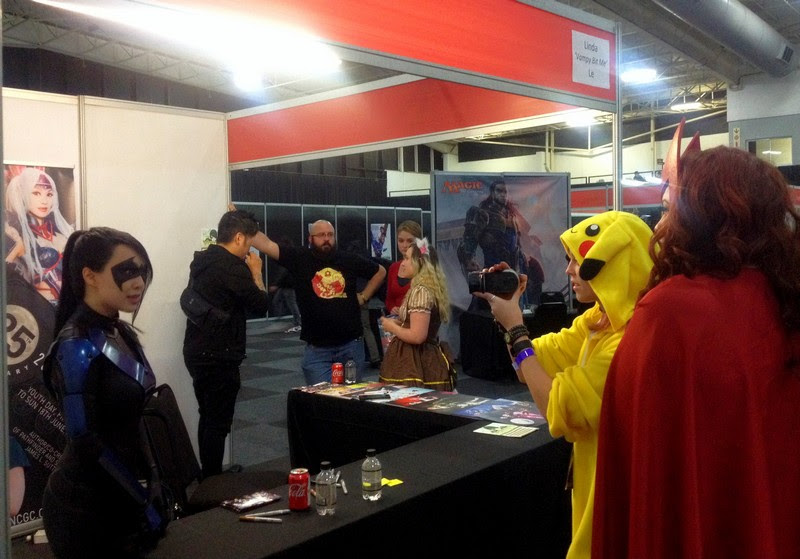 In terms of recommendations for improvements, I would have liked a comprehensive brochure, daily event board or at least an MC regularly announcing what was happening when and where. While the panels were very well outlined, both online and at the stages, generally you had to schedule your movements based on word of mouth, which is obviously problematic.
This said, it was impossible to be bored at ICON 2017. There was always something to see and do. And official programme aside, the event remains a fantastic opportunity to meet new like-minded people and catch-up with friends over a board game in the demo section. That's a drawcard that never gets old.
Tracy
Most conventions for me are just an excuse to hang out with friends that come from all over the country, and in that regard ICON scores top marks for me! But besides for getting to see old friends and make new ones, I was very impressed with the convention in general. ICON has come a long way since the freezing cold days of the Jabula Rec Centre.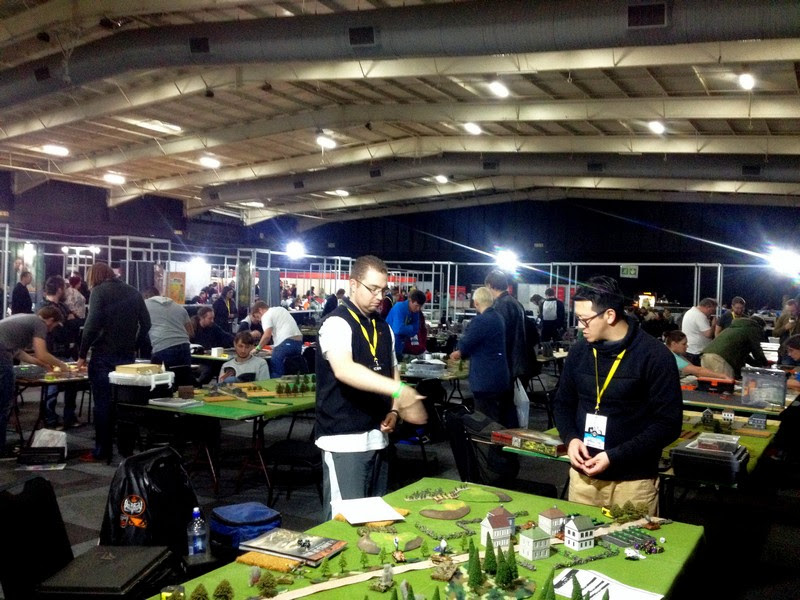 Gallagher is a great venue for ICON, it's spacious and staffed by awesome friendly people who didn't bat an eye at the admittedly very strange looking attendees. The food and drinks menu is also superior, it helps when your venue has a restaurant with reasonable prices! The con floor itself is far larger than I've seen previously, probably coming second only to rAge in terms of square meters (this is my gut feeling, I haven't actually checked). The whole of Jabula could have fit inside the area that was dedicated to Warhammer 40,000 and Magic: The Gathering this year.
For the tabletop enthusiasts that weren't there to compete, the "free play" tables were a great place to be, with open demo copies of games to try out and enjoy. I would have liked that section to be larger, as it was sometimes a struggle to find an open table. Table space aside, getting to introduce friends and strangers to new games, and learning new games myself, is what ICON is best at.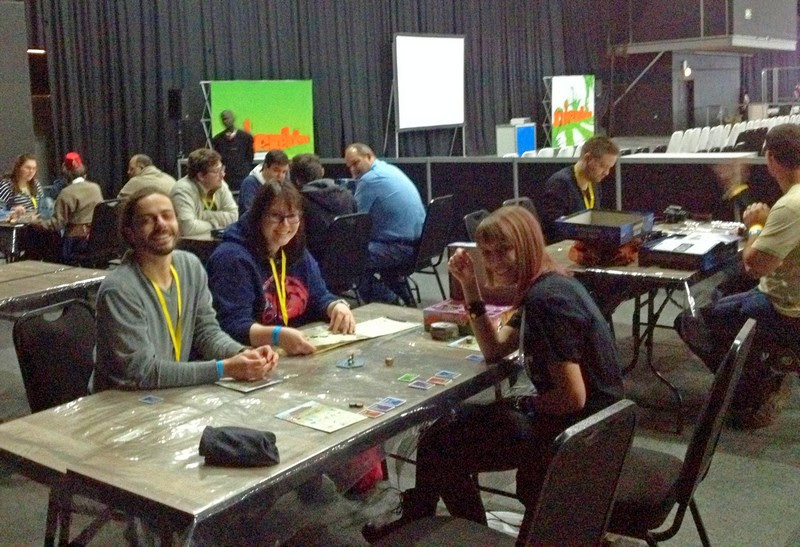 As for the running of the event, there were some minor gripes. Having no PA system or schedule signage meant that it wasn't easy to know what was going on when. I missed the Saturday night comedy show because I was only vaguely aware of it, and no one really knew the specifics. As Noelle mentioned, the taxi strike that blocked the Johannesburg highways the day before ICON started meant that set-up time was limited and a few key items couldn't be included. Hopefully, next year's set-up will be smoother!
Some of the "old guard" may grumble that ICON has lost its focus, but personally, I'm thrilled that ICON has expanded and included so much more. It's wonderful to see social responsibility present in the form of the SANBS blood drive, as well as educational stands like Lory Park and the SA Guide Dogs Association. Besides, SA Guide Dogs brought puppies and who doesn't love puppies? In addition to that, adding things like panels and international guests made for a more interesting and well-rounded convention.
Bottom line, we loved ICON, and we are definitely looking forward to next year! Here are some random snaps we took over the weekend:
Last Updated: June 20, 2017