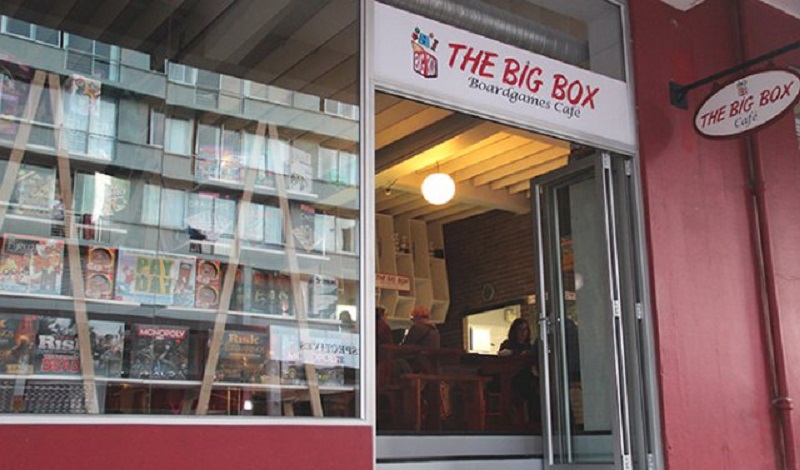 Pictures courtesy of The Big Box Cafe in Cape Town who hosted the launch on July 8th, 2018
It's not uncommon to see fans descend on a small haven of the Cape Town board gaming community, The Big Box Café, for the launch of a new boardgame. What makes this occasion so different is that this time round, the big launch does not belong to a brand new Fantasy Flight, Mayfair or Hasbro title, but rather to a locally created and produced game, titled Ambition.
I met up with the creator of what could soon be the latest gaming craze in South Africa, Rob Acton, a full-time lawyer with a big love and passion for designing board games and bringing them to the local market, through his own Action Games label. Ambition might be his first large-scale release of a game, but it simply represents the culmination of the last five years' worth of game designing which has seen Rob have over 10 games in various stages of development. When speaking with Rob, his love of board games and in particular the effort that has gone into his labour of love, is immediately evident.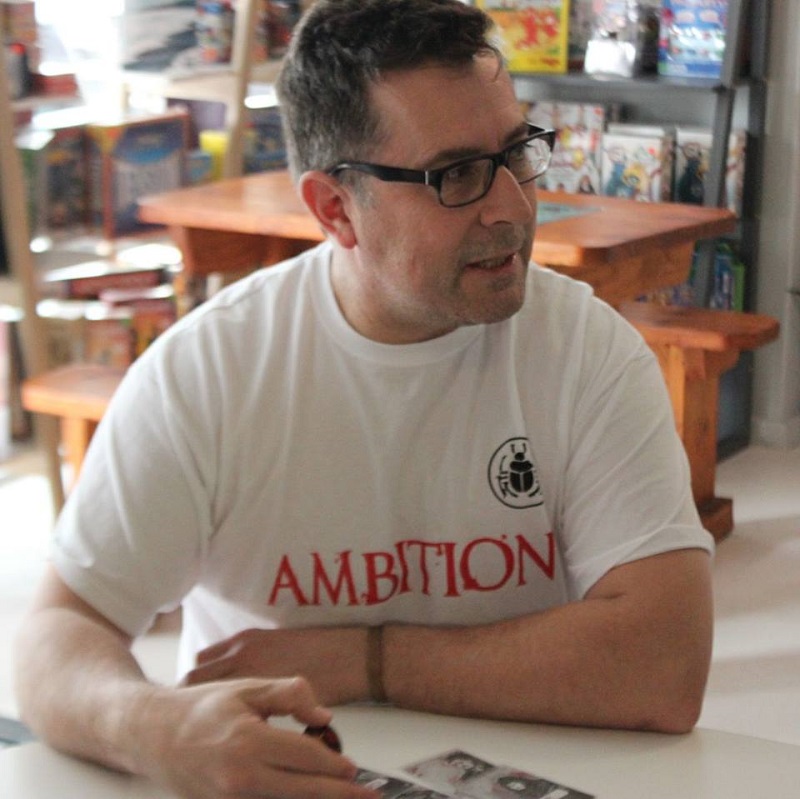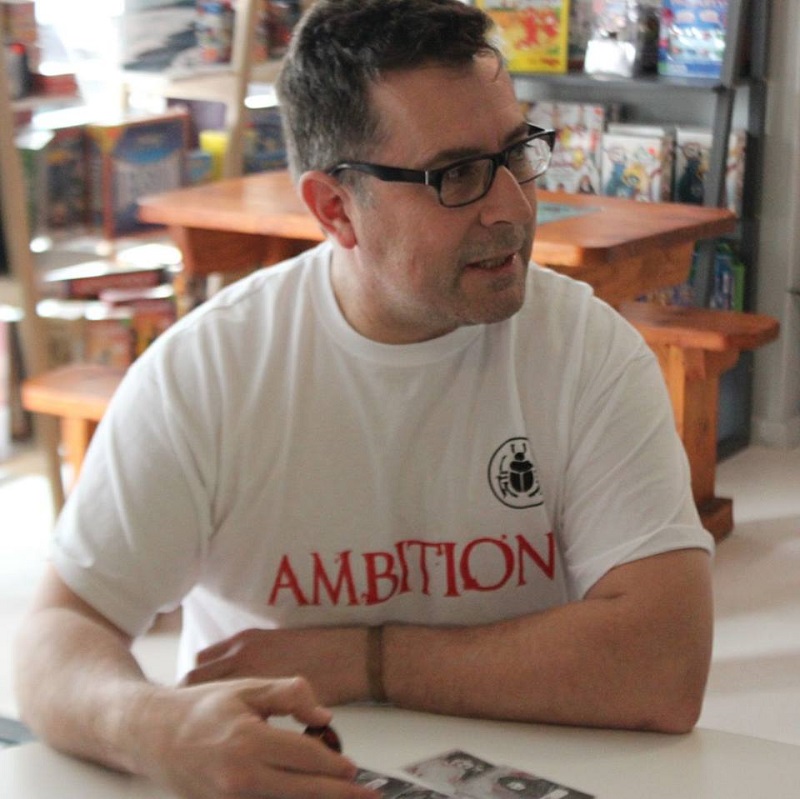 While Rob has only been playing board games extensively for the past five years, his passion for games and their narratives has been around for far longer as he used to design many a role-playing dungeon with his friends before eventually trying his hands at board games after a choice encounter with a local aficionado. And I guess the rest you could say is history. Designing game mechanics struck him as a good thing to do and a great outlet for his creativity and here he is now with his own exciting game ready to take on the market.
Before we get further into the mind of this new local design guru, let's delve a little further into this new game and understand just what it is that led to the design of this game and what gets Rob so excited about it:
It started around simplicity. I've designed many other far more complex games before Ambition and I've learnt if you want to make a game appeal to a wide audience, it needs to be easy to understand and yet deep enough to keep you playing. Excitement with complexity. People get turned off by too much complexity in games. I was initially driven by the themes behind the different cards. Having special cards in a game that make a difference to the game at hand when they come into play and took it from there. I went through many extensive sessions of development, but it was only when I came across the blocking mechanic, that I knew this might game could finally be a viable option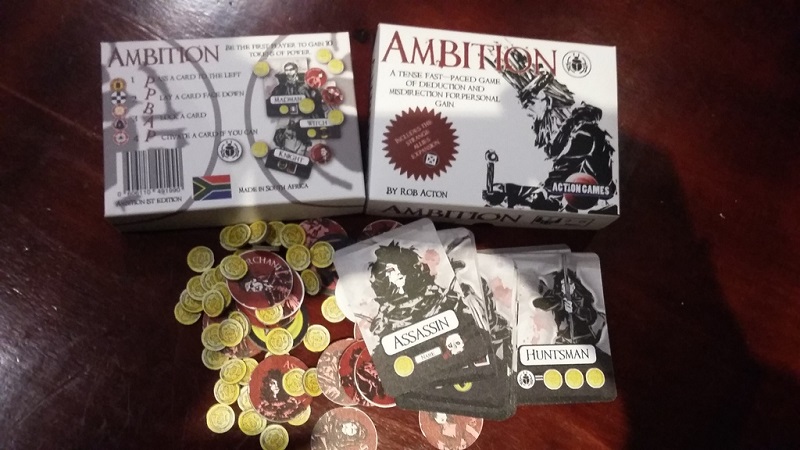 Ambition is a game which sees 2 -5 players' play with a collection of 16 unique cards, which each possess unique abilities and impact the game in different ways. The game follows three phases of exchanging cards, a blocking phase where each player determines the card they want to block for the round before everyone reveals their hands. It's a game about being cutthroat and willing to make those ambitious moves that could shake up the game and give you the coins that you need to claim victory. The cards' design and mechanics are unbelievable simple and yet there is enough depth in the subtleties of the design that make each new round potentially different and rewarding with many different strategic opportunities available to players.
Right now the plan for Rob is to start small with 100 locally produced units (ensuring his game is manufactured and printed locally is important to Rob) to see how people respond to the game. After that Rob will be looking into a wider crowdsourcing campaign that could help him take the game to a wider and potentially international audience.
Just why Rob has taken the decision to try and fund his own game is unfortunately due to the limited opportunities available to local game designers. There are few publishing companies willing to take risks on a South African designer but even then, the initial outlay for printing and designing of the materials is expensive, with publishers offering little returns to small-scale designers. By taking complete control of his own design and the way it is marketed, Rob can now be closer to the people playing his games and be more hands on with its design. It is a bigger financial risk, but one that Rob is willing to take to fulfil his dream.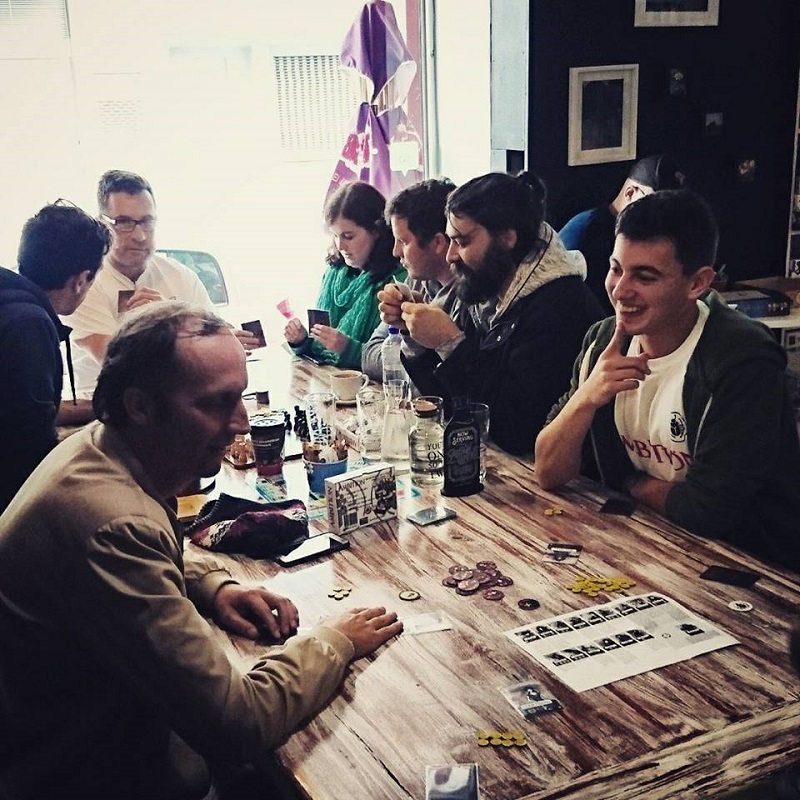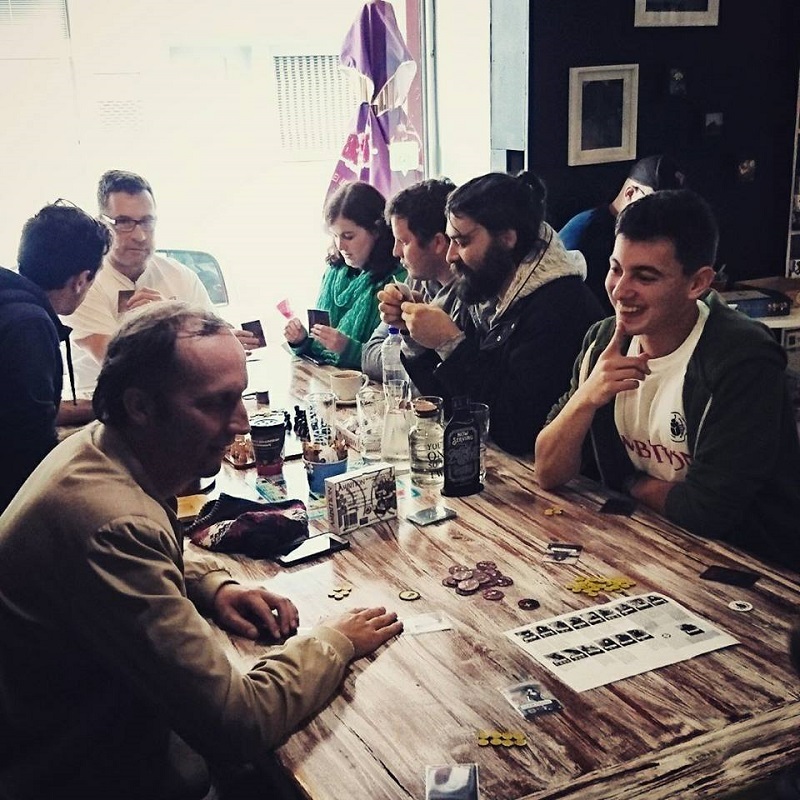 And although it's still early days for the designer and his new game, it's a formula that could be working for him as the initial launch has so far proved quite successful with those who have already started playing it. And it's that joy of seeing people play the games that Rob loves about game design and to him a game is more about the emotional connection that a player makes with his game as they play it rather than any sudden urge or drive to create the perfect game – though he is adamant that the world's best game of all time could certainly still be developed and released by him one day in the future.
Part of what has solidified the design of this new game is Rob's meticulous focus on proper play testing and balancing, which he has conducted extensively:
It's difficult getting people to play test games that you are still working on and don't have any design that looks authentic.  It takes a lot of personal sacrifice to print something that is presentable to a wider audience and yet be willing to completely redesigned based on what you pick up from those playing sessions if needed.
Playtesting for Rob is all about trying to see how the game connects with its intended audience and how people feel during its big moments. While designing the game and getting the mechanics right is obviously a big part of playing and balancing the game, he wants his games to move people and bring them joy and excitement.
As for the boardgame market in South Africa, he strongly believes that it is a growing industry and that there is a lot of passionate people like those at Big Box Cape Town, who are willing to get behind local designers and allow them to take their games to a wider audience:
Board gaming is growing worldwide. People get screen fatigue and they can't play video games all day.  There is also the social interaction which makes playing board games so fun. People want to interact with each other face-to-face.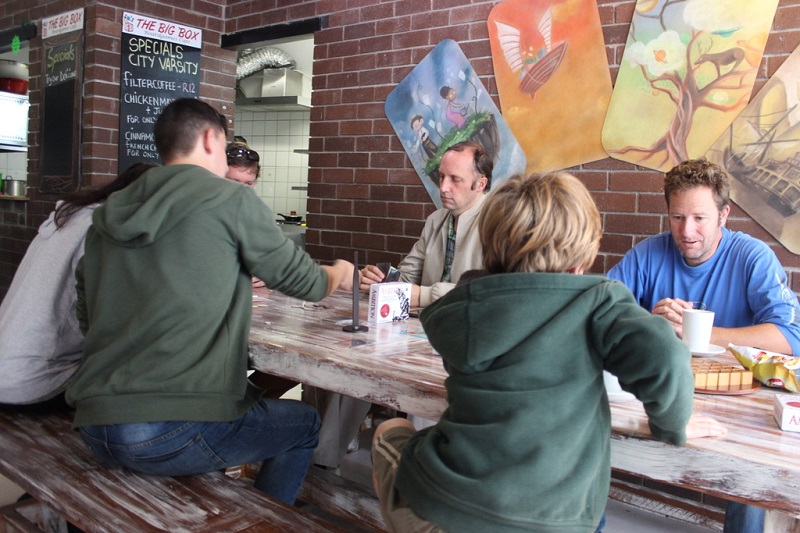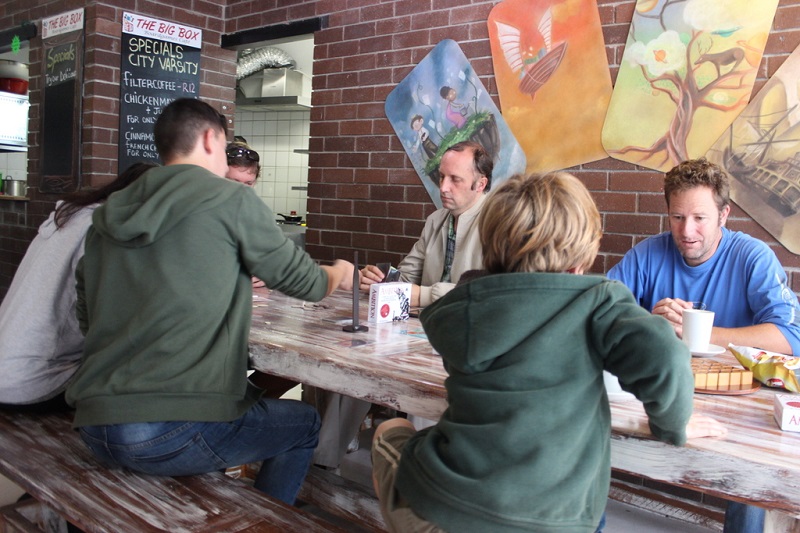 An approach which has also been considered in the various cards that can be played, which are designed to not just change the game in play, but bring out the further social interaction of its players too.
Rob is not just interested in his own games however and is a passionate advocate for the future of the board game market in South Africa and in particular the opportunity available for designers:
More people are playing board games now which also means there is more opportunity for making games.
In the end, he thinks all South African game designers need to succeed is a little bit of confidence. Too many people have great ideas that stop before they even get to the play testing phase out of fear of the game not working out. Designers need to be willing to take the risks and get their games out there and played. As for the design and publishing of games, it's difficult waters to wade through in South Africa, but if you are willing to find the right target market for the game, it can be done and you can get people out there playing your games without too much risk involved.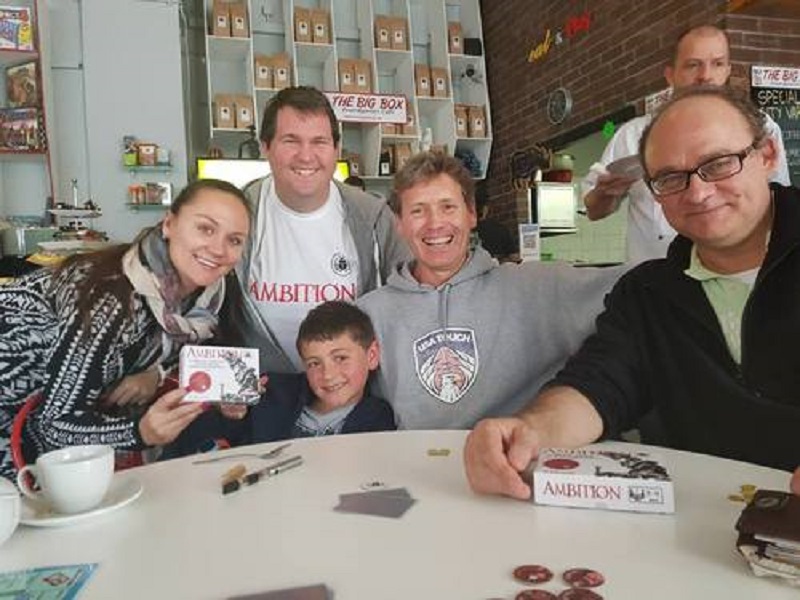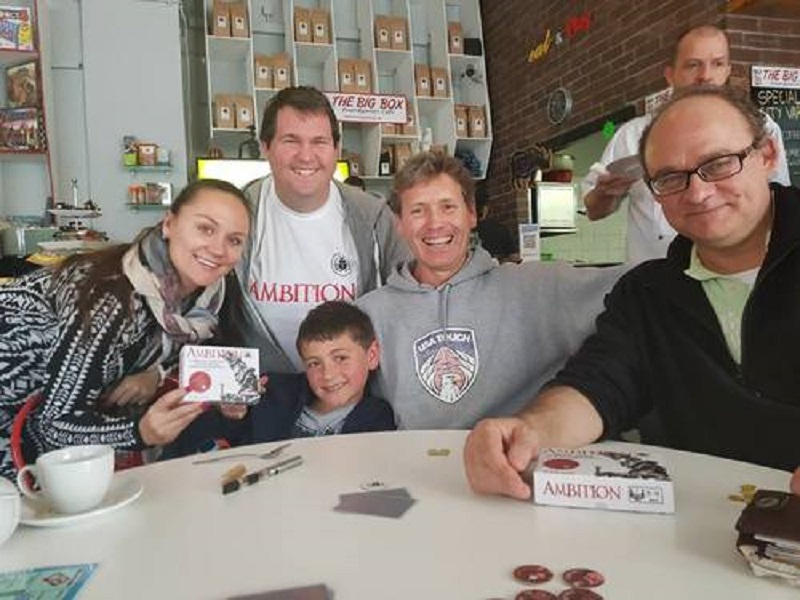 The beauty of game design for Rob though is that regardless of whether your game ends up being a success and published or not, the whole process of designing and playing his own games is enjoyable and so he feels like he is winning all the time. You either succeed in your ideas, or you learned from them, but the fun had means at the end of the day, you can't lose.
In the end, it would appear that the games titled Ambition, Is really symbolic of what Rob is trying to do with his board games. That confidence and ambition hat he has for the industry he is hoping will help him to be successful in the market and hopefully inspire many other budding designers to start taking risks in getting their games out there, having them play tested and trying to get them out onto the market. South Africa is a largely untapped market of creative design in the board game space and who knows – perhaps the next revolution to the market is just around the corner.
Ambition is currently available at the Big Box Café where you can purchase it in store or through their online shop. It will soon be available at Fanaticus Board Games in Plattekloof, Cape Town at the end of the month, before being distributed around to other stores. This phased approach is all part of Rob's desire to connect with the players and understand how they play the game before expanding on it further. Rob is really hopeful the game can find its way into the competitive space, with people picking up on the games various complex playing rules and finding long-term interest and play there: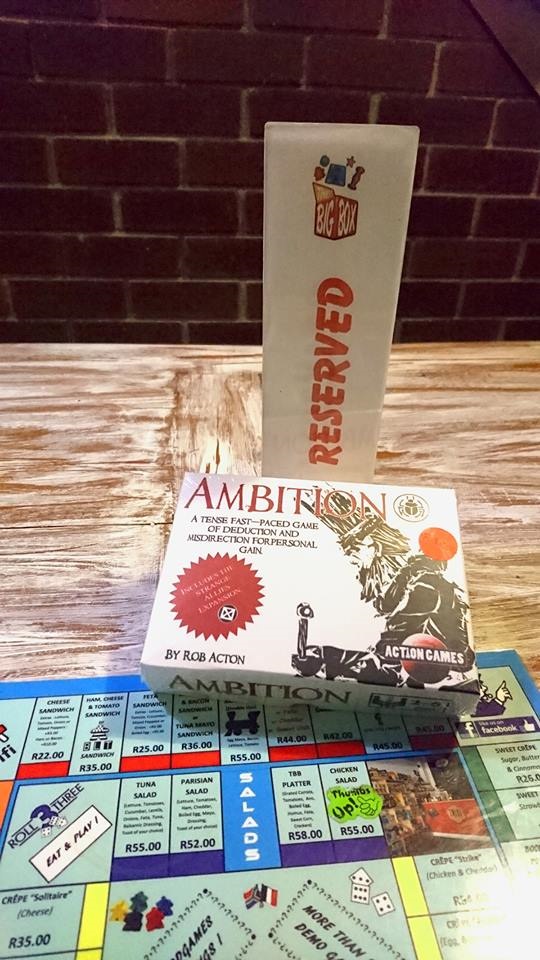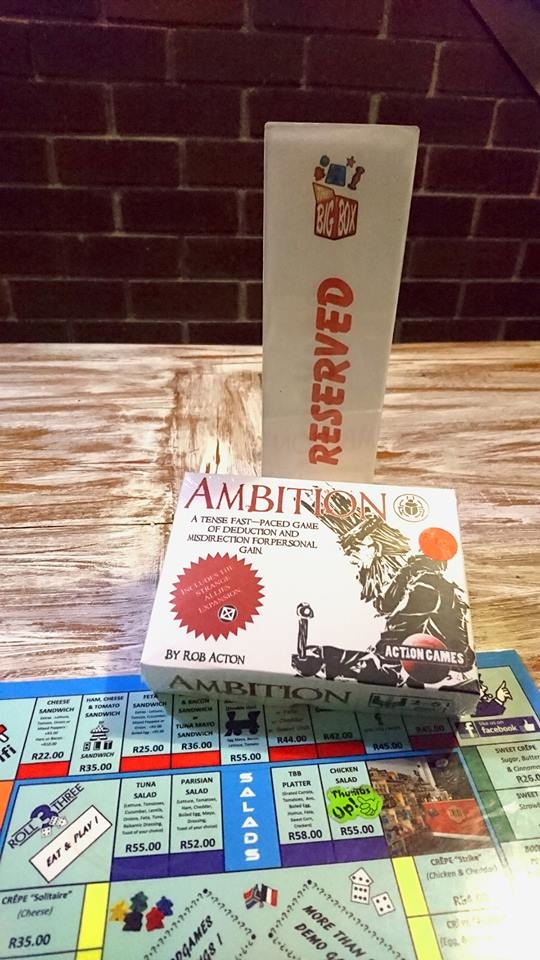 People will initially get excited about discovering a new game, but it finds its second life as they discover the hidden depth that makes you want to keep coming back and playing it.
As for the future of Ambition and Action Games, Rob already has plans for future expansions to the game if everything proves successful. He then has many other games which he would like to try and develop further with the hope of being able to get them out into the industry as well. He is certainly a man with some bold ideas, but certainly no lack of Ambition to make it a success.
What do we think of the game? We will have our own review of the game up soon once we give it a few more play throughs to make up our own mind on the experience.
Last Updated: July 13, 2017