As a common gateway to modern tabletop games, Munchkin has received countless themes, variants and expansions. Now, Steve Jackson Games and IDW Games have boarded the nostalgia train and teamed up with Nickelodeon Consumer Products to add a new variant to the Munchkin family: Munchkin Teenage Mutant Ninja Turtles.
In Munchkin Teenage Mutant Ninja Turtles, players will take on the roles of the four Turtles and their friends to fight monsters and grab treasures. Along with gameplay developed by designer Jon Cohn, Munchkin TMNT will also feature brand-new art from iconic Teenage Mutant Ninja Turtles co-creator, Kevin Eastman, along with comic artist Tadd Galusha.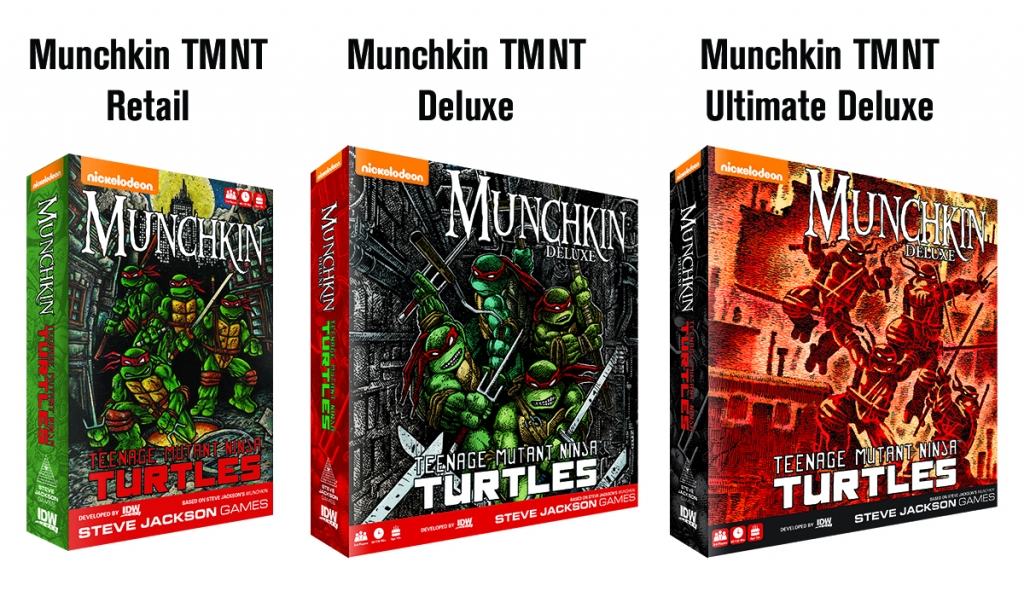 Coming to Kickstarter on March 7, 2018, Munchkin TMNT will have three versions: standard, deluxe, and deluxe ultimate, with the deluxe and deluxe ultimate as Kickstarter exclusives available only during the Kickstarter campaign. For the serious TMNT fans, the deluxe version comes with character standees and a fully illustrated mounted Level tracker. For the super serious hard-core purist TMNT fans, the deluxe ultimate version will have a variant, retro-style colouring on the components, reminiscent of the original Teenage Mutant Ninja Turtles comics from 30-odd years ago.
Munchkin Teenage Mutant Ninja Turtles is expected to come with a $29.95 price tag for the Deluxe Editions, while the standard edition will be about $24.95. All editions are scheduled to be available in June 2018, with the standard edition coming to retail stores.
Last Updated: February 20, 2018