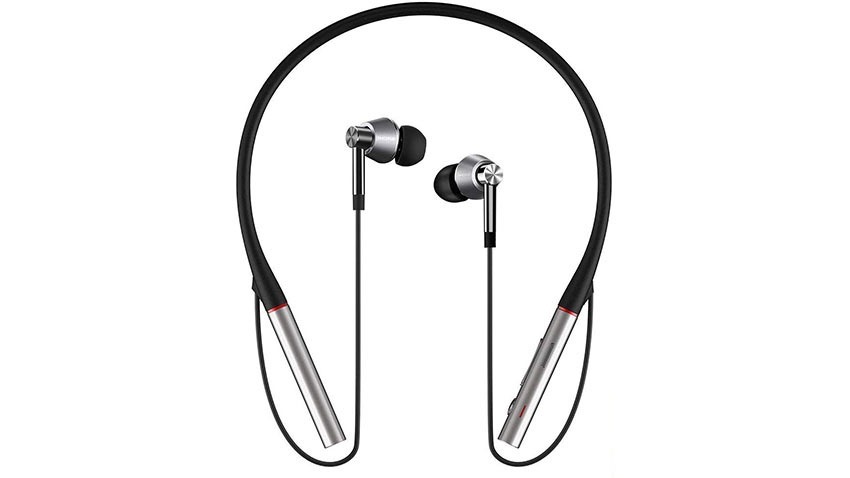 1MORE made a mark on the audio world with its now famous triple driver In-Ear Monitors. Delivering audiophile-grade sound without breaking the bank, the set is one of the best wired earphone kits in its class and still manages to punch several classes above its weight. With its milled aluminium buds and a nice thick cable, the 1MORE triple driver already screamed quality, but it's the actual audio that made them stand out. Sporting a pair of balanced armatures along with a classic driver and a titanium diaphragm in each earpiece, IEM delivers audiophile-grade sound and reproduction that you'd struggle to find in sets with twice the price.
The good news is that their wireless Bluetooth triple driver uses the same earbuds, so it can potentially sound fantastic. Instead of going for True Wireless Stereo with these, they've opted instead for the neckband that was so ubiquitous years ago. It's a tried-and-tested design, and there are some worthwhile engineering reasons to use this form factor if audio quality is the ultimate goal. The neckband is made of soft,pliable rubber with a silicone finish, with the band terminating in metal ends. It means you can roll it up and pop it in your pocket (or preferably into the included carrying pouch). The left terminal includes the power button, a volume rocker and a button for pausing and playing. There's a small pinhole microphone for taking calls. It also cleverly hides the USB-C charging port that took me ages to find because I'm not very good at reading instruction manuals.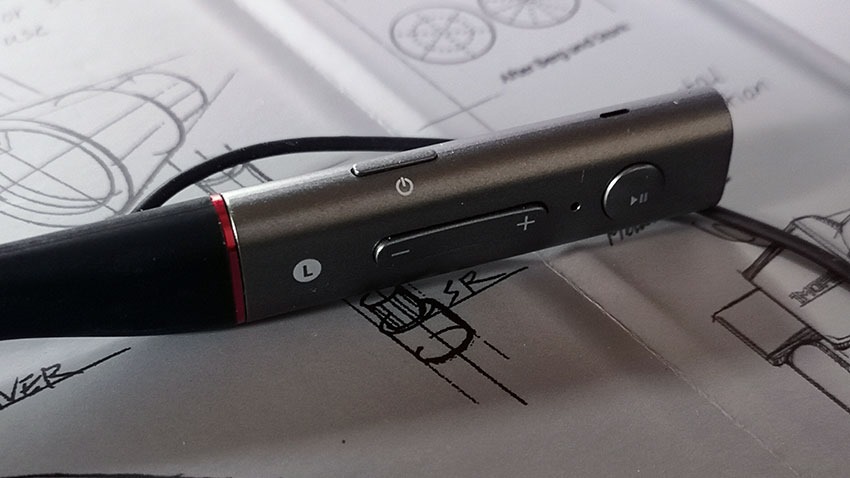 The buds are the same high-quality, metal ones found in the wired version. They're solid and heavy, but comfortable in the ear. With the included tips – 5 pairs of silicon and 3 pairs of foam tips – of differing sizes, finding a good seal is assured.
Though it does the job Bluetooth is, in general, not particularly good for transmitting audio if you're at all concerned with quality. The traditional SBC codec used by most Bluetooth headsets is compressed and leads to a loss of data, meaning that finer details in listening can be scrubbed. There are other codecs available that increase the bandwidth available or offer a less lossy compression method to increase quality. The 1MORE Triple Driver Bluetooth In-Ear Headphones support quite a few of them. It's got SBC support, making it compatible with just about everything, but also include support for aptX, AAC and Sony's LDAC – each of those have their own pros and cons, but they all allow for better audio quality, with a few caveats.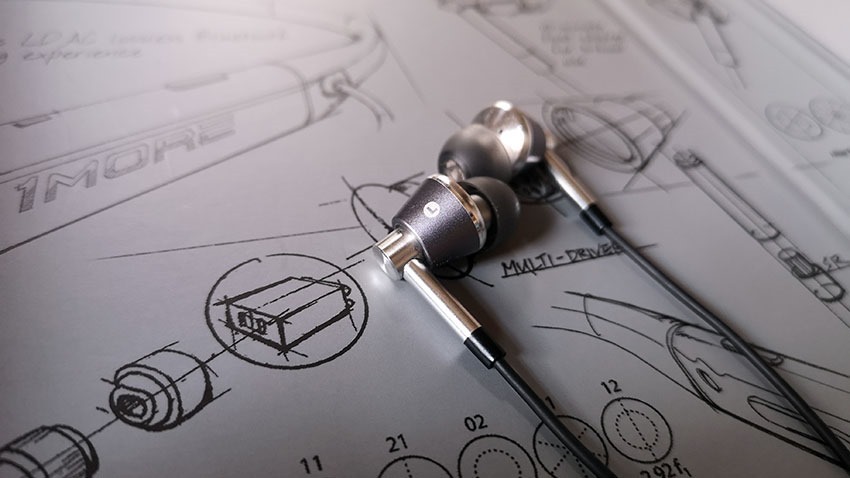 The most interesting of those codes is LDAC, which at its peak performance, allows for transfer rates of up to 990kbps – around three times as high as SBC. That allows the 1MORE Triple Driver Bluetooth In-Ear Headphones to hit the standard required for Hi-Res audio certification. Getting it to work at that rate is a little more troubling, as it is entirely dependent on mobile phone manufacturers. Some phones with LDAC support work at 330kbps, and can result actually sound worse than SBC. Most operate at default 660kbps which outshines SBC, aptX and AAC. If you're listening to lossless audio from services like Tidal, you'll want to enable 990kbps, but be aware that any errant signals from other equipment can lead to erratic signals. I was thankfully able to minimise that, and have spent many evenings just listening. While these can't compare to the wired set – because they have their own embedded amp and DAC – they do an astounding job anyway.
I quite like them. They have a nice warm sound that's balanced and just off of neutral. They're tuned for audio reproduction (by Grammy award-winning sound engineer, Luca Bignardi, the packaging will have you know), without being too flat and sterile. I have a lossless playlist of for testing audio equipment and I enjoyed the 1MORE triple drivers. Radiohead's Idioteque from Kid A, with its jilted ramping electronica explodes once Thom Yorke's vulnerable, raw and trembling vocals hit, scratching through sublimely. When it comes to bass reproduction, there are two tracks that I go to: Massive Attack's Unfinished Sympathy and Bela Fleck and the Flecktones' Flight of the Cosmic Hippo. Those beginning rumbles in Unfinished sympathy escape lesser sets, but come through ably here, countered beautifully with Shara Nelson's shattering, high-range vocals. Victor Lemonte Wooten's fretless bass work on Flight of the Cosmic Hippo is perfectly juxtaposed by Bela's own banjo.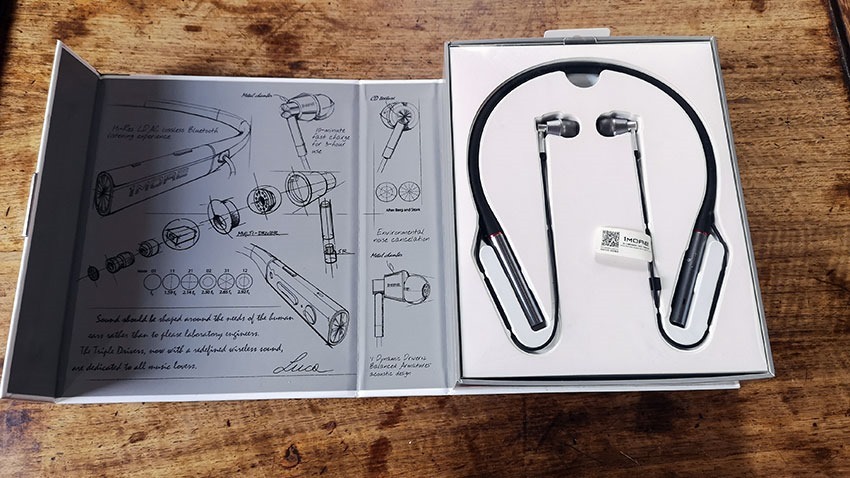 For mids and highs, my favourite albums for testing are The Beach Boys seminal experimental album Pet Sounds, and Arcade Fire's lush and layered Funeral. They both sound exquisite, with the upper end of the mid-range especially prominent. Mids in general are a little recessed though, and both of these albums demonstrate that the wireless Triple Driver doesn't have the widest sound stage. That's mostly typical on IEM's though, and why I'd always opt for open back over ears for critical listening. These aren't for especially critical listening though. They're for consumers who want to make the jump to audiophile-grade gear but aren't willing to spend the down payment of a mid-sized vehicle for that privilege, and in that aspect, they excel.
Where the 1MORE Triple Driver Bluetooth In-Ear Headphones stumble a little though is in battery life. While 1MORE promises around 7 hours of use, my own tests got me closer to 5 and a half from a single charge. That's mitigated somewhat by a quick electrical refuel that'll give you nearly three hours of use from a 10-minute charge. It's also worth noting that the standby charge is phenomenal. I've left these things connected to my phone, not outputting any audio, and have had them last longer than my phone itself, so the small battery is only an issue if you listen to music for hours on end. There is also a slight but perceptible hiss when the amp is on but nothing's playing. There's also a little too much latency for my tastes, making it functional, but less-than-ideal for watching things as opposed to just listening. It also doesn't get exceptionally loud, but given that it goes right in your ear, that's probably a good thing.
They have an RRP of R2,299, but can be had for far less with a bit of shopping around.
Last Updated: March 9, 2020
1MORE Triple Driver Bluetooth In-Ear Headphones

The 1MORE Triple Driver Bluetooth In-Ear Headphones are fantastic, providing warm, balanced audio. While it's not quite audiophile-grade, it's the perfect next step up for the average consumer who wants great audio without contemplating bankruptcy. The Hi-Res Bluetooth connectivity does come with caveats, but if you're able to run them with at least 600kbs LDAC, you'll be rewarded with IEMS that outclass the more expensive competition.