There's no denying the success of AMD's Polaris GPU. Besides it's somewhat controversial beginnings, it has proved to be quite the popular performer in the mid to low end segment. With the imminent release of the GTX 1050Ti and GTX 1050, there is a supposed $10 price cut for the Radeon RX 470 and RX 460. With the RX 470 dropping from $179 to $169 and the RX 460 dropping from $109 to $99, the eagerly sought after value proposition for the Polaris graphics card line-up is being driven home quite hard. Now only sitting at $30 more than the 2GB GTX 1050Ti, AMD is pushing the fact that its card has double the memory bandwidth and performs faster….clearly they thought not $40 faster, but fast enough to be $30 more; we'll see once reviews drop.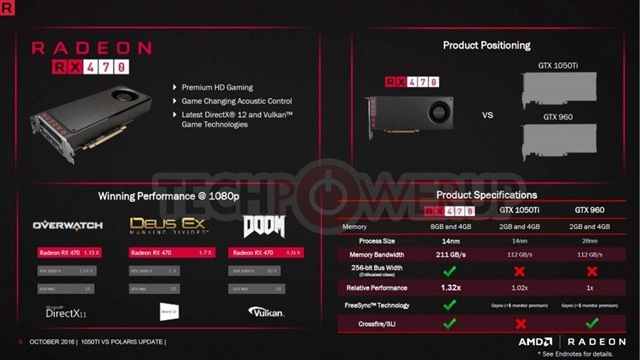 At the low end the 2GB RX460 now comes in $10 cheaper than the yet to be released GTX 1050 (non-Ti), but it's now much cheaper and faster than the GTX 950 that currently occupies the $100-$120 space. That being said, looking at performance slides from TechPowerUp, if AMD are pushing their RX460 as a contender in tech over GTX1050, implying they know it to be slower, whereas they position their RX470 as faster in gaming than the GTX 1050Ti.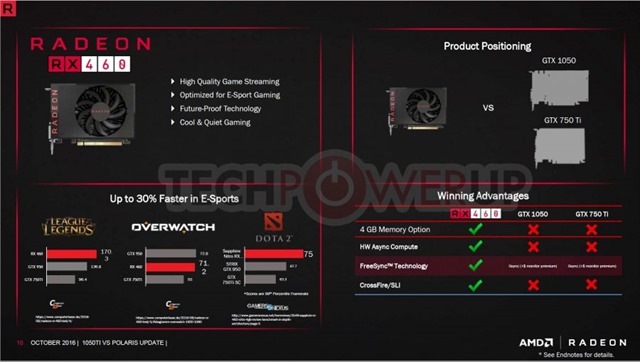 The low end arena has been left completely unattended by NVIDIA for a few months, which has let AMD gain a foothold among the bulk of buyers. This could very well change with NVIDIA's new cards, but seeing the performance boost of the RX470 in some DX 12 games (like the recently released Battlefield 1), the RX470 value proposition rises immensely, and can definitely only get better with a price drop.That being said, for people with small power supplies or a fear of PCI-Express cables, NVIDIA's option only requires power through the PCI-Express 3.0 slot. NVIDIA are pretty much synonymous with power efficiency right now.
Although the price drop will not arrive here immediately, do look out for cheaper RX 460 and RX 470 cards in the coming weeks. If you can help it, hold off buying any cards right now until reviews drop for the new NVIDIA cards and price cuts filter down to our shores.
Last Updated: October 25, 2016