2017 is the year a lot of AMD's energy in 2016 is being funnelled into. According to leaked slides from an investor presentation, AMD has pretty much confirmed a release quarter for their upcoming VEGA GPU. For those hoping for a  Red Christmas, you may have to pack those AMD Stockings away and settle for some time in the first half of 2017. For those even wanting a bigger Polaris based GPU solution, you may be saddened to hear that the RX 480 is the pinnacle that Polaris has to offer.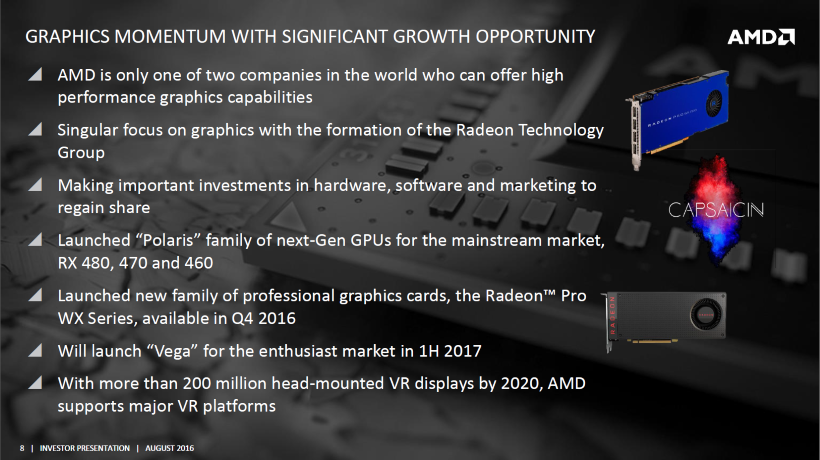 This is a significant piece of information since it effectively means that AMD's Radeon Technologies Group will not have any modern presence in the $300 and above GPU price range for quite some time, leaving the older R9 Fury X, R9 Fury and R9 Nano to show face in those price brackets. This effectively means NVIDIA will have their GTX 1070, GTX 1080 and GTX Titan X relatively unchallenged for the next 4 months at least; even longer if AMD release later into 2017. Although we might get early release of AM4 motherboards If I was a betting man I'd say that Computex would be the optimal time to release something from AMD, although I suspect something might even be released in March 2017, possibly in line with GDC 2017.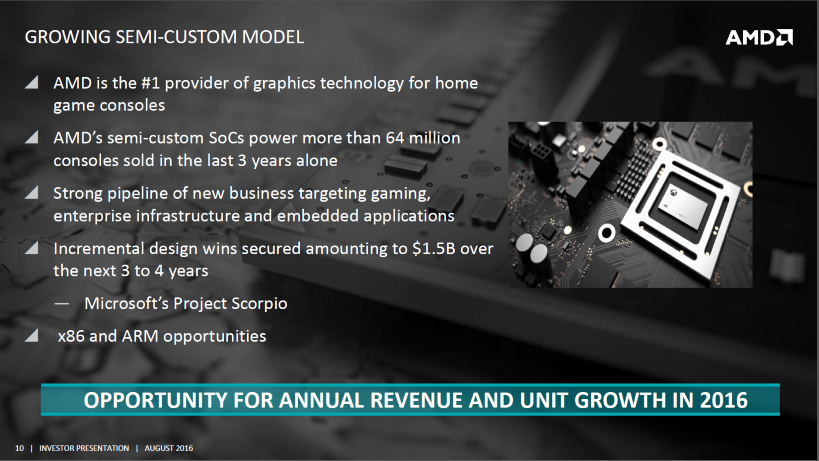 Now this may be just years and years of playing catch up finally manifesting itself in AMD not being able to compete in all price points, but it is possible that it's part of AMD's wider strategy to appeal to more budget and mobile solutions in an attempt to claw back market share. It seems the market share claw back has been somewhat successful showing an increase of 2.8% since last year, but it may also be due to statistical anomaly regarding the massive 20% decrease in discrete GPU shipments from NVIDIA.
Another reason for the slow release schedule is AMD's focus on turning their resources towards it's semi-custom business, such as chips for Microsoft and Sony and their updated consoles to release next year. It is possible that availability for HBM2 is effectively setting the pace for developments regarding Vega since the new memory standard may be far too new for any mass release in 2016. I think it's fair to say that 2017 will be a defining year for AMD as a semi-conductor company — they have to wow both the CPU and GPU market with something compelling, and if there are any missteps or delays, it could cost the company dearly.
Last Updated: August 31, 2016