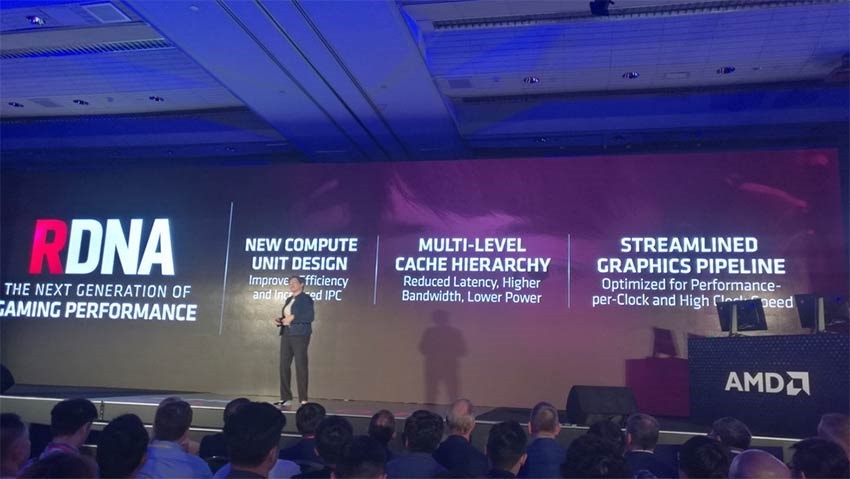 AMD's Navi architecture is going to be used in Sony's impending PlayStation 5. It's not quite available for use in desktop PC's either, but that's changing – and it's changing soon.
AMD revealed the new Navi-based AMD Radeon RX 5700 at its Computex shindig today. The new card will be out in July, bringing Navi to consumer desktop computers for the first time. In their presentation, AMD said that the new chips use a new architecture that they call RDNA (doing away with the GCN nomenclature). According to AMD, the RDNA architecture offers 1.25 times the performance per clock compared to GCN and 1.5 times the performance per watt improvement. The RDNA cards will also be the first to support PCIe 4.0, and will ship with GDDR6. There's no word on what benefits those bring, but they're both bigger numbers than found on previous cards, so that can only mean good things.
And to be honest, that's about all that AMD did reveal. They did pit one of the cards in the RX 5700 against Nvidia's RTX 2070 in a single game (Strange Brigade), suggesting that their new bit of hardware is 10 per cent faster than Nvidia's. It's a bit of a worthless comparison though, as it tells us nothing of the card's general performance in the real world.
We won't have to wait too long for that information though, as AMD will have a nice information dump on their own cards and the PS5's guts at E3 this year.
Last Updated: May 27, 2019