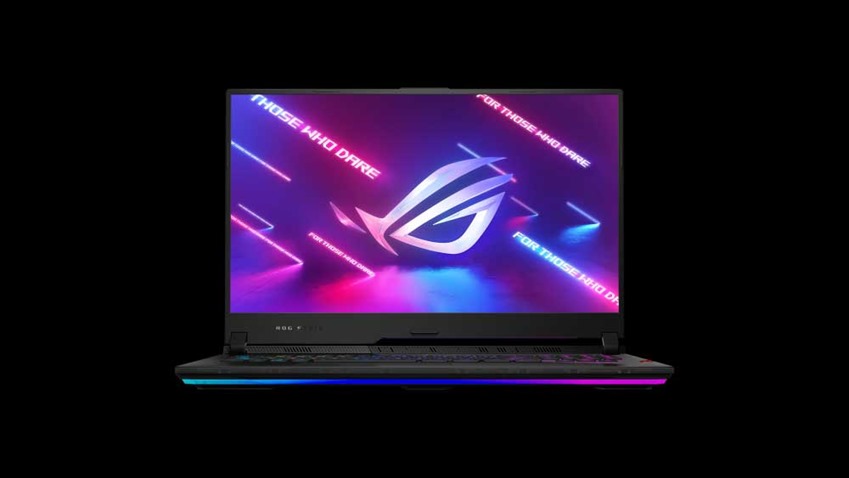 Reviewing new gaming laptops is both the best and the worst thing ever. It's the best, because for two weeks I'm on the bleeding edge of what's possible in the gaming space with a heavy-duty rig that I can cart around with me at any hour of the day. It's also the worst, because I have to give the damn thing back. Contrary to popular belief, I don't have a stack of slightly-used gaming laptops gathering dust in a corner of my room.
Do you have any idea how painful it is to be regularly superior for a mere handful of a weeks at a time and then have to give it up? It's literally this scene from the Naruto anime: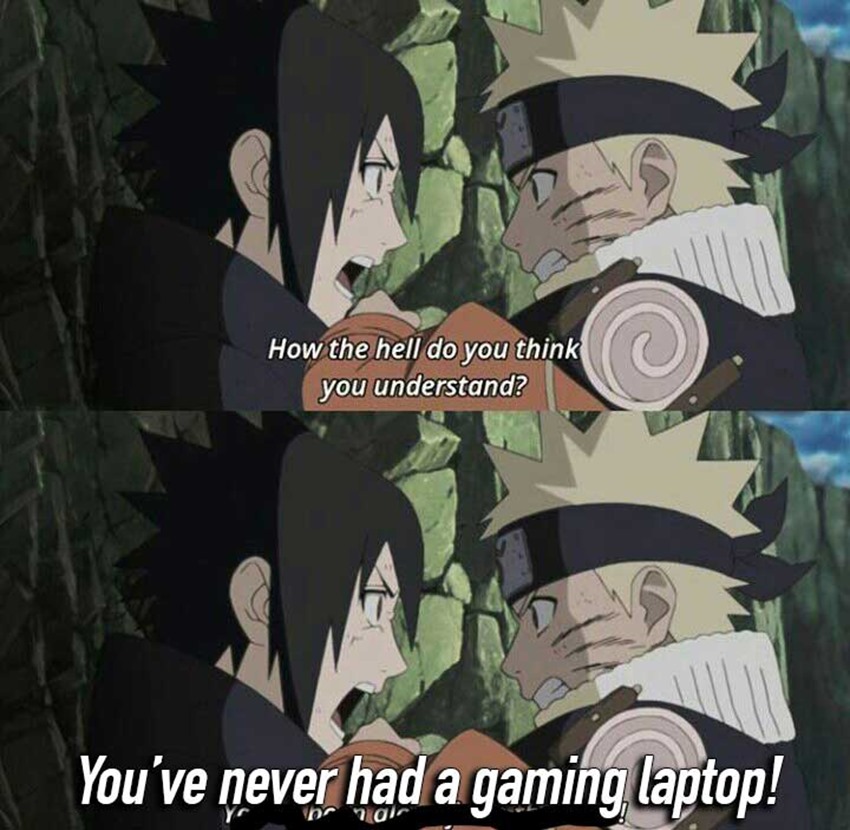 Anyway, the latest gadget to stir feelings of pure technolust inside the black void I call my soul, is another bruiser from Asus and its Republic of Gamers. The year has barely begun and Asus has come out swinging with its latest flagship, the ROG Strix Scar 17 G733. Which I'm just going to refer to as the G733 from this point on so that my sanity can avoid further splintering.
Blue steel looks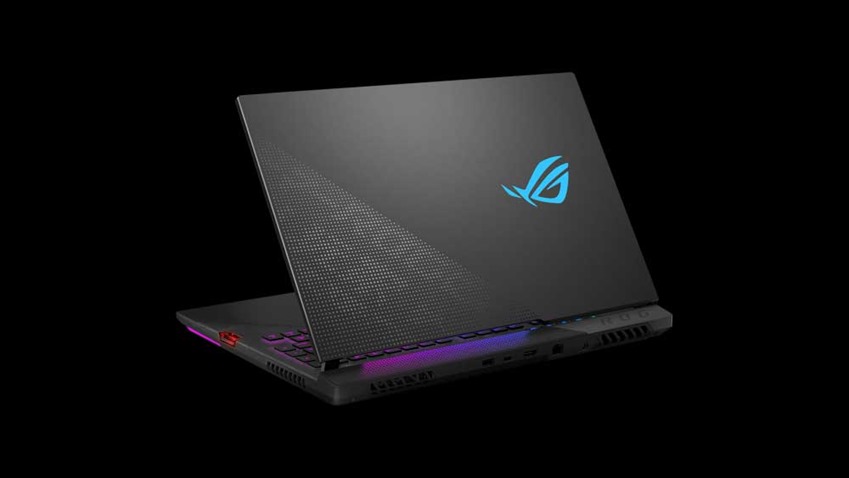 Unlike last year's model, the G733 has a look that wouldn't look out of place in an sci-fi flick. It's also slightly slimmer, having recently done well in its holiday purge and shaved a few centimeters off of its waist line in the process. That more svelte physique contains what Asus says is an 85% screen to body ratio, and some properly slim bezels as well.
That trim does come with a sacrifice, as the G733 has no webcam that can be used to have awkward conversations on Skype with your family when they keep cutting you off. One of the more peculiar design decisions on the notebook is the option to swap out customisable armour caps, of which you'll have access to a trio of: A rubberised grey, a silver piece of style, and a military translucent black extension. It's not exactly a game-changer, but as an added bit of customisation, it's a nice touch to a good-looking laptop.
You also won't have to worry about tripping over the cat when Eskom's latest bout of load-shedding kicks in, as RGB lighting encircles the entire laptop, gently pulsating a multi-coloured glow of luminance that can light the way in the dark for you. The chassis itself also feels reassuringly solid, and I'm still a fan of Asus' decision to position several USB, HDMI, and power ports at the rear so that the wiring isn't too messy. Two 3.2 Gen 1 Type-A ports USB ports and a 3.5mm headphone jack can be found on the left side.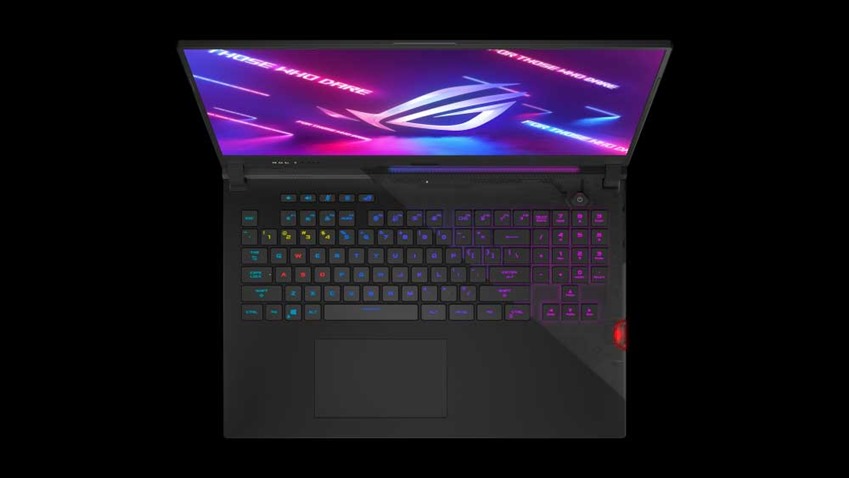 Strangely no SD card reader can be found on the G733, the right side of that laptop instead being reserved for the Keystone accessory that allows you to take certain profiles on the go with you to another Asus latop, if it also has that facility. For now, it's still a very limited gimmick but if Asus starts rolling out the feature to an expanded line of laptops, it'll definitely come in handy in the future.
For the model I received, I was greeted by a big honkin' 17.3 inch screen. On paper, it has all the right numbers: A 300Hz/3ms panel, IPS-level FHD, and adaptive sync. It's an astonishing display that makes everything look beautifully crisp, and thanks to the 300-nit display I'm due for an appointment at my optometrist to address the new laptop wallpapers burned into my retinas.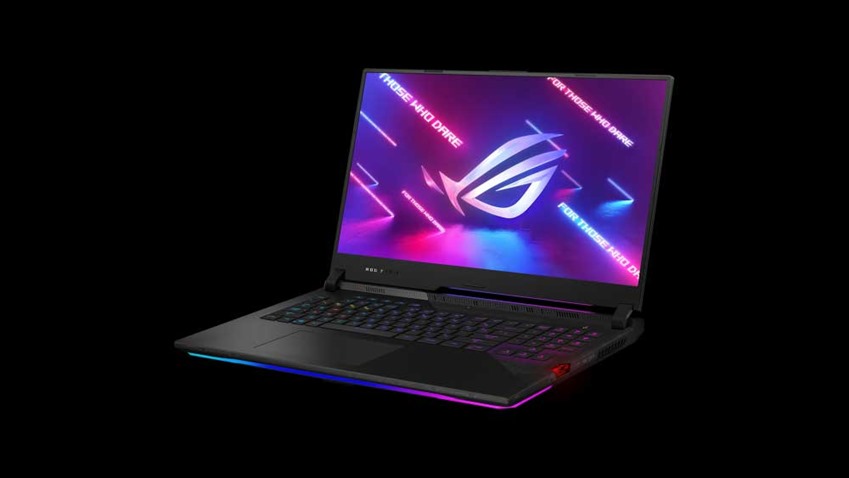 As for the keyboard, it's going to be the Marmite feature of this laptop. An array of optical mechanical switches are present here, which in theory should allow you to finger-punch each key as if you were Rocky taking out anger management issues on a nearby slab of beef. For gaming, I think it's superb stuff with a satisfying level of click, but for other tasks I just didn't feel right hammering away at those keys.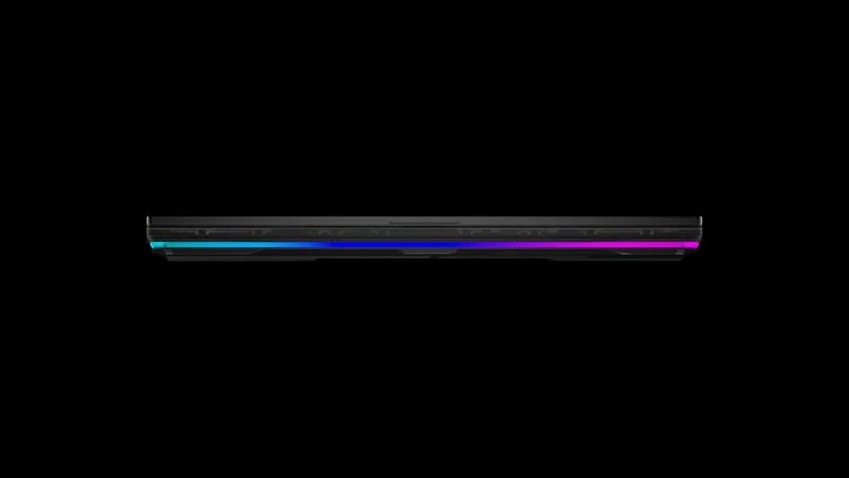 Due to the nature of a laptop, those keys couldn't be too raised and I think in effect, that robs it of some tactile feedback for more mundane tasks. That's not too terrible if you're already rocking an external keyboard so that you can preserve the G733's tech, but overall the short actuation distance and resistance from a more shallow input will feel admittedly odd the first time you try it out.
For the audio department, you've got two virtual 5.1.2-channel surround sound speakers which do a great job at being loud and providing perfectly serviceable noise during the day. I know this, because the G733 starts up with a heck of a loud sound on default and my cat almost had a heart attack when this happened the first time. For gaming and people with the ears of a safe-cracker, its best to use a regular headset though.
P-P-P-P-P-POWER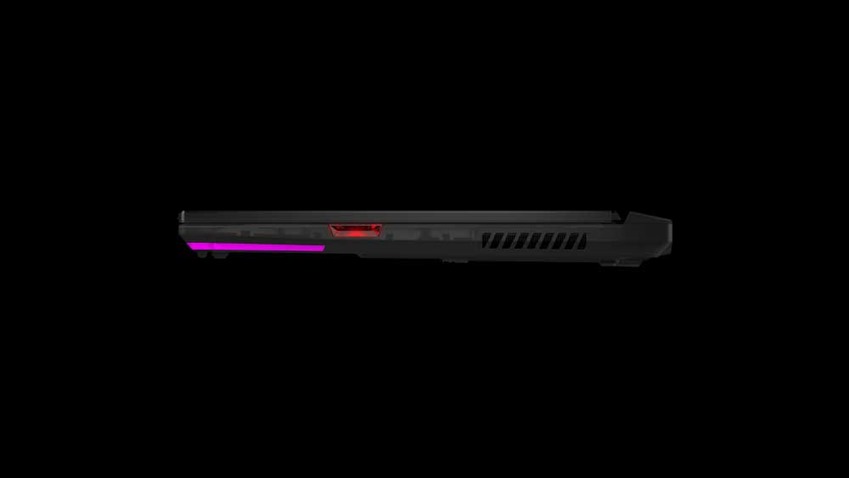 There's enough high-tech hardware under the hood here to make Jeremy Clarkson realise that he wasted his life talking about cars, as the G733 is no slouch. The model I got, was packed to the gills with tech that laughs in the face of benchmark tests:
GeForce RTX 3080 laptop GPU
AMD Ryzen 9 5900HX with Radeon Graphics
32GB of DDR4-3200MHz RAM (can be expanded to 64GB)
1TB of high-performance SSD storage
It's worth noting that the RTX 3080 is a lower grade model so that it can be accommodated inside the slim frame, but that's like saying your Ferrari is slightly slower than this year's latest model. In action, the G733 can pretty much handle anything that you throw at it and then some. For testing I usually grab the most demanding games that I have access to, so on that note thank the gods for my Xbox Ultimate Game Pass subscription.
The G733 easily blitzed through the likes of Gears 5, Forza Horizon 4, Gears Tactics, Far Cry 5, and plenty more in my testing. Benchmarking through some of those games revealed incredibly positive results overall, with all of them being able to easily render at high and ultra settings without losing a step. While next-gen console gaming has arrived, it's amazing just how fantastic numerous titles can look at Full HD with all the bells and whistles turned on through a stunning display, in comparison.
Of course you're going to want to keep this laptop plugged in when you use it. Regular tasks won't tax the battery too much and you can easily play around for 6-8 hours when the lights go off. If you're gaming though, all that power makes for a thirsty beast and it'll drink that battery dry in less than an hour. That's par for the course though, at least until someone creates a laptop that runs on cold fusion and happy feelings energy.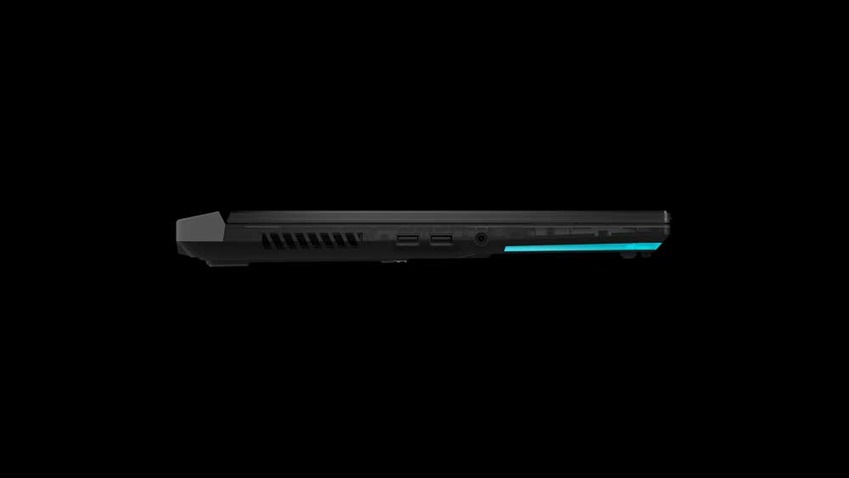 If there's any downside to the G733, it's that it can be a bit of a loud beast. Even in an optimum environment with plenty of space for its air-cooling to work, when all its gears are grinding you will hear it in action. If you've got a headset on, that's not a problem but it is something to be aware of. Turbo mode does mitigate this significantly as well, so it's well worth digging into that software when you first set up.
Conclusion
The G733 is smaller and lighter than any Asus flagship before it, looks dead sexy, and it has a screen that's sharper than the finest Japanese blade. Some concessions needed to be made to reach this point, such as a lack of biometric security features or card-reader, and the keyboard is going to be highly divisive, but there's no denying that its perfect for those people and professionals who have a singular focus in their laptop requirements.
Last Updated: March 1, 2021
Asus ROG Strix Scar 17 G733

Asus has thrown down the gauntlet for 2021, and has swaggered into the ring with stunning tech innovations, style, and good old-fashioned graphical grunt that'll turn quite a few necks.