ASUS is consolidating their motherboards under a familiar aesthetic and naming scheme, combining and STRIX or ROG branding for the Z270 line-up. This means that the venerable mATX ROG "Gene" is nowhere to be found under the new Z270 chipset, so we can assume it's being partially replaced by mating together the ASUS Pro range and ROG Gene, birthing the ROG STRIX Z270G GAMING—perhaps the "G" stands for "Gene"? In any case, although not a "Gene" in naming, ASUS seems to have treated it as such buy cramming enough high end goodies to make micro-ATX PC builders drool. At $199 or R3500 locally, ASUS have kitted it out with SLI/CFX support, ROG Supreme FX 8-Channel HD audio, WiFI 802.11, two M.2 sockets, front panel USB. 3.1 C, 3D printing options, and as with all Z270 chipsets, support for Intel Optane Memory. So, without wasting time hoping for a Zuma impeachment, let's take a look at the ROG STRIX Z270G GAMING

ASUS ROG STRIX Z270G GAMING: It's all in the Genes
As someone who does have "the feels" with the older red and black ROG Gene colour scheme, the new Z270G GAMING sports a more neutral black and grey scheme. Aesthetically, it seems blander, but pragmatically it will make the board much easier to blend in with whatever colour scheme you have for you PC, and the AURA LED lighting by the chipset heatsink will assist in that endeavour.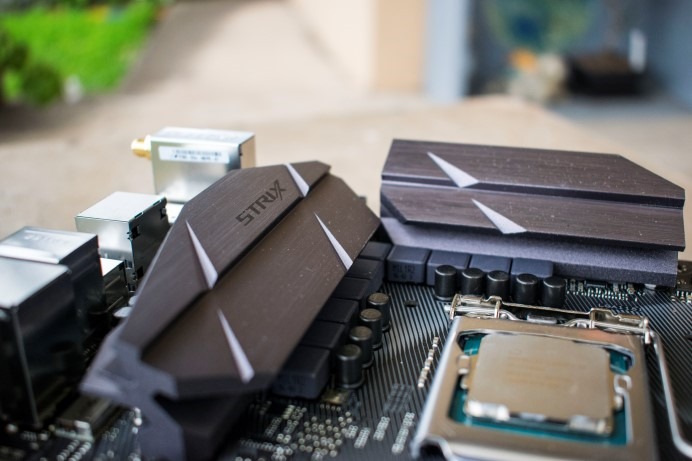 Accessory wise, ASUS have kitted you out with a coaster, 3D printing mount package, RGB extension cables, SATA cables, M.2 screws, SLI High Bandwidth Bridge, IO shield, ROG STRIX stickers, WiFi Antenna and CPU installation tool.Feature-wise, ASUS have a reputation for taking everything good in their regular ATX size motherboards and dumping it all into an mATX form factor without visible compromises. The Z270G is cut from that same cloth, with well designed spacing around the board making it easy to connect everything without popping popping a vein.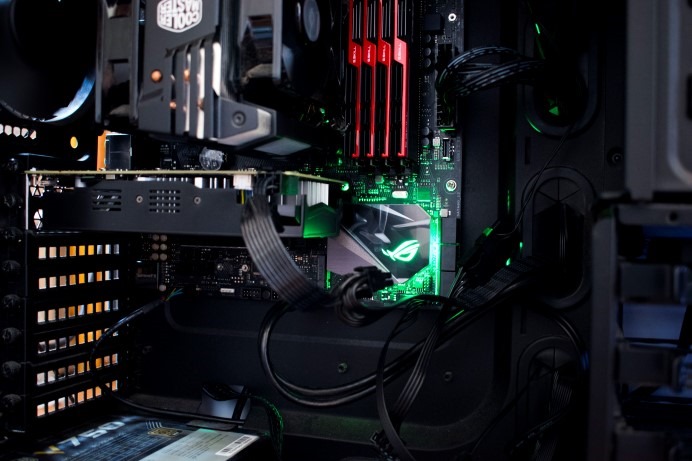 I find it quite beneficial to build a PC within a case and not a test bench since only in a case can you get a feel for board layout and design, and although you'll need a massive rear case backplate opening to access the NVME drive, everything else on the board is well spaced and not in each others way. Fan headers are dotted around the board, with a dedicated Pump fan header for AIO coolers, as well as a RGB header and temperature sensor header.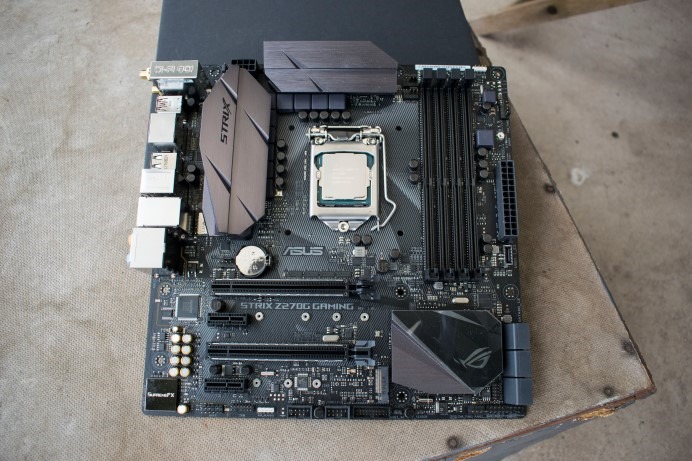 A missing element that does remind us that this is not a "pure" overclocker motherboard is the clear absence of any overclocker friendly features, such as LN2 jumpers, MemOK, start/reset buttons or a POST code display. What we get, instead, are RGB headers and 3D printing mounts, firmly cementing the type of consumer ASUS are aiming for.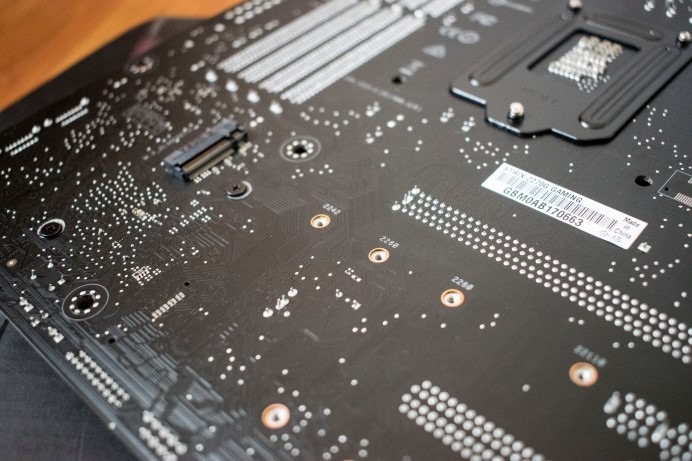 Whereas competitor's high-end mATX boards may be a fair bit cheaper (Gigabyte Z270MX for example), they do compromise on some things a performance user might want, such as dual M.2 NVME support. Since Kaby-Lake offers 24 PCI Express lanes (4 more than Skylake), the boffins at ASUS were wise enough to engineer a feature to take advantage of the extra 4-PCI-Express lanes,and have managed to fit a second M.2 on the underside of the STRIX Z270G GAMING motherboard. So, if you're a power user who wants two NVME drives in your mATX build, ASUS ingenuity has you covered.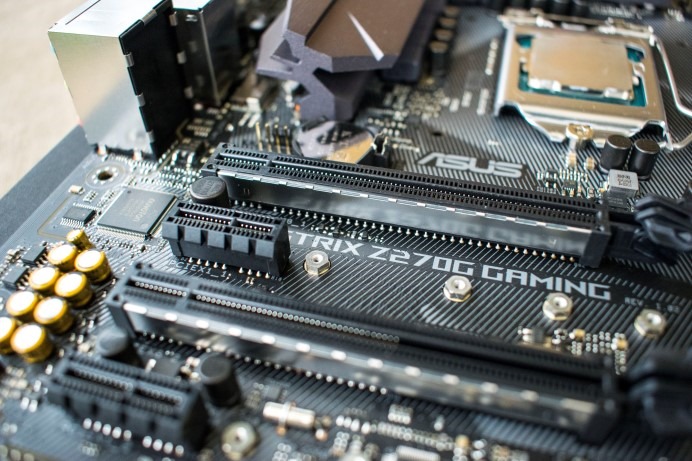 ASUS have given two full sized PCI-E slots which operate at X16/X0 with one card, or X8/X8 with two cards. The slots are steel reinforced, and although it would take a force greater than anything you'd subject a motherboard to break the PCI-Express, the silver does add some much needed contrast to the colour profile. For an m-ATX There are six SATA 6G ports, and it looks like the U2 port is finally DOA for ASUS, as none of the ASUS Z270 boards have it. There is some limitation to the SATA 6GB ports that do share bandwidth with the M.2 slots, so if you have two M.2 devices, you will not be able to use all the SATA storage options.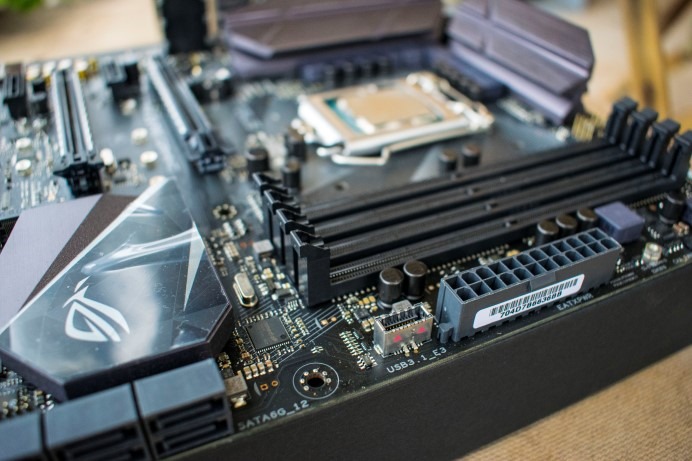 Besides the presence of 3rd Party USB 3.1 in Skylake, we never got native USB3.1 support. Kaby-Lake now offers that, and although USB 3.1 Type A/C are not uncommon on rear ports on motherboards, ASUS have provided a USB 3.1 20-pin header providing front panel support—only a few motherboards out now offer that, and ASUS are one of them. On the IO port, you have the Wi-Fi connector, USB 3.1 Type-A and Type-C, HDMI, Displayport, 7.1 Audio output with S/PDIF and 1GBit Lan.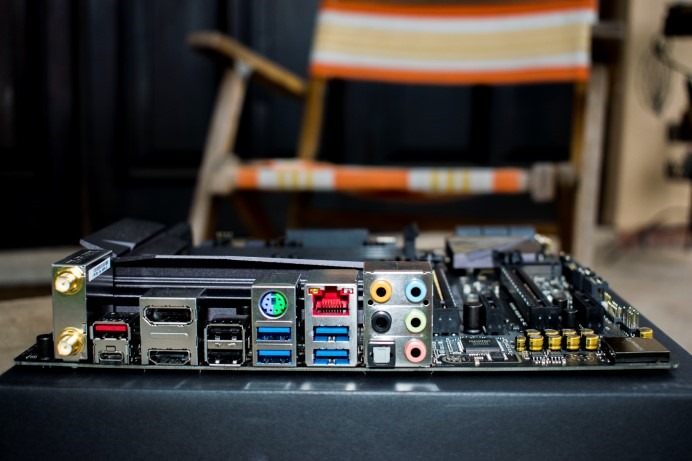 BIOS and Software: ASUS Cleans up nice
ASUS' EUFI software is, in most enthusiast circles, highly regarded. They have a GUI and layout that offers something an overclocker will be comfortable with, and also something for the "Auto" everything someone who might have heard of a BIOS once upon a time. It's the same EUFI that ASUS have used since last generation, and has loads of overclocking options and overclocking profiles.
This slideshow requires JavaScript.
The software suite that ASUS provide is more or less the same they've offered for years, bar a version upgrade or two. We have Sonic Studio III, RamCache II, GameFirst IV, Sonic Radar III. The software you'll probably use the most is the ever excellent Dual Intelligent Processor 5. This suite allows you to overclock, auto overclock and and create fan profiles using Fan Xpert 4—it also has loads of other programs like TPU, Digi+VRM. It's probably the only software I'd never uninstall from a software bloat standpoint, as it's just far too good to get rid off.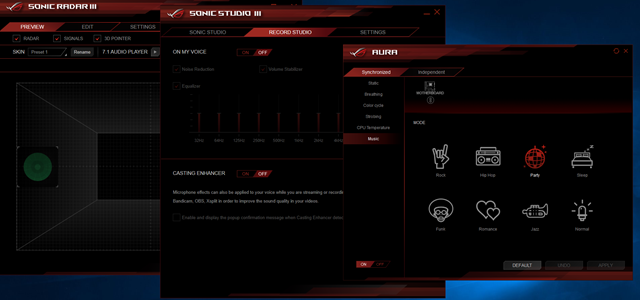 System Setup & Overclocking
Since Critical Hit does not have a previous Z270 board to match up against, I thought it best to measure a Kaby-Lake system against at least a Skylake, if only to see what an optimisation generation provides for users. I tested the Z270G up against it's immediate ancestor, the Z170 Gene VIII. I also used the 6700K at 4.5GHz in the Gene board, while I tested the Z270G with the 7700K. Although the board is a capable overclocker, as mentioned earlier, there are extreme overclocking features that some may pine for in past GENE mATX boards.
Skylake:
Core i7 6700K @ 4.5GHZ
ASUS Z170 RAMPAGE Gene VIII
4x4GB G-Skill DDR4 @3200MHz
Samsung 850 Evo 250 + OCZ Vertex 4 256GB
Windows 10 X64 Anniversary Edition
NVIDIA Drivers 378.66 (GTX1060 3GB)
ASUS ROG STRIX Z270G GAMING:
Core i7 7700K @ 4.5GHZ + 4.8GHZ OC
ASUS ROG STRIX Z270G GAMING
4x4GB G-Skill DDR4 @3200MHz
OCZ Vertex 4 256GB
Windows 10 X64 Anniversary Edition
NVIDIA Drivers 378.66 (GTX1060 3GB)
Overclocking Intel's 7700K on the ASUS ROG STRIX Z270G Gaming was as simple as it was on the Z170 boards of last—although the motherboard effortlessly applied the best settings to allow me to reach 5GHz at 1.31v with XMP enabled, my woeful Cooler Master D92 was not able to keep temperatures in line, and it was not stable. I was able to get it to 4.8GHz stable, and even at this speed, the chip ran quite hot (84 C) when stress testing. Regardless, this board was still able to get this chip to 5GHz, with only high temperatures causing instability.
Benchmarks
This slideshow requires JavaScript.
Gaming Benchmarks
This slideshow requires JavaScript.
As you can see, the benchmarks show a considerable sombre affair—more or less, the Z270 and 7700K team up to deliver performance that when compared to Skylake at equal clockspeeds, is ever so slightly quicker.  Where the Kaby-Lake, and specifically the ASUS ROG STRIX Z270G GAMING, allow you to gain an extra edge is in overclockability, which although is also down to the CPU silicon, this motherboard's ability to effortlessly spit out an decent overclock with very little effort can't be overlooked.
Final Thoughts & Conclusion: Gene-etically Modified for gamers and modders
Although there is no official au revoir from ASUS on their GENE series of boards, the ASUS ROG STRIX Z270G GAMING does fill the market spot usually reserved for the GENE. And it does so with aplomb and plenty of features under the hood. It serves a need that addresses a diverse range of needs within the PC gaming market—3D modding features for the hobbyist 3D printer; AURA and RGB headers for the aesthetically inclined; enough overclocking bells and whistles to extract  performance while even throwing in an ingenious rear-mounted M.2 port in case you want to RAID up two NVME drives.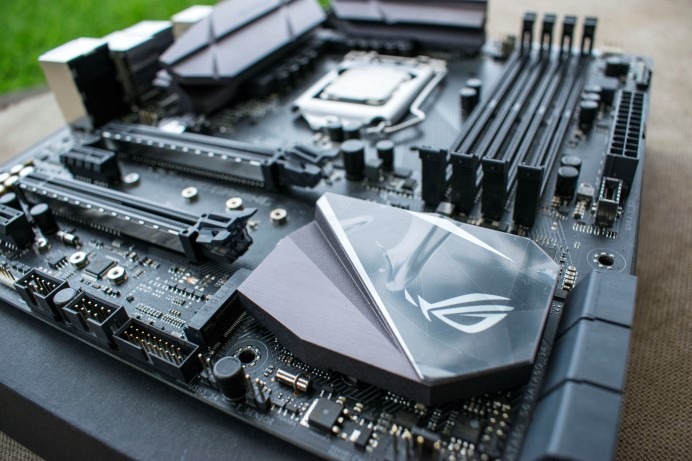 The broader issue of whether or not Kaby-Lake, and the ASUS ROG STRIX Z270G GAMING motherboard is a sound upgrade investment to make from Skylake is not as forthcoming a recommendation—unless you need two NVME drives and want front panel 3.1 support, moving from Skylake based system makes little sense. However, if you are in the market for a new system, the ASUS ROG STRIX Z270G GAMING comes out striding the line between the historically overclocking focused ROG brand and the more gamer friendly STRIX branded motherboards. The absence of overclocking niceties definitely sealed its fate—this is not a GENE replacement, even though it occupies the same price point. ASUS have pivoted their traditional high end mATX board, trading in their OC features for WiFi, 3D Printing support and RGB options to attract more gamers and modders to this motherboard. There are some features that could have still remained, such as a POST code display as that's not necessarily only used by overclockers, but taking a step back from my Gene-coloured glasses, the trade-offs do somewhat make sense. Overclockers might find more value in the "pure" overclocking ASUS APEX motherboard, while gamers and PC builders will find more value in this high end board that is great at serving varied needs, for non-extreme overclockers and PC builders.
Last Updated: April 18, 2017
ASUS ROG STRIX Z270G GAMING

Although it comes in at a historically mATX ASUS GENE price, the ASUS ROG STRIX Z270G Gaming pivots away from pure overclocking bells and whistles and offers more gamer friendly, power user and PC building features.