The RX 470 is plugged as the budget card to beat for 1080P gaming, sporting the same Polaris 10 chip that resides within the popular, if initially controversial, RX 480. It's standard practice to take chips that don't quite make the cut and sell them as a slower performing part, but AMD have been splendidly strategic, with not much in the way of significant cuts. The primary changes to the RX 470 over the RX 480 is the culling of 4 Compute Units (32 instead of the 36 in the RX 480), a lower base/boost clock and memory speed (926MHZ/1206MHz instead of 1120MHz/1266MHz and 1650MHz instead of 1750MHz or more) and a lower 120W TDP instead of 150W. Before continuing,  we'd like to extend our humblest thank Rebeltech for providing this sample for Critical Hit; you guys and gals are the best!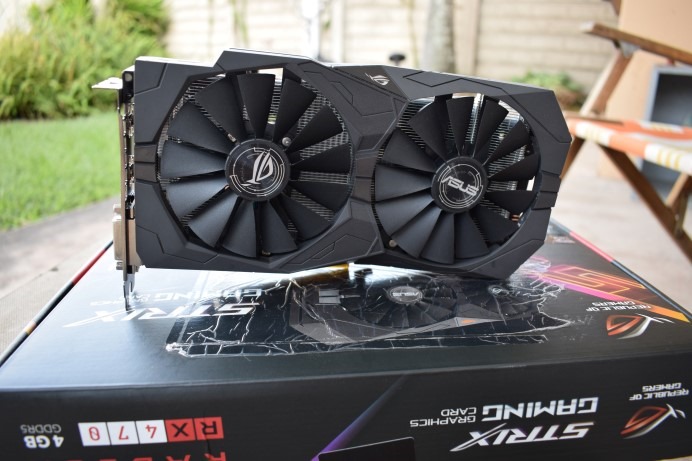 Since AMD never released a reference RX 470, it's been up to board partners like ASUS to spruce up the chip, adding in enhanced cooling, overclocking and extra features; that's fine by me, since the last time AMD produced a reference Polaris 10 GPU, they never even gave the card a DVI connector. When the RX 470 released, initial reviews praised performance, but were highly critical since initial batches which essentially priced themselves into irrelevance, as faster reference 4GB RX 480s could be had for a couple bucks more. Now that time has worked her magic, the likes of the ASUS STRIX OC RX 470, priced at a respectable $165 or R3750 can now truly saunter into the bang for buck segment and compete for your hard-earned dosh.
ASUS ROG STRIX RX 470 GAMING—STRIXLY Good Looking
The doors were left quite open on the RX 470 in terms of clockspeeds, with AMD giving AIB partners a lot of room to manoeuvre their RX 470 offerings into place. ASUS have two models; one with a lower factory overclock of 1226MHz boost, and the one we have here, which has a factory boost overclock to 1270MHz. Memory speeds are unchanged from the reference speeds, however.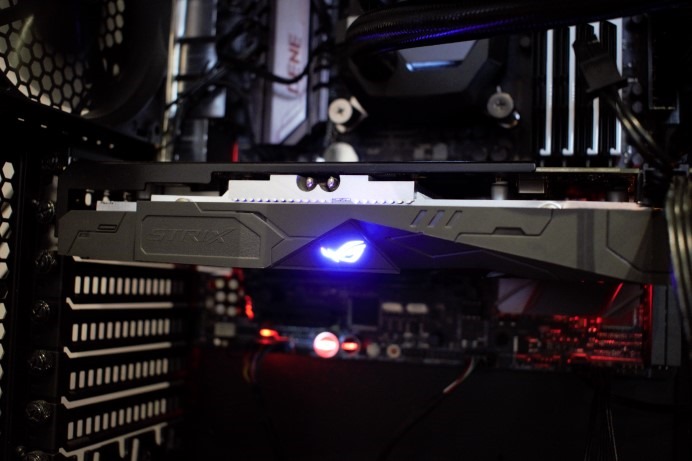 The ASUS ROG STRIX brand has by now become instantly recognisable – a large grey-black plastic shroud with fans that resemble an owl's face, with RGB LED lights aplenty. On the more expensive STRIX cards you'd have more than just the single RGB LED ROG logo, but at this end of the price spectrum, value trumps aesthetics.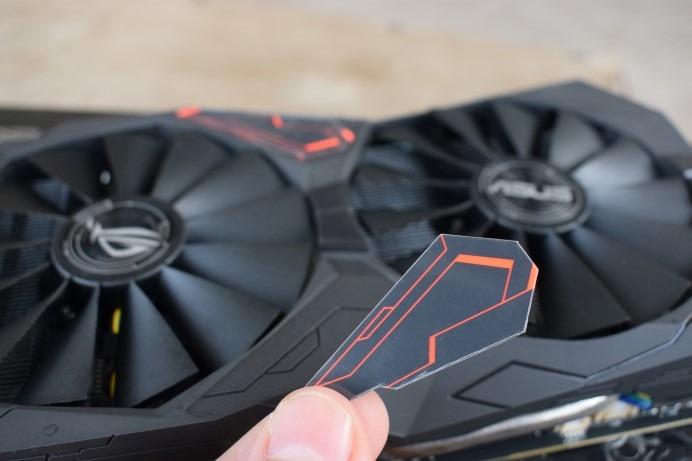 However, instead of adorning the cooler with colour, ASUS provided two strips of orange coloured stickers to apply. It's a nice token gesture for "customisation", but if you're providing only a single colour set, perhaps include at least the other two primary colours. The entire board is relatively diminutive, coming in at 24,5cm and only 13cm tall -compatible with all but the smallest of cases.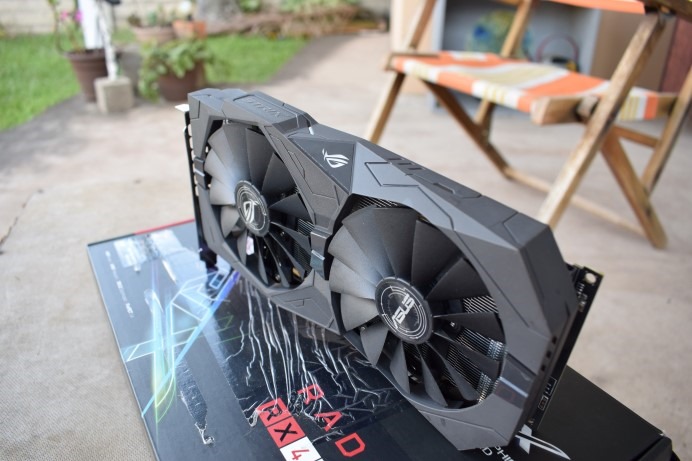 Unlike the reference RX 480, the ASUS ROG STRIX RX 470  has a wide range of connection options; from dual DVI ports, an HDMI 2.0b port and a DisplayPort 1.3HBR/1.4HDR ready, which means you could theoretically drive 4K at 120Hz—not that this card could churn out that sort of frame rate in modern games, but I guess 4K minesweeper at 120Hz/120FPS can be intense.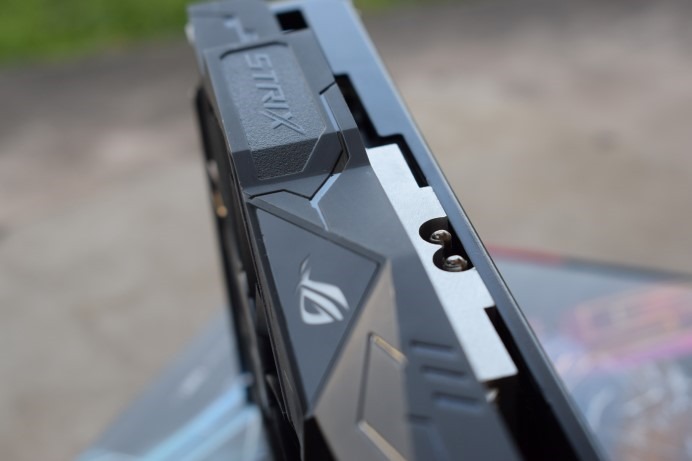 Although I could not open the card up to have a look at the heatpipe design in great detail, the fact that the card is but a mere 120TDP means ASUS can be more cost-effective, with only two heatpipes that make contact with the GPU surface. Although temperatures were not a real concern, temperatures did come to play an important part in the overall experience of this card.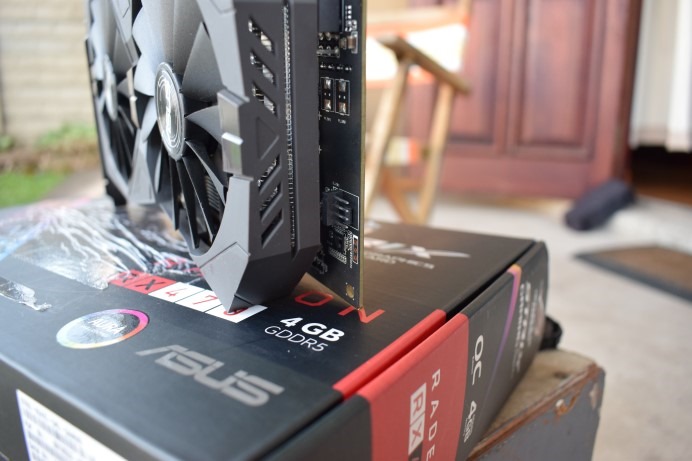 Speaking of cooling, I'm happy to see ASUS has even included their sweet Fan Connect on-GPU external fan controller, where you can connect one of your case fans to the GPU, and basically have it run in step with the GPU heat and fan speeds. Like the reference RX 480, the GPU only comes with a 6-pin connector, which should be more than enough for the RX 470's 120 TDP. As we'll see later on, this chip managed to share all the good aspects about the RX 480, although it's marred by similar power issues that deflate the expected performance and price of the product.
Temperature, Noise and Clockspeed: Underprepared
When you buy a graphics card that gladly states "1270MHz boost in OC mode!" and then never see that clockspeed achieved under OC mode, it mars the product in a significant way. This is exactly what happened with this ROG STRIX RX 470 – not once could it maintain a boost clock of 1270MHz under OC mode for any significant amount of time. Take a gander at the graph below to see the typical performance you can expect—an average clockspeed of 1110MHz, which although is well above the reference base clock, it's miles from even reference boost clockspeeds. Thanks to the cooling courtesy of STRIX, temperatures were kept well under 70 Degrees.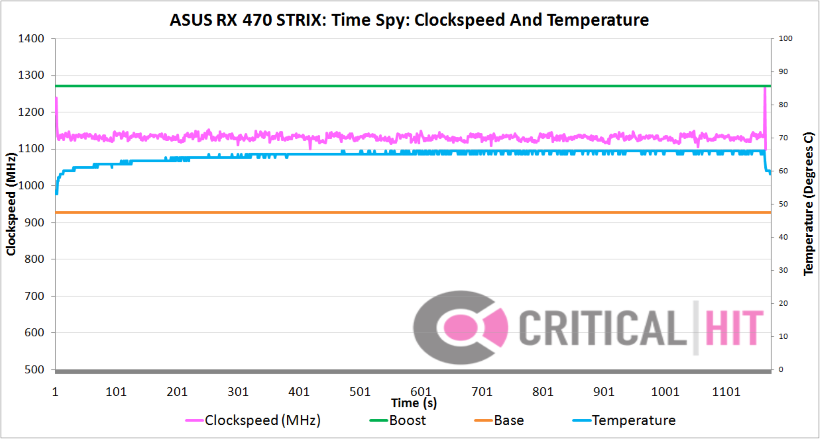 The only way I could manage to achieve boost clockspeeds is if I changed the Power Limit to 30%.
Success!
Wait, no…not really. The result is an RX ASUS STRIX OC RX 470 as jittery as a crack fiend without a hit.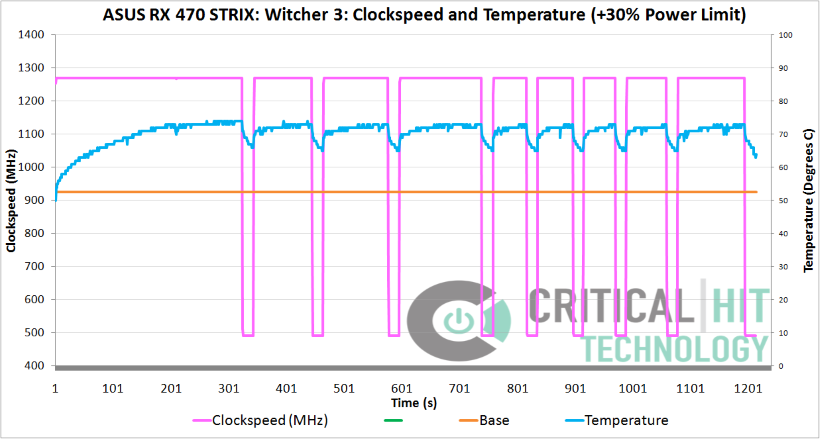 Tweaking the Power Limit introduced rampant  clockspeed throttling whenever temperatures reached 74 degrees, decimating frame rates and generally being a terrible gaming experience.
Now as a curious tinkerer who likes to tink, I tried to figure out what could be wrong; why is this GPU so deadset on downclocking?. "Is it drivers? Windows? Or the Game?". I tried them all : reloading drivers; changing game settings; resolution; undervolting; 100% fan speed; shifting temperature limits in GPU Tweak II. When you discover it's none of those things, the simplest answer must be that the board, or whatever voltage controller ASUS used, just cannot cope with the load at 1270MHz. Clearly this introduced issues when overclocking, and although I did manage to attain a "stable" 1330MHz core and 2100MHz on the memory, it was not playable as it eventually throttled. One small saving grace in this regard is that since the fans on the card are quite silent, even at 100% fan speed, the GPU is not too noisy.
That said, a pleasant surprise was the degree of tinkering you could do within Radeon Wattman regarding voltage control. In my failed tinkering exploits to get the card running at least close to 1270MHz without throttling, I found that the card would happily run with much less voltage (around 1.05v, compared to 1.15v default), which although did reduce temperatures, it did not wholly resolve the throttling issue. For a more dedicated buyer, a trial and error session can potentially produce a card that consumes 10-15W less power, and achieve the same level of default performance. In the end though, the ghost of the Polaris 10 RX 480 power consumption issue have manifest themselves here somewhat.  That being said, the clockspeed still managed to be well north of the official base RX470 clockspeed.
Gaming Performance: Bang Your Bucks Together
Testing was done on:
Core i7 6700K @ 4.5GHZ
ASUS Z170 RAMPAGE Gene VIII
4x8GB G-Skill DDR4 @3200MHz
Samsung 850 Evo 250
Windows 10 X64 Anniversary Edition
AMD Drivers 17.1.1, NVIDIA Drivers 376.33
To place the ASUS STRIX RX 470 OC into the marketplace of performance, I put it up against the unpopular, yet no less impressive, Zotac GTX 1060 3GB mini. The asking price for the Zotac GTX 1060 3GB mini can be had for a local price of around R3200, while the more exotically-cooled ASUS STRIX RX 470 sheepishly comes in at around R3750. Internationally the trend is different, with the AMD card being $10 cheaper than the NVIDIA silicon, with a further $20 mail-in rebate, which widens the total dollar cost to $165 versus the $195 of the GTX 1060 3GB. Somehow South Africa has managed to enter the Twilight Zone and is selling the faster card for cheaper, although there are definitely other considerations to take into account regarding the supply of Zotac into the country. That being said, the AMD card still manages respectable numbers, more so when it leverages its 4GB VRAM vs NVIDIA's paltry 3GB in high memory situations, such as increased resolution and higher sampling.
1080P Benchmarks
It goes without saying that the AMD card struggles to make a case for itself at 1080P versus the GTX 1060 3GB. In nearly every scenario the GTX 1060 3GB card comes out on top, only faltering when under DX 12 conditions–particularly Ashes of the Singularity—and even here it's not behind by as large a margin as AMD is under DX 11. Clearly some advantages are seen in DX 12 gaming due to higher minimum frame rates producing a more smooth er gameplay experience (eg Tomb Raider), but overall the performance in 1080P goes to the GTX 1060 3GB. Once thing is for certain: framerates are impressive, yielding above 60FPS across most titles, which gives mountains of space for future titles at lower quality, or recent titles with more FPS in the bag should you have a high frequency monitor to make the best of FreeSync.
This slideshow requires JavaScript.
1440P Benchmarks
This slideshow requires JavaScript.
Leveraging the 4GB frame buffer, the ASUS STRIX RX 470 manages to close the gap somewhat, although the trend still shows a clear winner in the GTX 1060 3GB. Besides absolutely horrible performance in Ashes of the Singularity courtesy of the smaller VRAM, the GTX 1060 3GB still takes the overall performance crown. Bare in mind, though, that as much as the GTX 1060 3GB maintains a lead, you have to hand it to AMD; they do manage to squeeze out more performance in shifting to DX 12, and they do take a slightly lesser hit to average frame rates moving from 1080P to 1440P, performing around 3-4% better. I put that squarely down to the extra memory buffer. Surprisingly, most games were playable at over 30FPS, so with some tweaking of graphical settings, the RX 470 can game at 1440P more or less.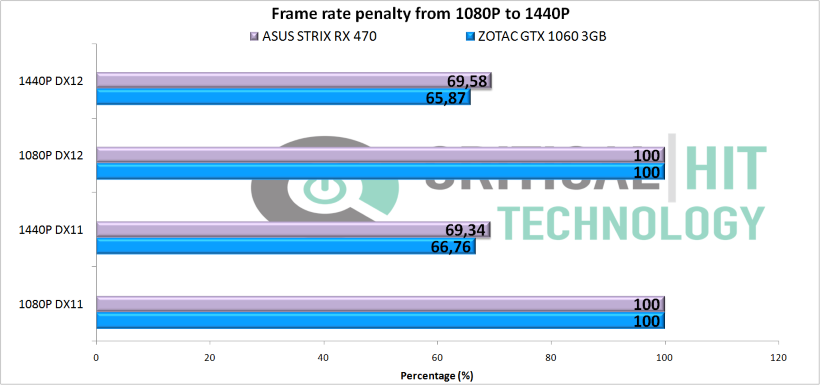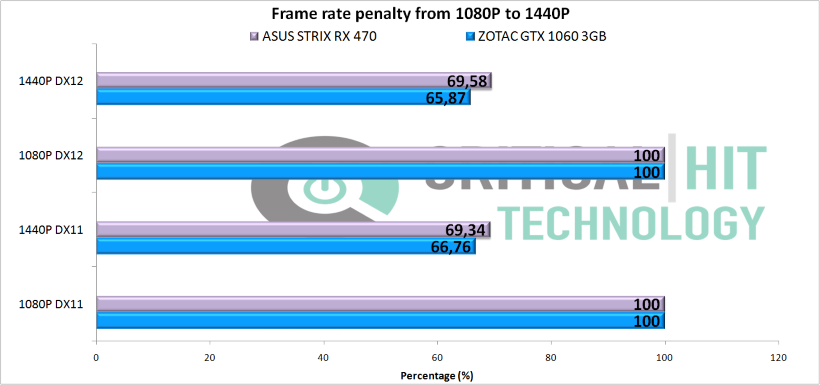 Note that I've not included any sort of overclocking results as they were not stable due to the aforementioned power limit throttling. A good and proper overclock is one meant for 24/7 stability, and in this case the overclocks on the ASUS STRIX OC RX 470 were not.
Synthetic benchmarks
This slideshow requires JavaScript.
Once again, synthetic benchmarks show exactly where the ASUS STRIX RX 470 places – slower in all but one test than the GTX 1060 3GB card.
Conclusion: Overclocked and Under-prepared
There's no denying the frustration I experienced with the ASUS STRIX OC RX 470; the performance seems to be hampered yet again by AMD's insistence on creating a chip powered by a single 6-pin. However, in this instance, some blame must be laid at ASUS:  why are your power limits so conservative on this board? Other AIBs, such as Powercolor, are able to make their RX 470 4GB model actually boost, and run, at 1270MHz. Reading around the net, the downclocking and an inability to run at boost speeds is quite common with the STRIX RX 470, so it's surprising that other reviews never really picked up on it. Perhaps that 21 Degree Celsius review environment never allowed the card to actually reach the mid 70s Degree Celsius? South African summer reveals the weaknesses in all of us, silicon (and Ford Kugas) included.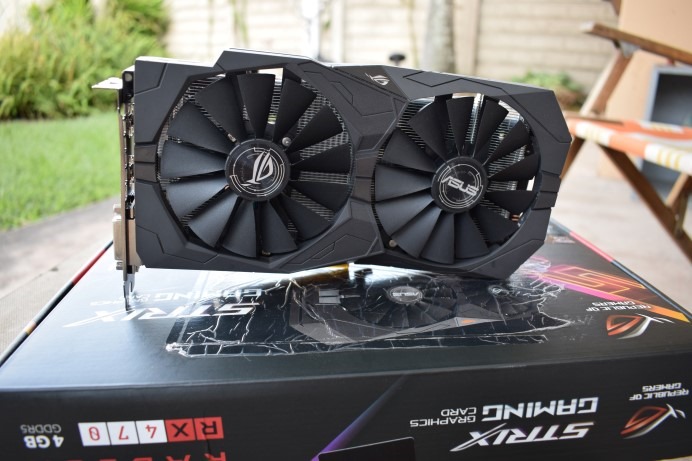 So, this rendition of the RX 470 chip is not the best in the market, and that's before we even get to the similarly priced competition. Granted, South Africa seems like a unique case regarding the GTX 1060 3GB. However, for international readers, the slower ASUS STRIX OC RX 470 is quite a chunk of change cheaper than the GTX 1060 3GB models, and the fact that it comes close in performance to the GTX 1060 3GB in some games is impressive—it could have been more impressive had ASUS given this card more breathing room. Where there is some promise is in regards to higher resolution gaming, and the RX 470 clearly shows some potential future benefits here in DX 12 games, taking less of a hit in performance, and in some cases (such as Ashes of the Singularity and Hitman), taking a clear lead.
Last Updated: April 18, 2017
ASUS ROG STRIX RX 470

The ASUS STRIX OC RX 470 is a capable card pushing out respectable frame rates. Our local price anomalies makes the choice of GTX 1060 3GB seem like a no-brainer, but if we ever do follow the international market prices, I'd side with the cheaper RX 470 over the GTX 1060 3GB for that extra memory; just perhaps not this rendition of the RX 470.