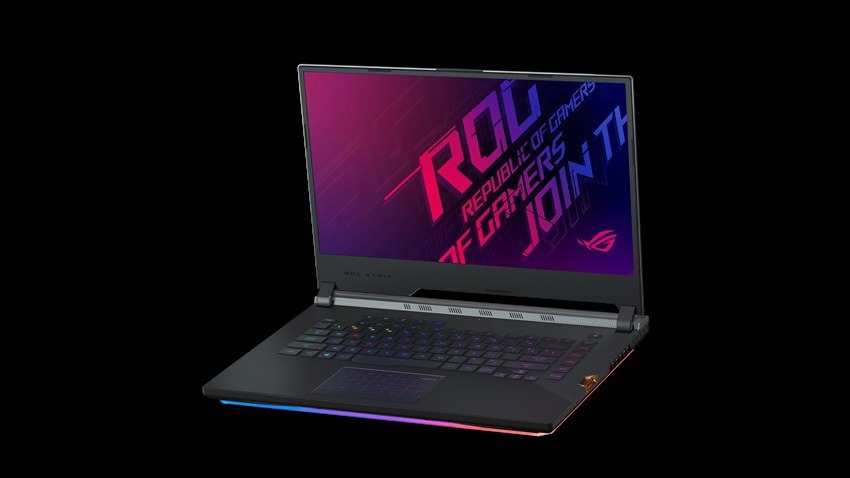 The biggest change about ASUS' third crack at taking the top spot on the gaming laptop throne is on the outside. The previous two entries in this series have had their own distinct looks, with arguably varied results. They shone with the signature open hatch at the back that slid open when lifting the screen, allowing cooler air direct access to the blistering internals inside. But it was also adorned with a ghastly camo patterning that looked more like settle dust than anything else and robbing the Scar II a lot of its otherwise professional appeal. So not only is the Scar III an improvement on that front, but it's also a push to make it the most performant, best choice on the higher end of this scale. And they're pretty much nailed it.
Visually, the Scar III really hopes you love your RGB lighting. The ASUS logo on the back of the screen is still there, accompanied now by a full LED strip along the bottom of the chassis that brightens up your desk space no matter where you are. Combined with the full individually-lit RGB keyboard, there are options galore to configure the Scar III to whatever rainbow vomit combination you like, with a variety of returning colour and effects profiles open to tweaking. But you can also turn it all off, if you're planning to have the Scar III not look silly in a more professional environment.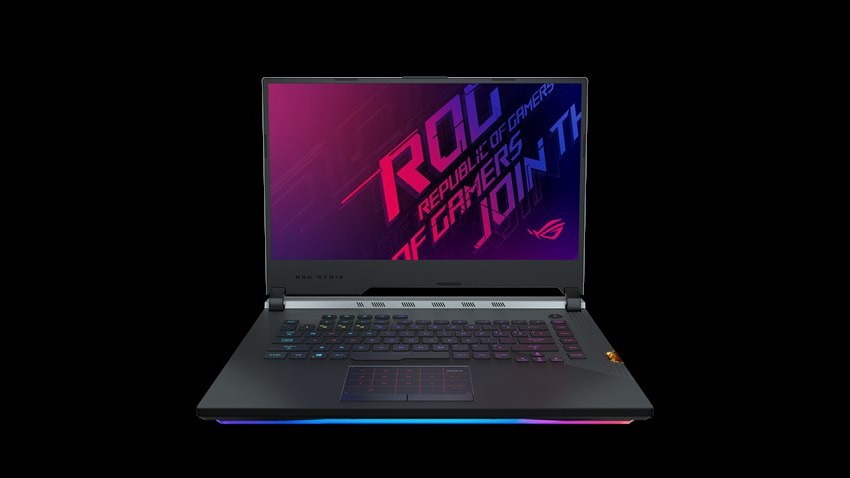 That's important too because the rest of the Scar III looks far less like a gaming laptop than before. The mostly plastic finish (no unibody CNC here, to keep the price down) is matte and black, getting fingerprints off but also delivering an unassuming, sharp look all around. You have to deal with some sharp edges near the rear for the vents that tries to break up the party, but there's no question that the Scar III is the best-looking laptop in the range thus far. You'll feel comfortable lugging it around all day (thanks to the 2.5kg weight of the 15-inch, and 2.8kg of the larger 17-inch) to coffee shops and offices, and brightening your gaming night with the assortment of lighting options if that's your choice. Having the best of both worlds is finally a reality.
The Scar III isn't the thinnest gaming laptop by a fair margin, but it's still slender enough to avoid the large body patterns cheaper competitors. The extra height (which totals 26mm on the 17-inch model) does allow for a full array of I/O options, however. You'll be set with three USB 3.1 ports, an HDMI output, an ethernet port, a 3.5 mm audio input and a single USB-C connection (which, sadly, doesn't support Thunderbolt 3). It's nice to see some inputs, such as HDMI, on the rear of the chassis too, making a link to an external monitor a little neater than usual. There's also a strange orange chip that you can pull out of the right of the Scar III, which uses NFC to access what ASUS calls a Shadow Drive and load your lighting profiles from one laptop to another (as if that is a major use case). It's a gimmicky addition that I don't see my use for, but it's there nonetheless.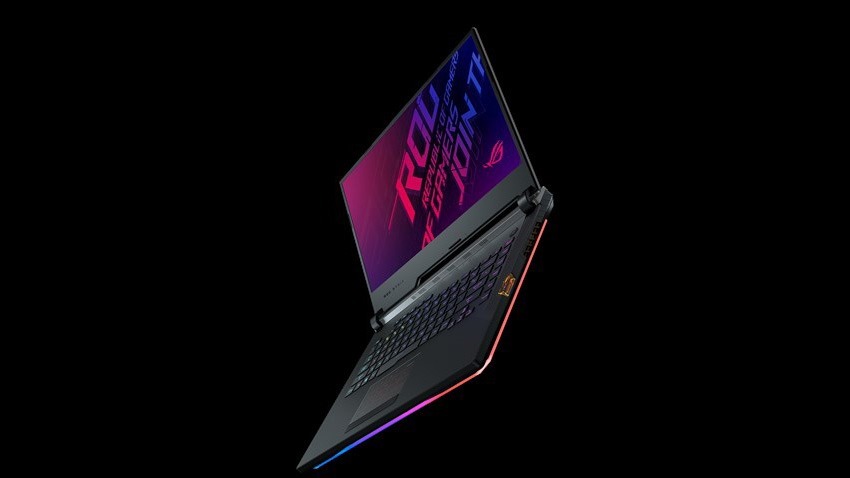 The keyboard on the Scar II was adequate but far too mushy for my liking, and that's somewhat been remedied on the Scar III. It's still a membrane design but feels better to type on for extended periods now, offering a satisfying tactile feel and good travel for few typos. It's still off centre if you choose to go with the 17-inch model, thanks to the inclusion of a NumPad on the right. The 15-inch model can't quite fit the same in, but you'll still have a row of dedicated macro keys on the right to play around with. The trackpad is nice and spacious, with dedicated left and right-click buttons. It also features Windows Precision drivers, which are the best in class right now and track all your gestures with accuracy and ease. If you're planning on using the Scar III for a lot of work outside of gaming, you can rest assured that it doesn't compromise in the slightest here.
Both the 15-inch and 17-inch models offer two 1080p panels to choose from, which are tied to your processor choices too. The much more powerful, and hence more expensive, Core i9-9880H version of the Scar III also features a full 240Hz IPS panel, while the Core i7-9750H and Core i5-9300H models bump down the same screen to just 144Hz. Testing the Core i7 and 144Hz model, the screen on the Scar III is absolutely stunning. The IPS panel ensures great colour accuracy and vibrancy, while also giving you good viewing angles to work with. But it never falters to make space for the high refresh rate either, with a great response rate and silky-smooth gaming as a result. There's no G-Sync to speak of here (presumably to keep the price down) but that's an acceptable omission for such a great display at this price.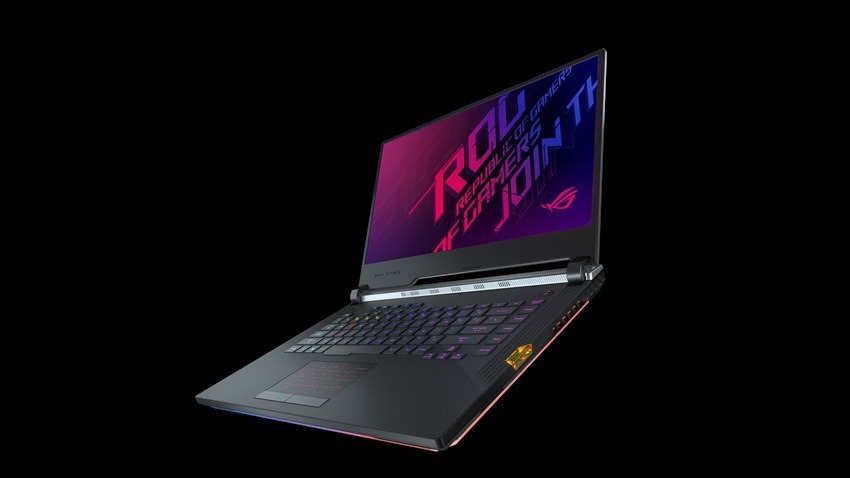 Armed with the Core i7, Nvidia's RTX 2070 and 16GB of DDR4 RAM, the Scar III is also one of the most powerful laptops on the market today. That's great to drive the high refresh rate of the display, and will be more than suitable for standard HD gaming on the go for most titles. Metro: Exodus is one of the most demanding titles on the market right now, but the Scar III managed a respectable 57 FPS on Ultra quality at native 1080p, dropping down to 45 FPS when Ray-Tracing and DLSS were enabled. F1 2019 is gorgeous when you're racing around the streets of Monaco, where performance remained stable at an average of 85 FPS. Grand Theft Auto V might be a bit old but it still has a great benchmark tool, where the Scar III score an average of 64 FPS at maximum settings on its most demanding final test run.
In more synthetic testing, the Scar III remained impressive running through 3DMark's intense FireStrike benchmarks and ray-tracing focused Port Royal run. FireStrike Ultra is meant for demanding 4K systems, and the Scar III managed a pretty great score of 4598. Port Royal is the latest test from 3D Mark designed specifically for ray-tracing systems, where the slower RTX 2070 kept up the pace still with a score of 4415. Across both tests, thermals were pushed, but managed to remain below the 80-degree mark – not without some noise though.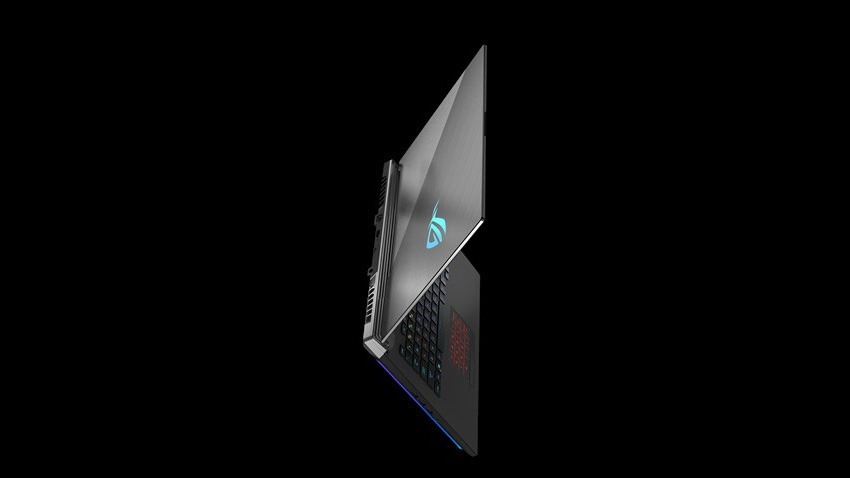 Throughout all these tests the Scar III does run hot, and the large exterior vents aren't enough to keep things from staying cool and quiet for long. The fans will kick up regularly, and when they do you will definitely hear them through a pair of headphones. What you have to deal with in noise pollution does make a difference though, at least keeping the bottom of the Scar III relatively cool and routing heat away from the surface of the keyboard. So, while it's still warm enough to be uncomfortable if on your lap, you won't have to deal with sweaty hands when gaming on a desk. You might just have to put up with an annoyed co-worker who sits next to you and has to deal with the fan noise too.
All of the issues the Scar III suffers from feel minor though when you take into account the amount of performance you're getting for the price. The cheaper chassis design might be made mostly of plastic, but it feels rugged and looks stylish enough for you to forgive it not being a sleek, all-metal design. Those that you find on the likes of the Razer Blade are certainly flashier, but you won't find the same internal configuration on one of those for close to what ASUS is asking. At an RRP of R37,999.00 for this specific 17-inch, Intel Core i7, 16GB of RAM and RTX 2070 configuration, you're still having to make very sure that you need this type of power in a portable body. But if you do, there's definitely not many better options to look at.
Last Updated: August 5, 2019
ASUS Strix Scar III Gaming Laptop

The ASUS Strix Scar III is a great refinement of an already great laptop range, adding 9th-generation Intel processors to an improved design that addresses its previous work horse inadequacies. For this price, you'll struggle to find a better deal than the Scar III right now.