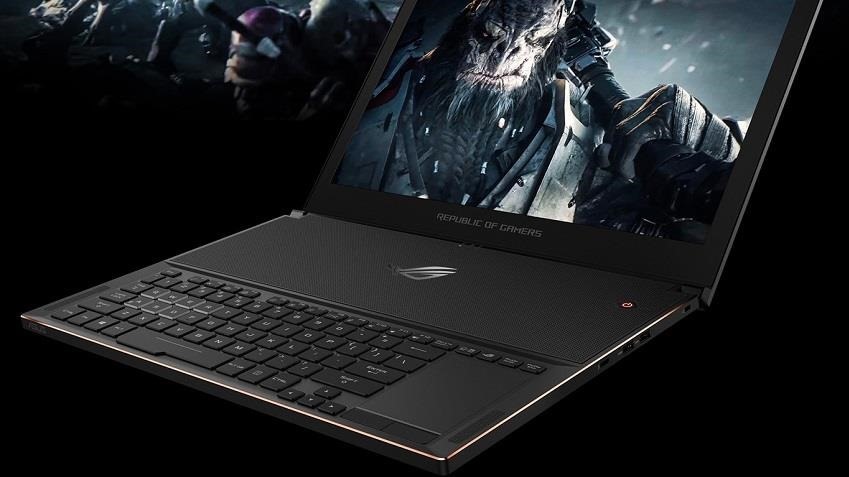 When Nvidia announced their Max-Q architecture for gaming laptops there were a few things envisioned. Finally this powerful, bulky behemoths of machines could mimic the form factor of ultra-portable ultrabooks of the modern age. Thin, sleek, light and powerful all in one package, without the need for complex cooling solutions and compromises on performance. Essentially, a gaming laptop future where machines could be the important half of what their name promises: actual laptops.
Nvidia kept up their end of the bargain, delivering chips that stuck close to the massive desktop cards they attempted to replicate all while running cool and efficiently. It was then up to third-parties to use this in intelligent ways. ASUS attempted to do as much with their first Max-Q laptop, the Zephyrus. And even attempted sounds a little strong at times. While the Zephyrus delivers on elements of its form factor and fantastic framerates, it crashes and burns in being the one thing Max-Q was designed to make possible.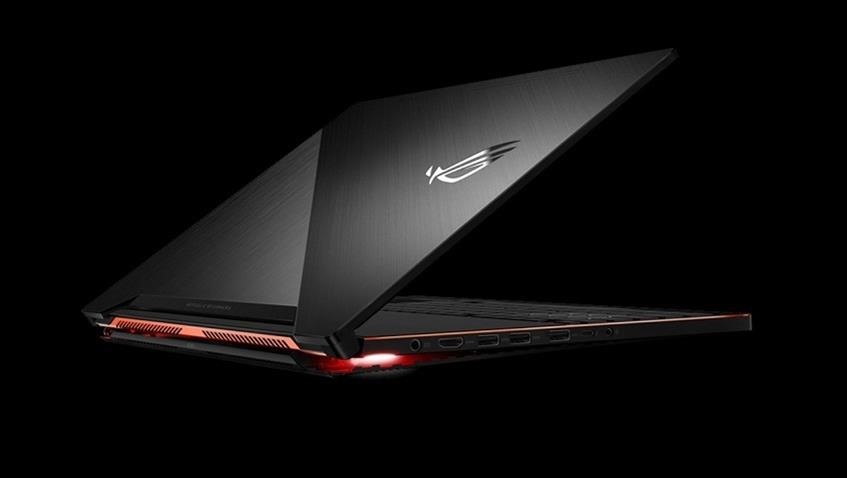 Simply put, the Zephyrus is not a good laptop, but you wouldn't say as much just looking at it. It's staggering to look at a Max-Q device and fathom how much power is crammed into a machine that is only a hair thicker than the likes of the Dell XPS or HP Spectre. The Zephyrus is low profile, with just 17.9mm in thickness and just over 2kg in weight. The 15-inch version I was supplied with could just as easily replace my current day-to-day machine in terms of portability. Its brush metal finish on the top is ruined by an over-zealous ASUS ROG logo (which obviously lights up), but I'd forgiven it after realising just how great it felt in my backpack.
The slick thickness (or lack thereof) doesn't mean you'll be running for those nasty adapters either. The Zephyrus features a variety of ports for you to utilise, including four USB 3.0 ports, an HDMI out and a single USB-C port for more modern devices. There's even a headphone jack, unlike most smartphones you might buy. Everything is low profile and tucked away nicely to feel luxurious, and not in strange positions like the Aorus X5 I reviewed last year.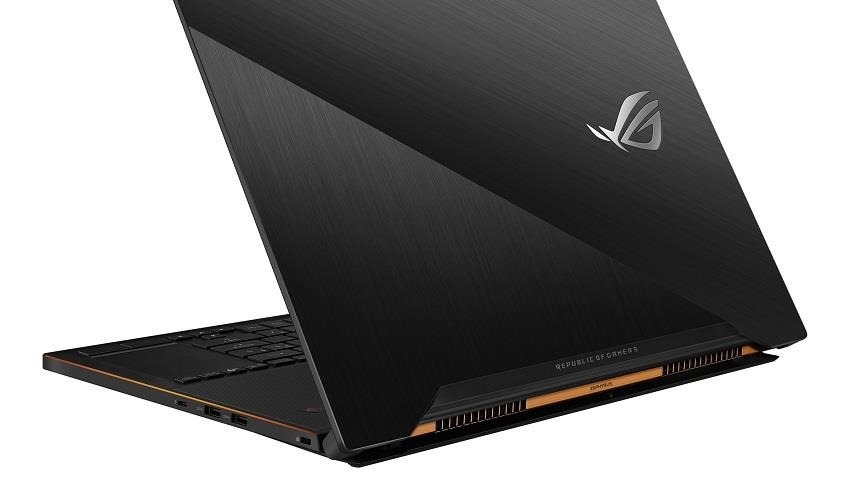 Most of that evaporates as soon as you open the lid. The Zephyrus features an extremely unorthodox design that is both striking and initially confusing. In order to offset a lot of the heat the internals usually give off in thin devices like this, ASUS decided to push all of the hardware to the back of the laptop. The bottom half is essentially halved itself then – the lower half containing the keyboard and a touchpad to the right of it (yes, not underneath), and a blank slate towards the top to keep your fingers cool while the graphics chip runs hot.
The Zephyrus even comes undone on the bottom, with a rather neat design allowing for the back of the laptop to let in some cooler air. Hinges open with the screen itself, placing the laptop on a pivot and opening up a vent at the back to let hot air escape. It's incredibly smart and surprisingly sleek, and it seems ASUS knows it. Otherwise they wouldn't have put big red LED lighting in the back to make sure you don't miss it.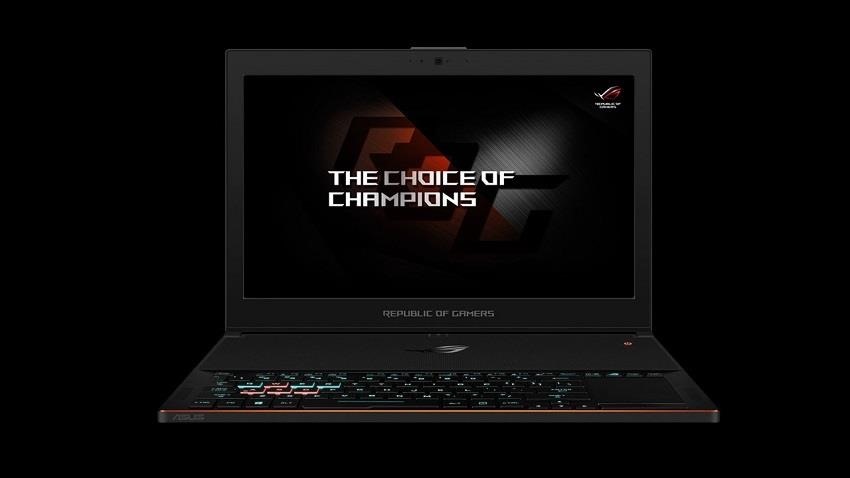 The idea behind this radically different design is sound. So often laptops like this heat up to extraordinary heights, which makes using the keyboard without producing a sweat impossible. But it presents some new problems that yank it out of the realm of being a usable portable device.
The first, most glaring issue is the keyboard. Being pushed all the way down means there is literally no palm rest. ASUS realised this, and instead ships the Zephyrus with a rubber wrist pad that you can place at the bottom of the laptop to even be able to type like a normal human. So that strikes out using the device on your lap (yes, it thinks its still a laptop), and pretty much anywhere else without a level surface. It also means you have this large, heavy wrist pad to carry around if you actually want to use the Zephyrus away from a desk. A very inelegant solution to a self-inflicted problem.
The second is the placement of the touchpad, which is all the way over to the right of the keyboard. It squeezes real estate out of the keyboard itself (only making typing even worse) and sits in an area which is unnatural to use. It might tempt you to actually use it while gaming (hint: don't), and even features a neat function to turn into a num-pad at the stroke of a key. But neither of those options make up for its awkward placement, meaning you'll likely be reaching for an external mouse in minutes. Just another thing to carry around, and another reason why the Zephyrus seems desk locked.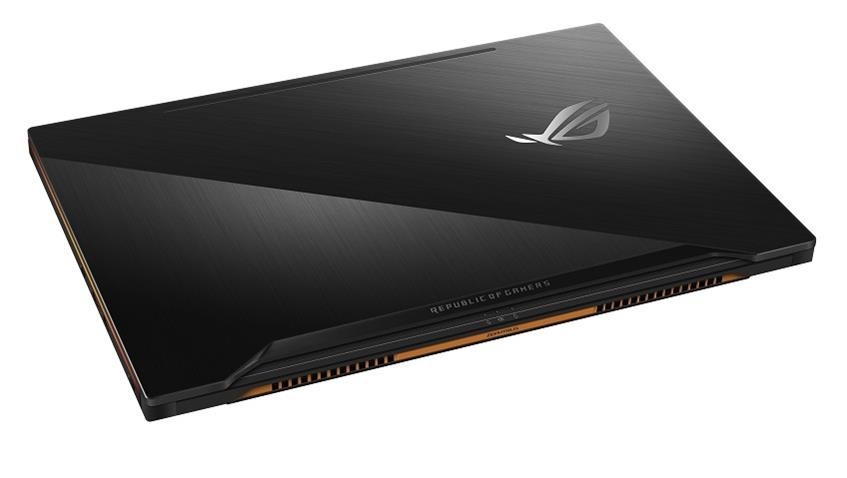 It doesn't matter that the trackpad is a Windows Precision one (the best out there by a mile) or that the keyboard keys have a nice tactile feel and enough travel to satiate my typing needs. Neither of these matter when the design and placement of them makes me reel back from ever wanting to touch them. And, worse still, think of areas where that might not even be a viable solution.
It's a pity then that these design choices hamper what is an otherwise incredibly impressive package. The Zephyrus nails it with its display, for example. Instead of investing in a 4K resolution for a 15.6-inch display, ASUS instead go for standard 1080p with a high refresh rate. If given the choice of the two, the latter definitely seems more versatile. With Nvidia G-Sync support to boot, 120Hz play is a breeze for the Max-Q GTX 1080, letting you push games up in resolution for some clean downsampling with a buttery smooth frame rate to boot.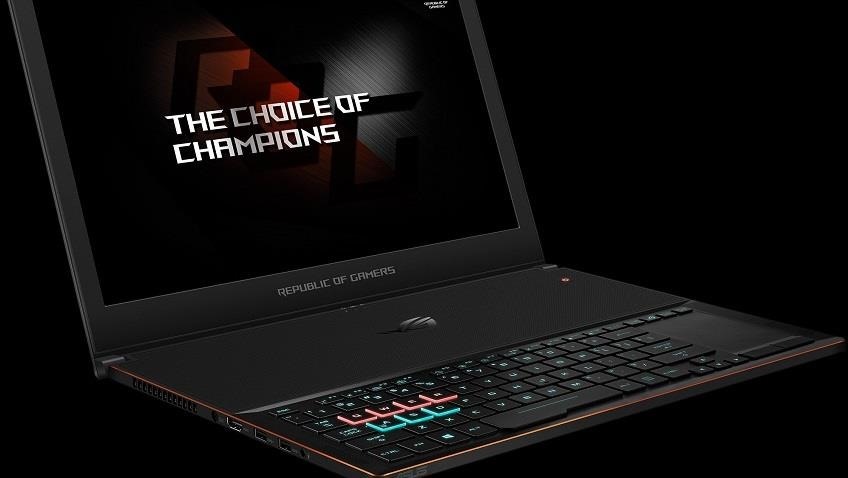 Because the Zephyrus is incredibly powerful, and certainly every bit of the machine you need it to be when you aren't scratching your head over how to use it on the go. With a GTX 1080, a 7th generation Core i7, 16GB of DDR4 RAM and a standard 512GB SSD, the Zephyrus ticks all the boxes that you should have even on a desktop build. It's incredibly proficient at pushing out pixels with ease, making its primary function – playing the best games at their greatest – nothing for you to worry about.
Booting up the standard Metro: Last Light and GTA V benchmarks, the Max-Q GTX 1080 put in a performance nearly on par with the bigger Founder's Edition of the card. Last Light held an average 144 FPS at the native 1080p, and only dropped down to 42FPS at 4K. GTA V, a far more demanding title on both CPU and GPU, fared just as well. It held close to 70 FPS average at 1080p, and stayed above an average of 30FPS at 4K. And with G-Sync enabled, those frame drops were nowhere near jarring. Something that DOOM didn't need to concern itself with, as it stuck to a gorgeous 140 FPS at native resolution.
Compared directly to the desktop GTX 1080, you can clearly see the Max-Q design more its magic. It's incredible that something stuffed into a chassis no thicker than an ultrabook is sitting just behind a card with cooling blocks nearly twice the thickness. A testament to just how well Nvidia has handled shrinking down their incredibly malleable Pascal architecture.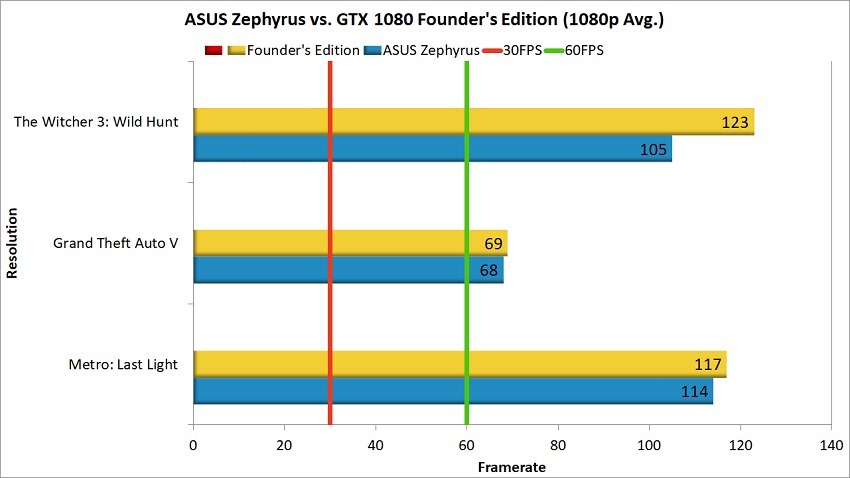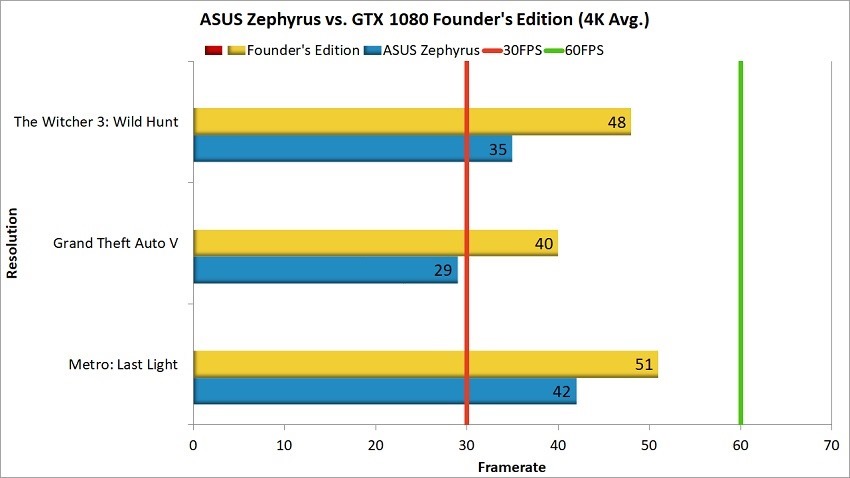 Standard FireStrike test continued to show the prowess of the Zephyrus when it comes to raw numbers. The sleekness of the laptop also helps it stand in as a good choice for a mobile VR device. Steam's own VR test gave it the highest score possible, which means a Vive or Oculus should have no issues running off it in a backpack.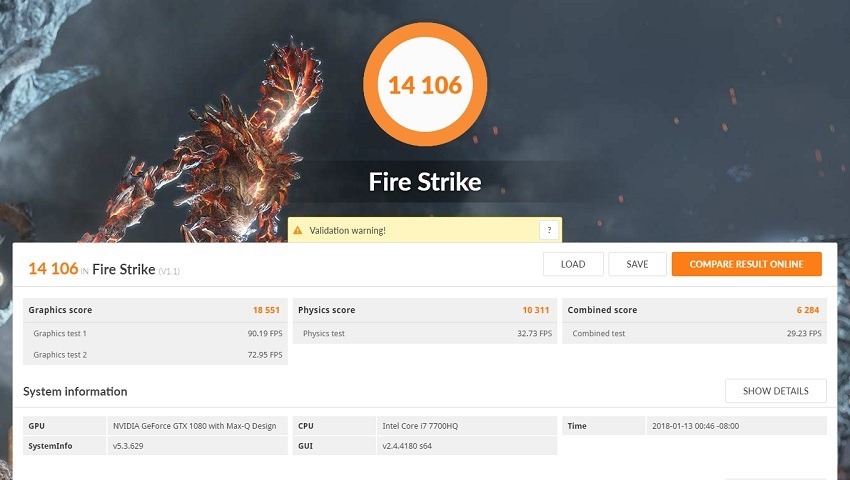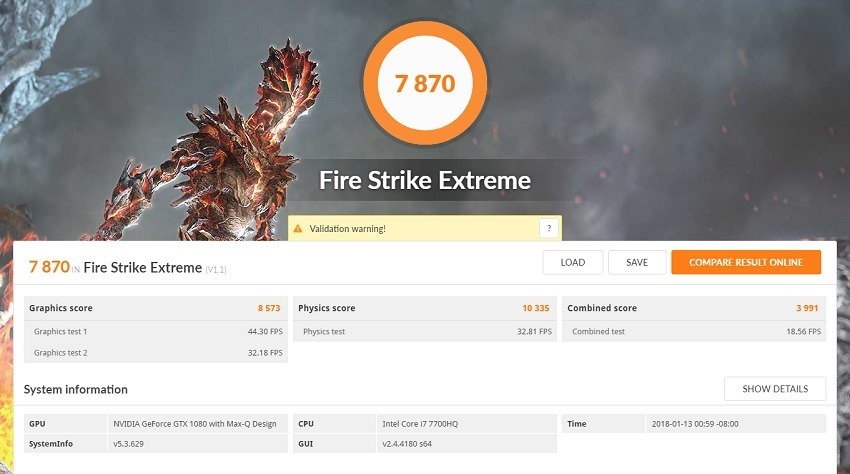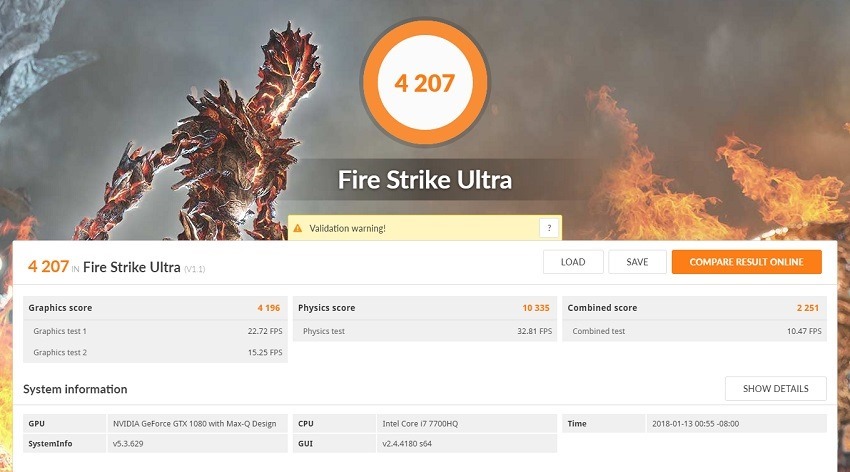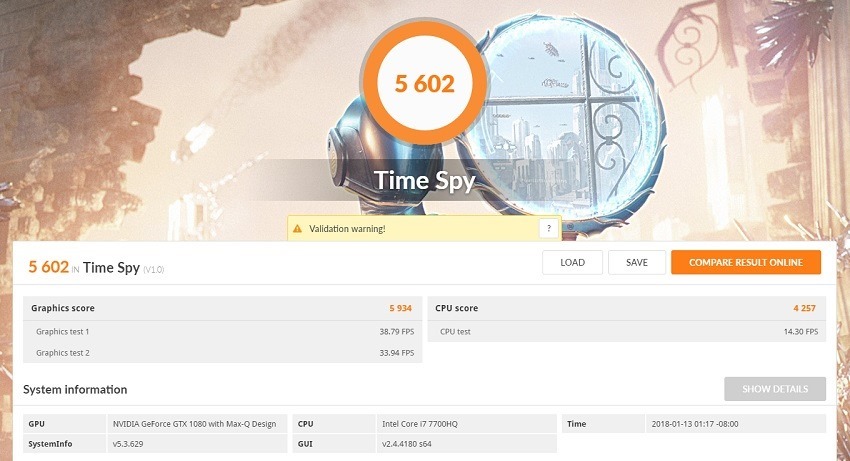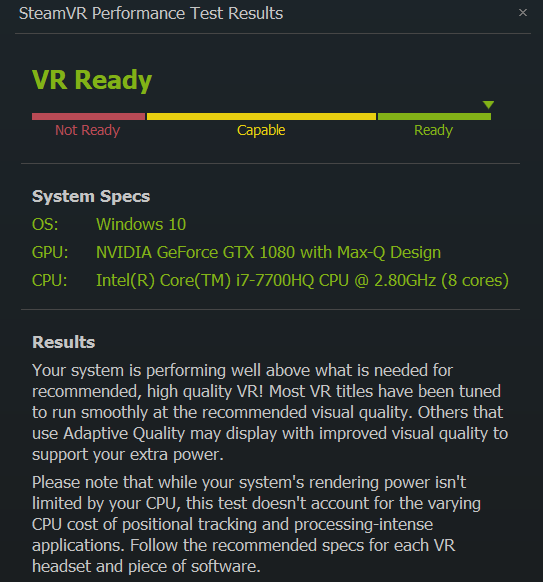 But it's the concessions in actually being a laptop that really hurt the Zephyrus. Even with all this power behind it, the Zephyrus struggles to stay awake past 2-3 hours on battery. That's without actually even playing games, which makes it a no-go for portable word processing on the side. Gaming performance is also extremely compromised when not plugged in, and the battery certainly doesn't keep up even for an hour. Despite its profile, the Zephyrus manages to maintain the age-old adage that gaming laptops can't stray too far from an outlet. And that's just depressing.
It's even more so when so much about the Zephyrus backs this up. Max-Q is designed to make laptops like the Zephyrus more portable, but ASUS' decisions around this work against it at every turn. It's an incredibly compromised machine when it comes to everything but gaming, and its massive price then just makes you wonder why you aren't just spending it on a desktop instead. Because if you can't possibly hope to use the Zephyrus away from a desk, what's the point of being a laptop in the first place? It's a really expensive way to take your PC gaming around without you, but certainly isn't that full package you might have hoped for.
Last Updated: January 22, 2018
ASUS Zephyrus

The ASUS Zephyrus certainly impresses when it comes to delivering high-quality gaming at incredibly smooth framerates. But it fails at actually being a laptop. Its strange keyboard placement, compromised track-pad and variety of extras you'll need to have with just to simply type makes it unacceptable for use away from a desk. And it's just a disappointing use of architecture advances actively working to try and fix just that.