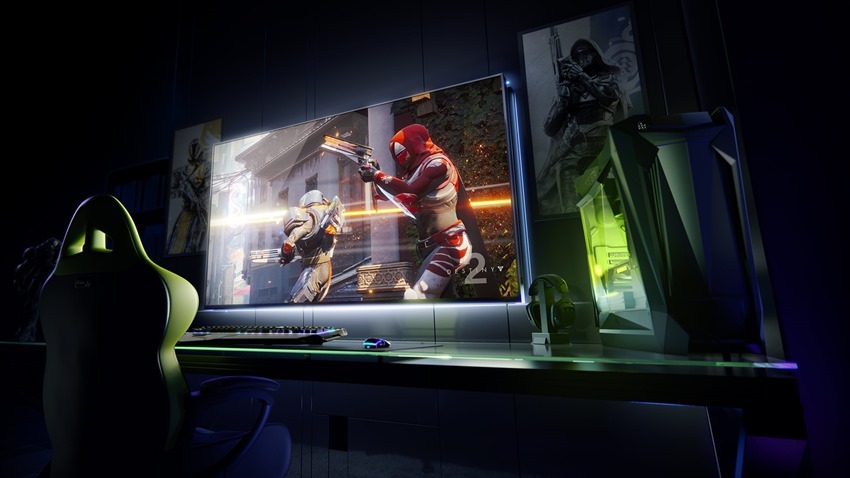 For a while now, it seems that PC gaming monitors haven't had all of the video and gaming-focused tech you'd find in higher-end TVs. If they did, they were ludicrously expensive, or ludicrously hard to find. While PC gaming monitors may have had high resolutions, better pixel densities and lower refresh rates, they haven't had support for things like HDR and 24p playback of movies.
Nvidia's changing that. At CES, they've unveiled their plans for the "Big Format Gaming Display" or BFGD. It's a great big 65 inch display with the very best in display technology, that's meant to sit on your desk and not in your living room, searing your corneas as you play DOTA 2 at its very best. It's also an obvious reference to a very large gun in a very popular shooter franchise, only without the chance of being sued by Bethesda.
They'll support a lovely 4K resolution, with full HDR (that's with 1000 nits peak brightness), 120Hz and G-Sync support, and a built-in Nvidia Shield. What that means is that it's not only a great display for PC, but a cord-cutter's dream as it's effectively a very nice Android TV machine as well, capable of streaming Netflix, Amazon Prime and more in glorious 4K. It'll also stream your Steam games through your network.
Big PC hardware makers like Acer, Asus, and HP will be manufacturing them – so there's even a decent chance we'll be getting things like this locally. There's not a single word about pricing, but I'd expect them to be very, very expensive.
Last Updated: January 8, 2018