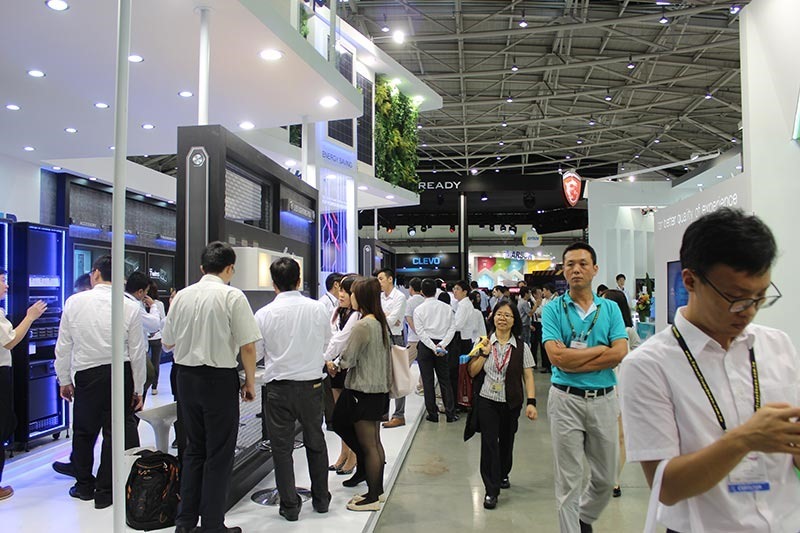 Today was the first day of Computex proper, and it was weird for me. Unlike with something like Gamescom or E3, where I have appointments lined up, I've largely been left to my own devices. I spent much of the morning with my hosts MSI, trying out some of their hardware, getting my first taste pf the HTC Vive and chatting about the company's upcoming hardware (more on all of that, soon) but the rest of my time has been spent wandering down the myriad halls, trying to find interesting stuff in amongst the hundreds of lookalike OEM keyboards and mice.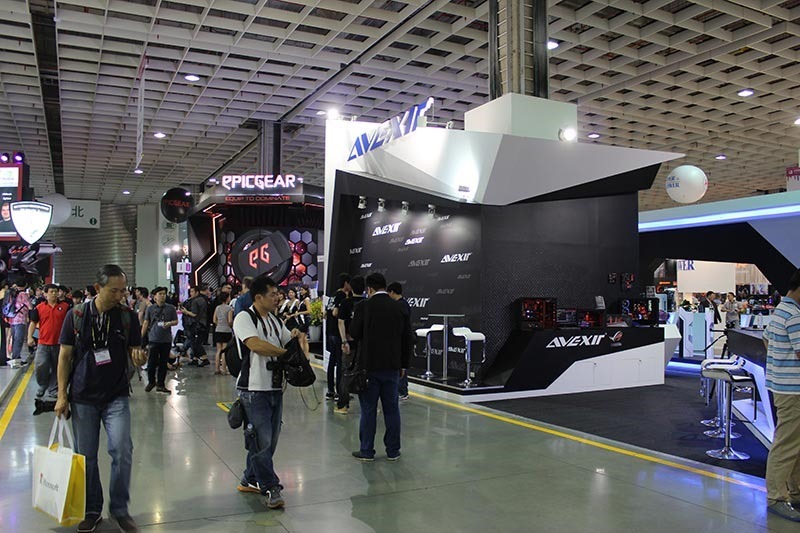 I've not really been all that successful, truth be told. Of course, there's brand new hardware from the big industry players, and hardware manufacturers have all announced their own aftermarket GTX 1080's, their latest and greatest feature-laden laptops and the like – but there are two areas where they all seem to focusing on right now, MSI included.
The first, is VR. Just about all of MSI's new gaming hardware is labelled as "VR ready" – and every major hardware manufacturer featured VR in some way at its stand. I don't think VR is set to explode any time soon – and I don't think that these hardware manufacturers are deluded, believing it's the next breakout technology just yet either. They do, however, realise that niche as it is right now, it has practical applications beyond the realm of gaming that make it a worthy investment – and it's worth getting in on the ground floor.
I've dabbled with VR. I played with the Rift when it was still in its DK2 form, and it was impressive, but not exactly mind blowing. I played around with PlayStation VR when it was still called Morpheus, and It was intriguing. But now, after using HTC Vive, I get it. I still think it's way too expensive, and the barrier to entry is way too high for the average consumer, but I get it – and if I was one of the delicious prosumers – those people with too much damned money – I'd be buying an HTC Vive before getting on the plane back to Johannesburg. I'd also beat somebody at MSI over the head and steal one of their VR ready machines, but don't tell them that.
HTC's Vive is the most mature and expensive of the VR solutions, but there's good reason for that. With all of that room scale stuff, and those wonderful controllers that it ships with differentiating it from the competition, its pricing is nearly justified. Importantly, it's that extra tech that makes it feel great. I've run through a gamut of VR demos today at MSI's booth at Computex. The first – not the most interactive, I'll admit – had me watching whales from a wrecked ship at the bottom of the ocean. It didn't convince me that VR gaming was the future of anything, but looking around at the marine life did have me thinking about how VR could be used to replicate experiences you wouldn't be able to have otherwise. Exploring Mars, taking a rocket ship to the moon, or in Darryn's case, having carnal relations with something other than his hand.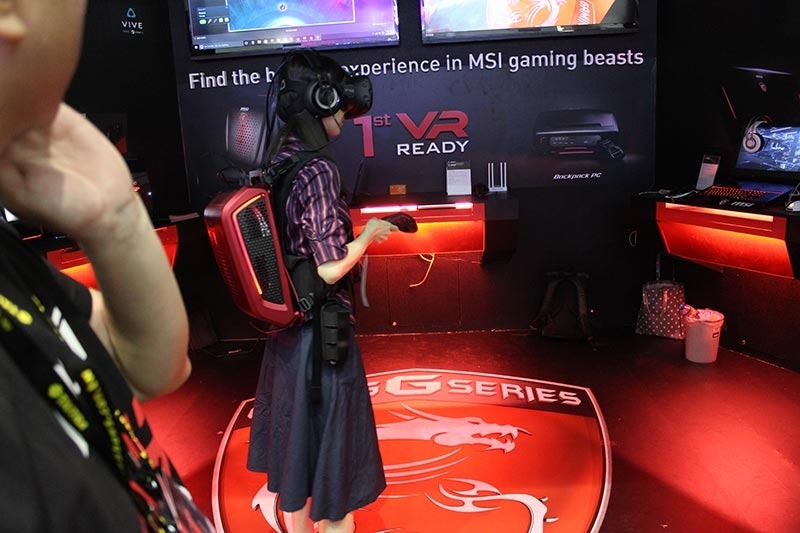 I had a more visceral gaming experience a little later on MSI's Backpack VR system. Made of aluminium and with some clever cooling solutions (and a cloth back), it's neither heavy or as uncomfortable to use as you'd imagine. The game I played then wasn't remarkable. One of the Valve Lab games, Xortex 26XX is a bit of a modern take on space invaders, which you play in a virtual reality space. It feels great though, and is a perfect way to demonstrate why something like MSI's VR backpack exists.
The game that really sold me on HTV Vive and VR though was Audioshield – something I think is the Vive's Killer app right now. It's an odd sort of game that feels like a mixture of Dance Dance Revolution where you punch things with your fists, Rez, where the music becomes part of you and Ikaruga. Orange and Blue orbs fly at you from all angles, to pulsating beat of music. And your hands – holding the Vive's controllers – act like shields. The trick here is that each hand can only block one of the colours – so you end up, essentially, doing all manner of kung fu to deflect the orbs. Thanks to the haptic feedback in the controllers, you feel every single pulse, every single deflected beat. It's wholly mesmerising, and something I want to do a whole lot more of. I still think VR is too expensive to jump in to, and that it won't have a grand impact right now, but I no longer think it's a mere gimmick.
As an aside, I tried the Rift again today – and it's a bit rubbish after the Vive. Sure the game I played was silly – some sort of virtual football, but playing a VR game while you're sat in a chair with an Xbox controller in your hand creates a weird disconnect between what your body is doing (nothing) and what your brain thinks it's doing – and that's what makes you want to vomit. I had none of that with the Vive, but the screen door effect – the fact that you can see individual pixels – is still a problem for both sets.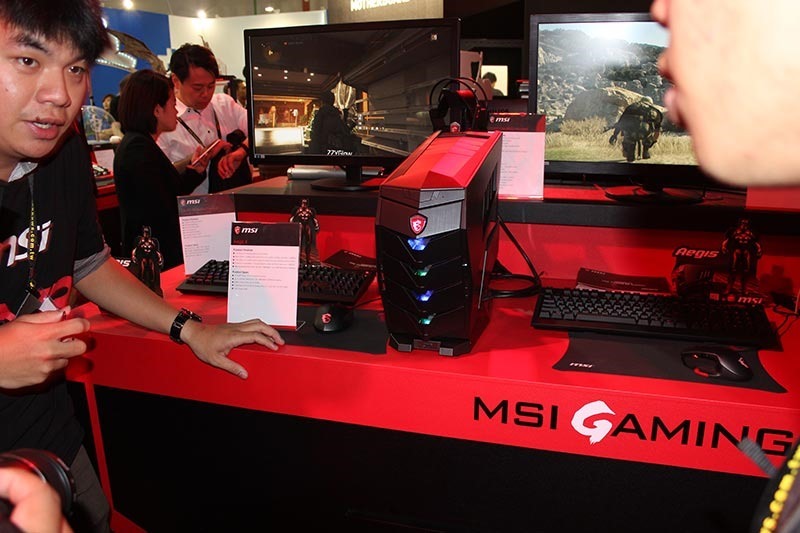 Oh? That second thing that everybody seems to be in on? Small form factor PC are making a big, big comeback. MSI has its Aegis X, a supremely powerful little machine with a volume of 19.6 litres (dimensions: 433.1 x 376.1 x 169.92 mm). Unbelievably, it sports an unlocked Core i7, is easily upgradeable and can take a GTX 1080 if you can afford one. It's got a front-facing HDMI port for your VR HMD to plug in to too. There seems to be a big grab for the living room by PC hardware manufacturers again, with small and sleek machine that aren't just capable HTPC's – but are the sort of things you're able to play the most demanding new games on.
A huge, huge thanks to MSI for getting me here.
Last Updated: May 31, 2016