Anywhere sounds amazing. That's the promise audio experts Denon says of its wireless, multi-room audio system. It's an increasingly crowded market but after a few weeks of having them connected through my home, I'm inclined to believe them.
The HEOS (Home Entertainment Operating System) wireless multi-room sound system enables you to enjoy your music in superb fidelity throughout your wirelessly connected home, with a simple very nearly plug-and-play set up. Within minutes, you'll be playing music from your own library – or a plethora of digital streaming music services. Everything is controlled via a free downloadable app for iOS or Android. Neat!
As with any multi-room system, you can play one song in any combination of rooms that house the speakers, play different songs on every speaker or any combination of the two. The app allows you to create playlists, letting you personalise your listening experience.
The HEOS range is made up of three different sized speakers of varying power, along with an assortment of other devices that help incorporate your existing audio equipment into the HEOS family. Over the last few weeks, I've had the pleasure of playing around with some (regrettably not all) of the components that make up the HEOS range.
I've not been able to test the HEOS 3, a smaller speaker that's made for small to medium-sized rooms. What I do know is that its curious shape is sexy and stylish and the speaker is small enough to fit just about anywhere, able to be stood horizontally or vertically.
It's surprising the wallop the HEOS 5 packs, given its size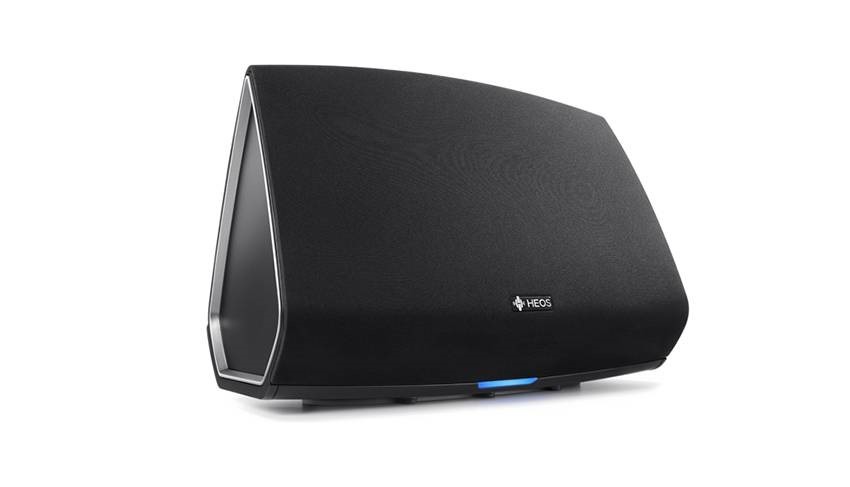 I have however had the HEOS 5, the middle speaker, set up in my kitchen. The mid-sized HEOS 5 packs in two tweeters, two mid-range drivers, four Class D amplifiers and a passive radiator. For reasons I can't quite fathom it has a carry handle at its rear, ostensibly to make it easier to pick up and move about. It's powered though, so it's not as if you can just move it along while it's playing music. It too is a good-looking bit of equipment that would fit in just about any modern home.
As with all of the HEOS speakers on its rear panel, you'll find a 3.5mm AUX input, a USB port for playing files on a memory stick or hard drive and an Ethernet port for a wired network connection should your Wi-Fi falter. New in the second generation of HEOS speakers is a Bluetooth connection button, finally letting you play music from sources not inherently supported by the app.
Also new in the later models is support for Hi-resolution audio, and just about everything else in a mainstream musical format:
MP3
AAC
ALAC
WMA
FLAC
WAV up to 48kHz
It's surprising the wallop the HEOS 5 packs, given its size. You'd naturally expect Denon audio to sound crisp and punchy but I wasn't quite prepared for how much sound the HEOS 5 produced. Naturally, given its form factor, you can't expect the lushest soundstage and stereo separation but it was a delight to listen to.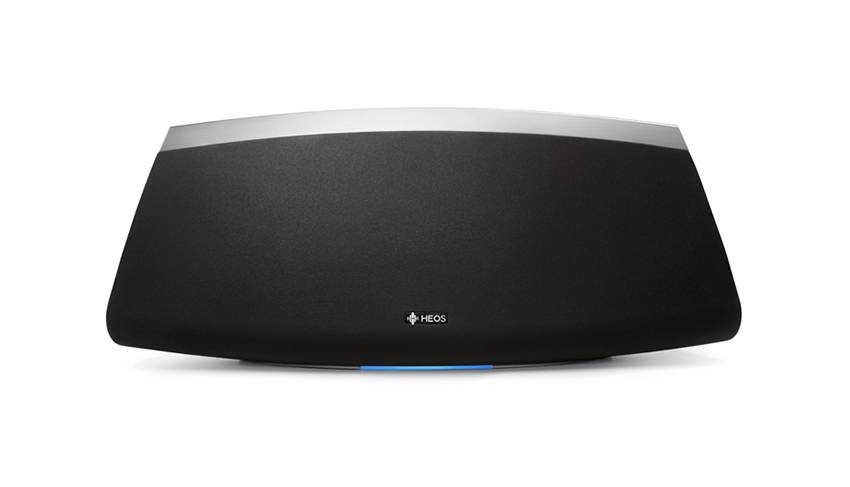 The big daddy of them all, the HEOS 7 was even more impressive. The HEOS 7 uses a seven driver configuration: two mid-woofers, two precision tweeters and a sub-woofer, driven by five channels of Class D digital amplification. It doubles up on the passive radiators from the HEOS 5, augmenting its bass reproduction with two of them.
a seriously powerful speaker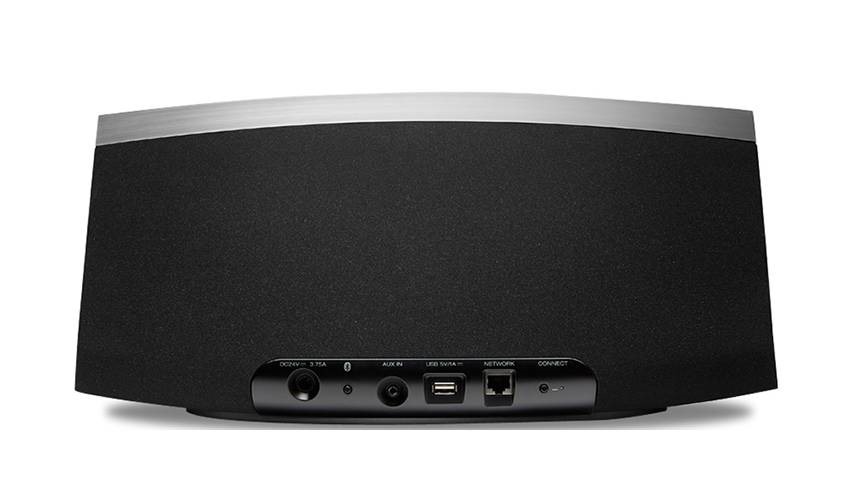 It's a seriously powerful speaker especially given its size, producing an earth shattering thumping amount of base, coupled with crisp and nuanced mids and highs. The HEOS 7 excelled in off-axis listening, ably capable of filling even very large rooms. Given its design and the decreased proximity of its core drivers, there's some real sound staging I didn't find in the HEOS 5. While it may not replace a dedicated speaker system for nuanced listening, it provides an incredibly enjoyable experience.
There are other products that make the HEOS system worthwhile, including a pre-amp that lets you add your own existing equipment to the system. Sporting a set of stereo pre-amp outputs, and a sub output for an active sub, the Link features a bevvy of inputs too; optical Toslink, RCA, 3.5mm auxiliary, a USB port and IR controls. It lets you use it to control other Denon equipment connected to your system. Perhaps blasphemous, but I used the Link to hook up my own Yamaha system to function as a HEOS node.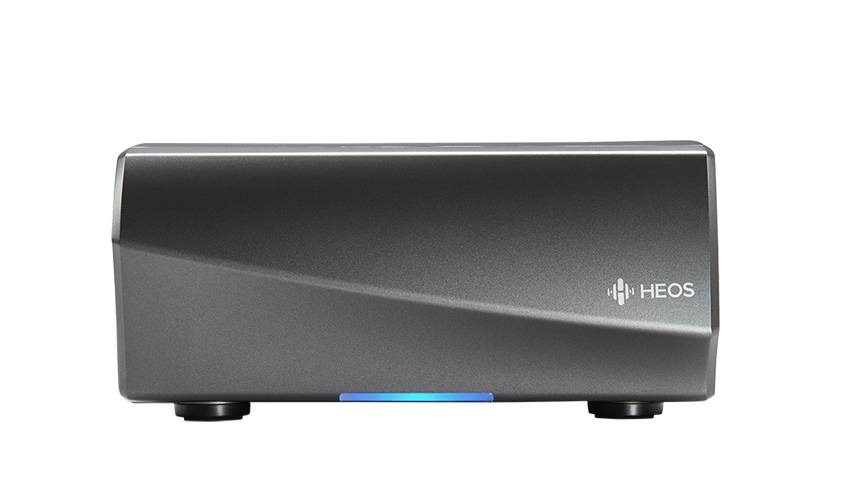 The HEOS system shines when you use the system to play the same music on every available speaker, with no perceptible delay whatsoever. The effect is magical, though somewhat diminished in my very small home. In the reality in my head, the one where I live in a large home and can actually afford these speakers, it's like having your personal soundtrack playing wherever you go.
Seting up, it must be said, is a doddle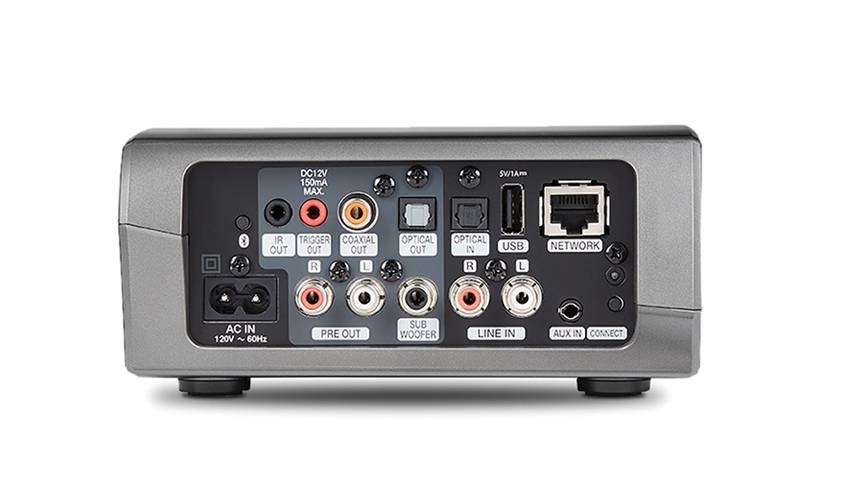 Seting up, it must be said, is a doddle. Each HEOS speaker and accessory has dual band N wireless capabilities and will happily and easily connect to your Wi-Fi network. All it takes is plugging your phone into the speaker with the including auxiliary cable and running the HEOS app. It'll ask for your Wi-Fi password, and – in virgin systems – propagate it across other HEOS speakers on the same network. Easy peasy.
The app itself is functional if lacking flair. You can play music located on your device, from a network connected DLNA media server, or a range of online music streaming services. I had no trouble getting both Plex and Kodi to play nicely with the HEOS system, playing my library of lossless FLAC files without issue. As for streaming media, the selection is vast and includes the likes of Spotify, Deezer, TIDAL, Napster, TuneIn, SoundCloud and Rdio. Conspicuous by its absence is Google Play Music, which is one of the better-supported streaming services in South Africa.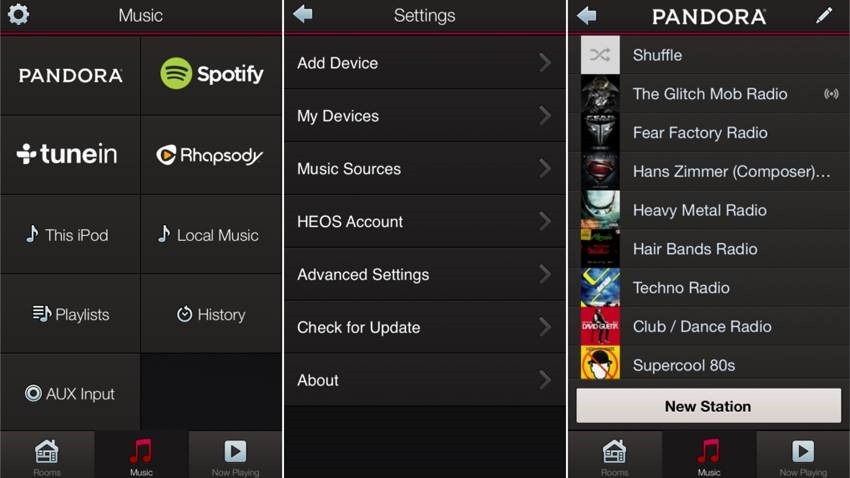 Thankfully you can still stream from the service using Bluetooth, but the much-vaunted speaker grouping unfortunately doesn't work when paired with that connection. Further to that, the Bluetooth implementation is lacking as it doesn't support Qualcomm's higher quality AptX compression algorithm. It means transmission via Bluetooth isn't as high quality as it rightly should be, which in speakers of this nature is a crime.
Despite those issues, the Denon HEOS is a wonderful system that offers an easy to use system and setup for pure multi-room audio bliss. They're distributed by Homemation. The HEOS retails for R7990, the HEOS 7 for R9990 and the HEOS Link for R5990.
Last Updated: April 19, 2017
Denon HEOS HS2 Multi Room Audio System

Anywhere sounds amazing. That's the promise audio experts Denon says of its wireless, multi-room audio system - and they deliver on that promise. Easy to set up, and easier to use, HEOS is a sonic delight.