G.Skill are a little bit late to the peripheral game. Much like Corsair, G.Skill has their roots in creating memorable RAM kits for enthusiasts and gamers alike. Their Trident-Z and RipJaw kits are some of the most popular DDR4 kits around. As we've said before in an earlier Trident-Z review; they're fast, affordable, and most importantly, competitive. The RipJaws KM 780, priced at $169, sits squarely in the sights of the Corsair K70 RGB and Razer Blackwidow Chroma. It's competing among the venerable "giants" of modern day gaming peripherals, so it has a lot to prove.
Being their first–and relatively late–foray into the peripheral party, has that same class leading quality and value in their RAM kits filtered down to the RipJaws KM 780 RGB Mechanical Keyboard?
G.SKilling it in the looks department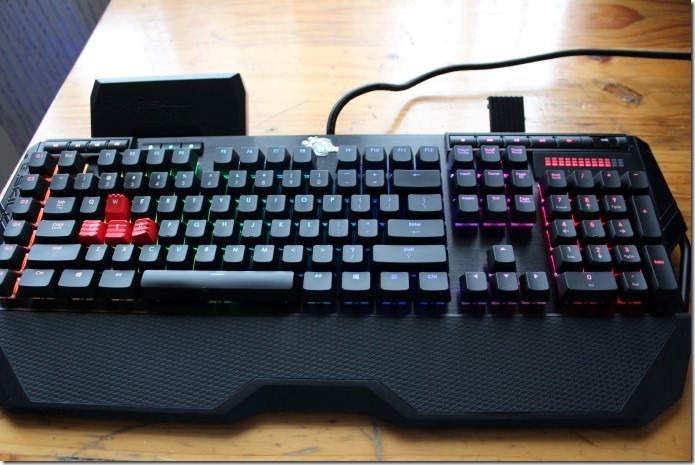 The earlier comparison to Corsair's origin story is not limited to RAM; G.Skill have used a few signature elements that makes up the Corsair brand of mechanical keyboards: brushed aluminium, aluminium volume wheel, raised keycaps. Although there is a design nod towards Corsair, G.Skill have advanced their own aesthetic, functions and features that remain unique.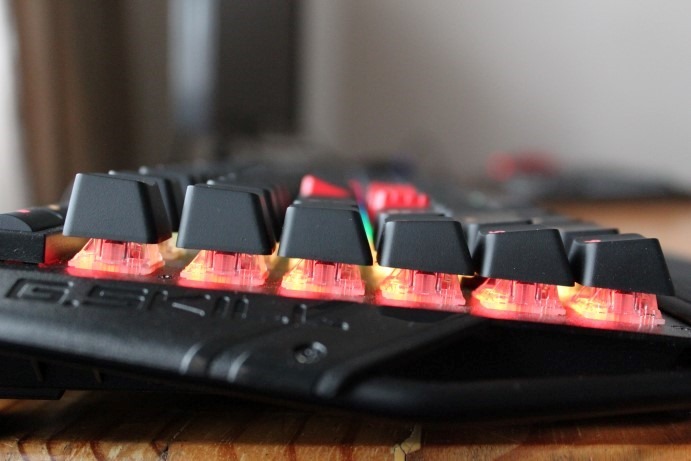 First things first: the raised keycaps and per-key RGB LED lighting shining on that anodised aluminium does produce a spectacular underglow. Overall the lighting is dimmer than expected, and other keyboards do glow a lot brighter. The top-positioning of the LED lights means those keycaps with dual-symbols will have only the top half well-lit.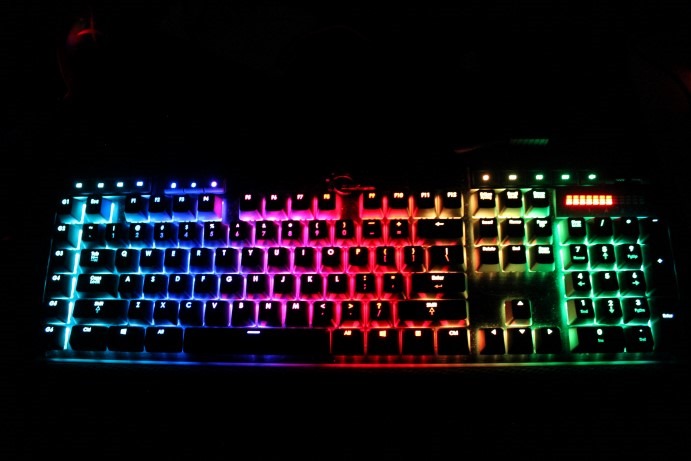 The only thing out of place here is the LED volume indicator—not the function, but the inability to change colours or turn it off—it really messes with the overall colour theme that's not red based.
The wrist rest is an often overlooked piece of kit that I feel should at least be an optional accessory to include in any high end keyboard. The wrist rest with the KM 780 is one of the better one's I've used, in part thanks to the idiot-proof attach and detach method, but largely due the rubberised surface.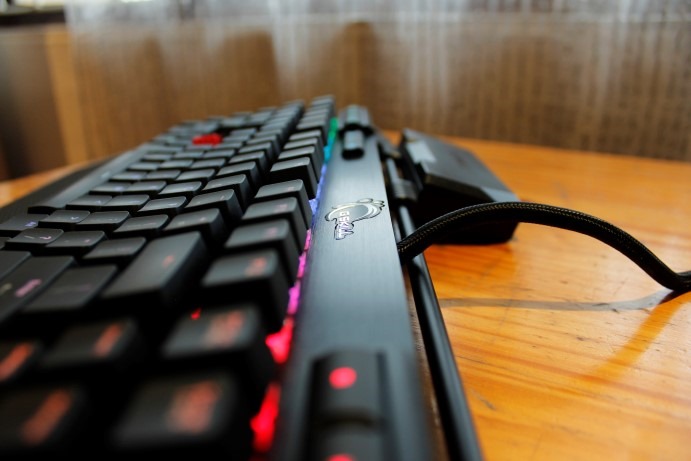 The brushed aluminium top plate is not the only piece of premium metal; there is an aluminium bar running through the back and sides of the keyboard on which the back legs are fastened. Although this brushed bar adds some size to the unit, it make the keyboard robust as well creating an aesthetic of sturdiness; protruding aluminium bars have a tendency to do that. It's on this bar that G.Skill has attached a few unique features for the RipJaw KM 780.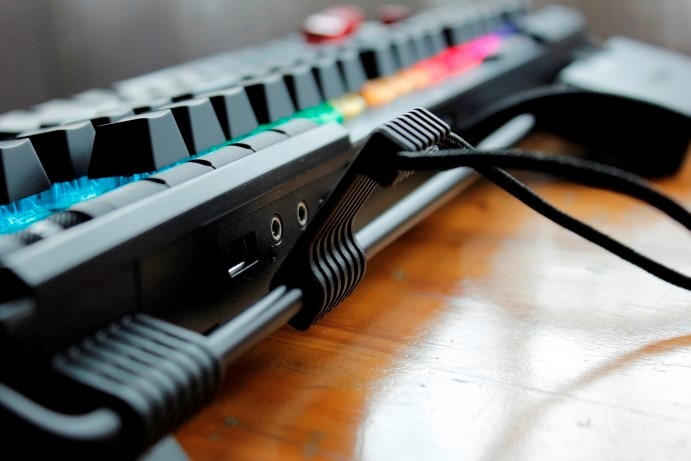 Besides the "par-for-the-course-at-this-price-level" braided USB cable, USB pass through port and audio inputs on the rear of the keyboard, one of the extra features I've come to adore is the mouse cable holder. For those who detest mouse cable friction as much as I do (and I really really hate it), it made a world of difference. Small, simple, and yet massively appreciated. Those with a wireless mouse, move along, nothing to see here.
One of the ways a brand can stand out is with their lettering: Razer does it in "Razer-style" while Corsair does it a "Corsair" style. G.Skill have adopted a boring font—I'm not asking for something as radical as Comic Sans, but do something to stand out instead of using standard sized boring lettering laser etched into the keycaps.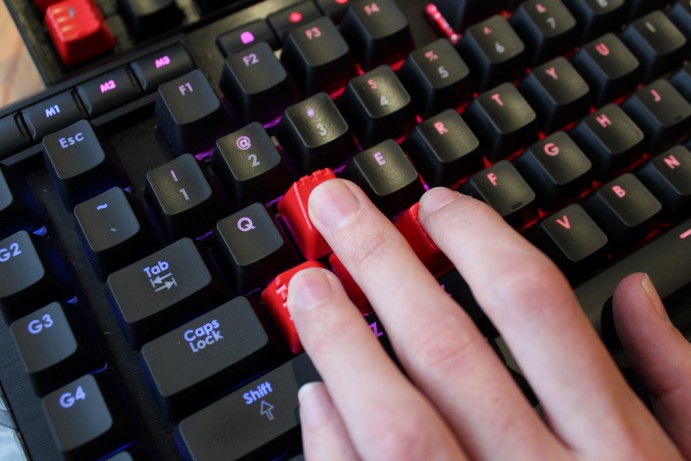 Perhaps they saved all their creative energy for box that attaches to the aluminium bar, which contains 10 extra red "gaming" orientated Cherry MX compatible keycaps; for FPS and MOBA. It's generally a pain to keep keycaps on or around your desk,  but G.Skill have removed laziness and tardiness from the equation with an easily attachable box. Simple solution, highly effective, and for those who won't ever use the gaming keycaps, you can dump them into the black hole that is your desk drawer and turn the box into nifty USB key storage.
Gaming performance: Gaming=Red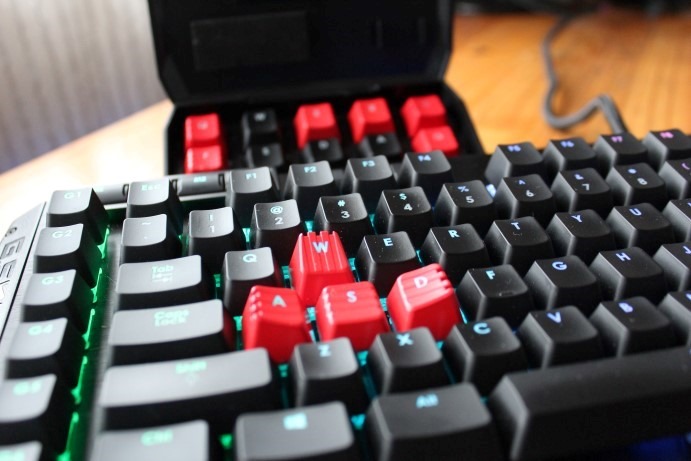 For those who will use the "gaming=red" keycaps, the textured surface and feel are not half bad for gaming, and can mostly be used for typing as well. The only real gripe I have is the WASD gaming keycaps; their design makes them uncomfortable for both gaming and typing. Their raised contours are meant  to "funnel" your fingertips inwards, ideally making the gamer easily recognise and press the WASD keys while preventing them from pressing others. In practice my fingers felt the WASD area far too cramped, and when not gaming, their size made typing difficult and "off-key". The rest don't exhibit this extreme design and it would have fared far better had G.Skill made the WASD in the same way. The MOBA gaming keycaps were definitely better, although that obscenely steep "W" still gave me issues.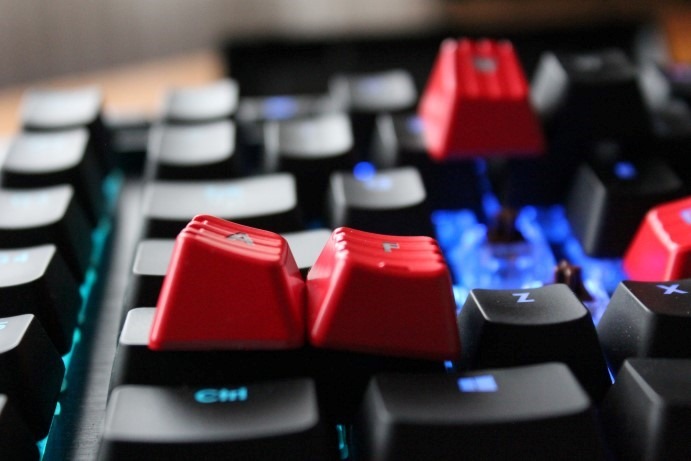 Generally the gaming and typing experience is what you would expect with Cherry MX Brown based switches—good travel and actuation for gaming responsiveness, while being slightly tactile for those with a "murder-she-wrote" fetish. The raised keys did mean that they sounded marginally louder than another Cherry MX Brown based keyboard I have. All in all, just mechanical goodness for your fingertips. Macro-Record functionality was straightforward—press once to select a key to record to, then once selected, record and then hit the MR button. However, there is a recording limit of only 42 presses, in both software and on-the-fly recording, so super-high count macro junkies should opt for a different keyboard.
G.Skill Software: Exit And Save.
I've held a belief that gaming peripherals are only as good as the software they come with. Logitech has LGS; Razer has Razer Synapse; Corsair has CUE.  G.Skill has…a lot of catching up to do. If up till now G.Skill were keeping pace in terms of features, price and looks with the likes of Corsair and Razer, sadly, the G.Skill Unified Driver software for this keyboard is where things fall apart.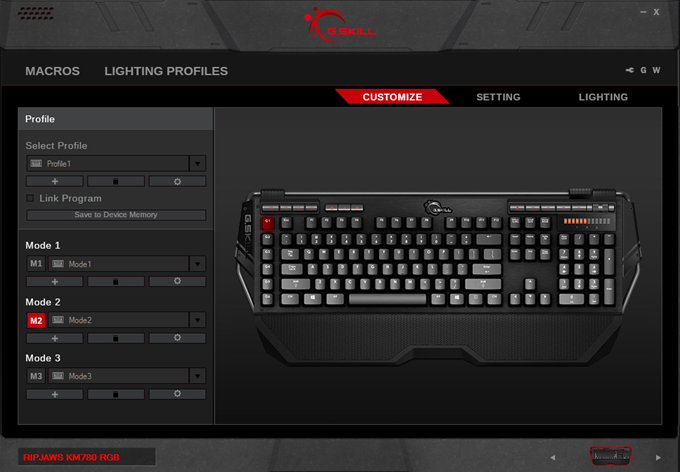 It comes with everything you'd expect to find in gaming peripheral software, like macro recording, lighting settings, button customisation…but it's all so 2010. It's uninspired, with limited and limiting options on top of a clunky layout and design. To give some sense of the poor software implementation: to apply most changes you literally have to exit the program instance. Want to test a profile? Exit and Save. Want to create a colour profile. Exit and save. Want to check if a macro works as intended? Exit and save. At least there is some on-board memory so you can save your profiles to each of the three "Modes" and not have to install the software to use the macros or settings.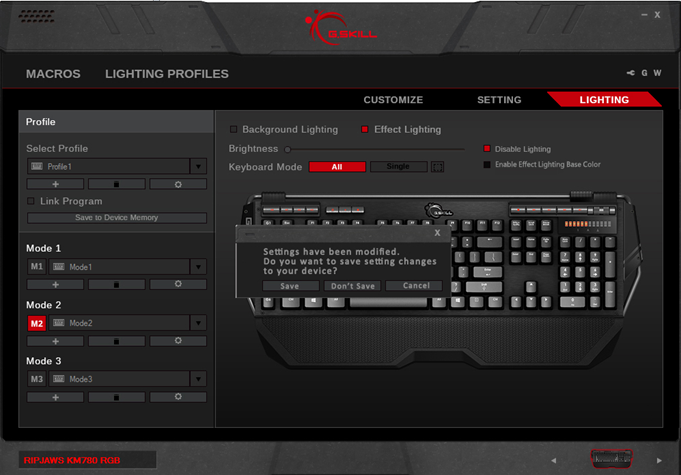 As bad as it is (compared to other brands) it does everything it's meant to do in terms of recording and editing macros, creating and linking profiles to games and general features you'd expect. It's just years behind anything the competition has out today. The most interesting feature I could find was a timer option with an optional pop up message and keyboard lighting notification. Although called the Unified Driver software there is no syncing between KM 780 and the MX 780 mouse I was using and the navigation icons on the bottom go nowhere. This shows G.Skill either got this software "skin" from an ODM (original design manufacturer) and simply rebranded it, or they have plans to implement this unified device compatibility eventually. It's been many months since release with no new software, so I'm voting for the former.

Young, dumb but oh so pretty.
In a peripheral space where simply having RGB Cherry MX Mechanical keyboards is so 2015, the way you get noticed is by doing RGB Cherry MX Mechanical keyboard….AND something extra. Brands like Razer and Corsair are able to do that something extra, be it exclusive switches or software or a defined aesthetic (often all three). Within this landscape, G.Skill manages to produce an exceptional product as their first foray into the gaming keyboard market. Aesthetically G.Skill have nailed it—anodised Aluminium in all its glory, sturdy construction and mostly well—defined features are all strong wins in my book. That being said, as magnificent as the keyboard is, the software side leaves a lot to be desired.
Last Updated: September 29, 2016
G.Skill RipJaws KM 780 RGB

The astonishingly impressive RipJaws KM 780 RGB is somewhat let down by a software solution that hampers usage. This, unfortunately, also means that because it's similar in price, and even though it has a few nifty extras, it might not be an easy sell.  Other well-defined brands have an established eco-system of software and device support with actual real unified device operation. That being said, this really is a strong foundation for G.Skill to hopefully flesh out a more robust, well-rounded line-up next time around.